TNPSC CDPO Syllabus & Exam Pattern 2019 – Tamil Nadu Public Service Commission has released the notification for Assistant Director & Child Development project Officer (CDPO) posts. Download for pdf in Tamil Nadu PSC Child Development project Officer Syllabus & previous papers available here. TNPSC CDPO & Asst Director exam date and exam centres will be announced at online. TN PSC CDPO & Asst Director examination will be conducted in only for women candidates. More detailed information about the Tamil Nadu PSC examination check their syllabus, exam pattern, previous papers, model papers, sample papers, old question papers, selection process, eligibility, exam centre, cut off, merit list, document verification, etc.
Tamil Nadu PSC CDPO Important Notification
Name of Board – Tamil Nadu Public Service Commission
Name of Exam – Assistant Director & Child Development project Officer (CDPO) (Women Candidates Only)
No of Vacancies – 100
Category – Syllabus & Exam Pattern
Application Mode – Online
Online Application Form Starting Date – 13 August 2019
Online Application Form Last Date – 11 September 2019
Exam Date –Assistant Director – 16 November 2019, CDPO – 17 November 2019
Official website – www.tnpsc.gov.in
Selection Process
Selection will be made in two successive stages i.e., (i) Written Examination
and (ii) Oral Test in the shape of an interview. The final selection will be made on the
basis of the total marks obtained by the applicants at the written examination and oral
test taken together subject to the rule of reservation of appointments. Applicant's
appearance in the written examination and oral test is compulsory. The applicant who
has not appeared for the written examination or the oral test will not be considered for
selection, even if he/she secures qualifying marks for selection.
Eligibility for TNPSC CDPO & Assistant Director
Qualification
Assistant Director 
A Post Graduate Degree in Home Science or Psychology or Sociology or Child Development or Food and Nutrition or Social Work or Rehabilitation Science.
CDPO 
A Degree in Nutrition (or) Home Science (or)A degree with a PG Diploma in Rural Services awarded by the Gandhigram University.
Age Limit
Candidates age limit should be minimum age of 18years and maximum age of 30 years
TN PSC CDPO Syllabus & Exam Pattern 
TNPSC CDPO & Asst Director Syllabus and Exam Pattern had given here. Candidates who applied for the TNPSC CDPO Post can download the Syllabus and Exam Pattern from here. Applicable candidates can read this post complete post and then prepare the www.tnpsc.gov.in CDPO Syllabus by downloading it from this post.



For TN PSC Assistant Director Syllabus details check in this post. The Examination Process is Given below. For Precise Information of TNPSC Syllabus and Exam Pattern click on the link provided below.
Exam Pattern for CDPO & Assistant Director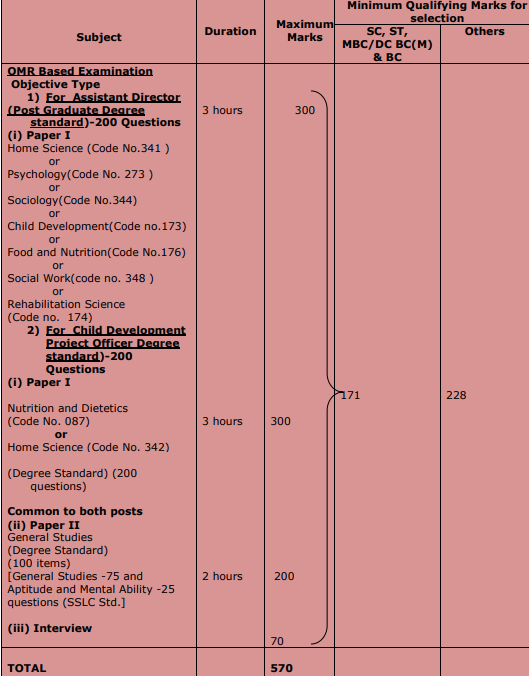 The questions in Paper-I (Subject Paper) PG standard will be set in English only.
The questions in Paper-I (Subject Paper) Degree standard will be set in both
English and Tamil.
The questions in Paper-II (General Studies) will be set both in Tamil and English.

TNPSC CDPO Syllabus 2019
TN PSC CDPO General Studies Syllabus 
Current Affairs
Reasoning
Mental Ability.
Geography
Economics
TN PSC CDPO Food Syllabus 
The food pyramid
functions
classification
conservation of nutrients
cooking methods
meal planning for different age & income groups.
Weaning foods – meaning, importance and preparation.
Food spoilage – causes and prevention.
Methods of food preservation.
Food safety – evaluation of food safety, quality analysis and applications of HACCP in
food safety.
Regulatory agencies in food safety – bis, Agmark, Fssai. Food adulteration and food laws.
TN PSC Assistant Director Nutrition Syllabus 
Nutrition – energy – factors affecting the total energy requirement.
Determination of total energy requirement.
Energy requirements for different age groups and physiological conditions.
Sources, functions, requirements, and deficiencies of macro and micronutrients.
Metabolism of carbohydrate, protein, and fat. Water – functions, dehydration, water balance.
TN CDPO & Assistant Director Community Nutrition 
Communicable and noncommunicable diseases.
Communicable diseases – epidemiology, mode of transmission, prevention and control of aids, cholera, typhoid, tuberculosis, malaria, dengue, hepatitis and leptospirosis.
Non -communicable diseases – double burdern of malnutrition.
Assessment of the nutritional status of a community-direct and indirect methods – anthropometry, biochemical, clinical, functional indices, and diet survey.
Nutrition education – methods of nutrition education, use of audiovisual aids.
Nutrition intervention programs and national and international agencies in combating malnutrition.
TN CDPO, Assistant Director Therapeutic Nutrition Syllabus 
Special feeding methods – enteral and parenteral nutrition.
Etiology, symptoms and dietary modifications for – fevers, obesity, gastrointestinal diseases, diabetes mellitus, renal diseases, cardiovascular diseases, and cancer.
Significance of nutraceuticals and functional foods in the prevention and management of diseases.
Detailed Syllabus for TNPSC CDPO & Assistant Director – Check Here
TN PSC CDPO Previous Papers
Candidates who have applied the TNPSC CDPO & Asst Director examination, we are providing old question papers, model papers, sample papers, solved papers, answer key pdf links also available our pages. Candidates followed the Below links to get the reference regarding the Written Test. It is very useful and more comfortable for the TNPSC CDPO & Asst Director Exam.
Document Verification 
Certificates and Mark sheets of qualifying examinations.
Aadhar card.
Proof of Educational Qualifications.
Date of Birth Certificate / S.S.C
School Study Certificate
Declaration by the Unemployed (For claiming examination fee exemption)
No Objection Certificate from Employer (if anywhere employed).