TNPSC Civil Judge Prelims Hall Ticket 2019 & Exam Date are updated. Check TNPSC CJ Admit Card 2019 here for Preliminary Exam. TNPSC Civil Judge Preliminary Exam conducted on 24 November 2019 (10.00 AM to 01.00 PM) from Examination Centre. TNPSC Civil Judge Pre Hall-Ticket download on our page. TNPSC Civil Judge Prelims Syllabus & Exam Pattern Mentioned below the page. TNPSC Civil Judge Physical Fitness, TNPSC Civil Judge Pre Exam Date & Exam Centre provide our page. TNPSC Civil Judge Selection Process, TNPSC Civil Judge Eligibility, TNPSC Civil Judge Document verification, Call letter Download, TNPSC Civil Judge Recruitment Notification and Answer key & result, TNPSC Civil Judge Important Note also provide our page.
TNPSC Civil Judge Prelims Hall Ticket 2019 Exam Date
Moreover, TNPSC Civil Judge Hall Ticket 2019 plays a major role in the Examination Centre. However, Aspirants not having Tamil Nadu PSC Admit Card will not be allowed to write the Civil Judge Exam. Thus, candidates are suggested to download their TNPSC Civil Judge Hall Ticket on or before the Exam Date itself to overcome Technical Issues.


Download TNPSC Civil Judge Prelims Hall Ticket 2019 – Check Here (

Available Now

)
| | |
| --- | --- |
| Exam Date | 24th November 2019 |
| Admit Card Release Date | 18th November 2019 |
Applicants can access their Tamil Nadu Civil Judge Call Letter 2019 by submitting the Registration Number/ Roll Number & Date of Birth/ Password details. Most Importantly, TNPSC board will not send TNPSC Civil Judge Hall Ticket 2019 by post. Therefore, applicants have to Download Tamil Nadu Civil Judge Hall Ticket 2019 Online
TNPSC Civil Judge 2019 Recruitment Summary
Name of Examination – Civil Judge
Name of Organization – Tamil Nadu Public Service Commission TNPSC
No of Vacancy – 176 Posts
Date of Examination Prelims – 24 November 2019
Official Website – http://www.tnpsc.gov.in
Category – Hall Ticket & Call Letter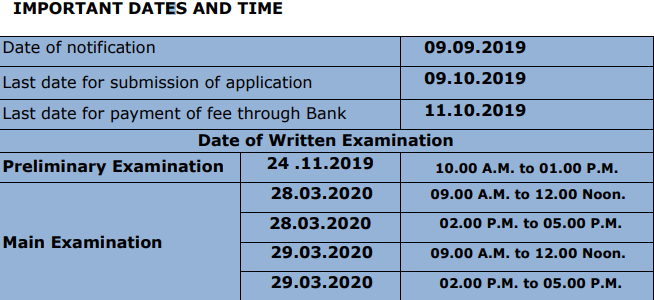 Tamil Nadu PSC Civil Judge 2019 Recruitment Eligibility Details
For Practising Advocates/ Pleaders and Assistant Public Prosecutors: Must possess a Degree in Law of a University in India established or incorporated by or under a Central Act or a State Act or an Institution recognised by the University Grants Commission, or any other equivalent qualification and enrolled in the Bar Council of Tamil Nadu or in the Bar Council of any other State in India. AND Must be practising as an Advocate or Pleader in any Court on the date of Notification for recruitment to the post and must have so practised for a period of not less than 3 years on such date. OR
Must be an Assistant Public Prosecutor having not less than 3 years of experience as an Advocate and / or Assistant Public Prosecutor.
For Fresh Law Graduates: Must be a fresh Law Graduate possessing a degree in Law from a recognized University as mentioned in Clause-I (i) above, Must be eligible to be enrolled as an advocate.
Tamil Nadu PSC Civil Judge 2019 Recruitment Selection Method  
The selection will be made in three successive stages viz., (i) Preliminary Examination for selection of applicants for admission to the Main Examination, (ii) Main Examination and (iii) Viva–Voce Test.
Preliminary Examination
Main Examination
Personal Interview or
Viva–Voce Test
Document verification
CERTIFICATE OF PHYSICAL FITNESS
Applicants selected for appointment to the post will be required to produce a certificate of physical fitness in the form prescribed below.
| | | |
| --- | --- | --- |
| Name of the post | Standard of Vision | Form of Certificate of Physical Fitness |
| Civil Judge | Standard-III or better | For posts other than Executive and Ministerial |
 
Note: The Tamilnadu PSC Civil Judge Test Pattern is present here. You can get awareness about subjects to cover, Weightage of the individual subject so that you can plan accordingly. In fact, preparation becomes simple if you have prior knowledge of what to cover and examination structure etc. Come to know about the TNPSC Civil Judge 2019 Exam Pattern in brief by referring the following tables.
Tamil Nadu PSC Civil Judge 2019 Written Examination Details
Exam Pattern for Tamil Nadu PSC Civil Judge 2019 Prelims 
S. No
Exam Type
Part
Concept Name
Number of Questions
Total Marks
Durations
1
 
Objective Types
A
Code of Civil Procedure

100

100

2 Hours
2
B
Code of Criminal Procedure
3
C
General Knowledge
 
No candidate who has secured less than the minimum marks specified for the Preliminary Examination shall be eligible for Main Examination.
The preliminary examination will consist of one paper of objective type based on the syllabus given below containing 100 multiple choice questions (both in Tamil and English), each carrying one mark.
Maximum marks will be 100 and '1/2' (half) mark will be deducted for each incorrect answer. The duration of the Preliminary examination will be two hours.
The preliminary examination is conducted for the purpose of short listing the candidates and the marks obtained in the preliminary examination shall not be counted for determining the final order of merit of the candidates.
Syllabus for Tamil Nadu PSC Civil Judge (Preliminary Exam)
Part A
The Code of Civil Procedure, 1908
The Negotiable Instruments Act, 1981
The Transfer of Property Act, 1882
The Indian Contract Act, 1872
The Specific Relief Act,1963
The Constitution of India
The Tamil Nadu Buildings (Lease and Rent Control) Act, 1960 Tamil Nadu Regulation of
Rights and Responsibilities of Landlords and Tenants Act, 2017 (Tamil Nadu Act 42 of 2017)
Part B
The Code of Criminal Procedure, 1973
The Indian Penal Code,1860
The Indian Evidence Act, 1872
The following Criminal Law Amendment Acts/Ordinances and Minor Acts:
The Criminal Law (Amendment) Act, 1908
The Criminal Law (Amendment) Act, 1932
The Criminal Law (Amendment) Act, 1938
The Criminal Law (Amendment) Ordinance, 1944
The Criminal Law (Amendment) Ordinance, 1946
The Criminal Law (Amendment) Act, 1952
The Criminal Law (Amendment) Act, 1961
The Criminal Law (Amendment) Amending Act, 1966
The Criminal Law (Amendment) Act, 1972
The Criminal Law (Amendment) Act, 1983
The Criminal Law (Second Amendment) Act, 1983
The Criminal Law (Amendment) Act, 1993
The Criminal Law (Amendment) Act, 2005
The Criminal Law (Amendment) Act, 2013
The Criminal Minor Acts (including Information Technology Act, 2000; The Protection of
Children from Sexual Offences Act, 2012).
Part C
General Knowledge – Test of Reasoning and Mental ability.
CENTRE FOR EXAMINATION
CENTRES FOR PRELIMINARY EXAMINATION:
| | | |
| --- | --- | --- |
| S. No | Name of Centre | Centre Code |
| 1 | Chennai | 0100 |
| 2 | Madurai | 1000 |
| 3 | Coimbatore | 0200 |
| 4 | Tiruchirappalli | 2500 |
| 5 | Tirunelveli | 2600 |
| 6 | Salem | 1700 |
| 7 | Thanjavur | 1900 |
| 8 | Vellore | 2700 |
| 9 | Villupuram | 2800 |
 VIVA-VOCE TEST
Viva-voce test shall be for sixty (60) marks.
The object of viva-voce test is to assess the suitability of the candidate for the cadre by judging the mental alertness, general knowledge, knowledge of law, grasp of procedural laws and principles of law, clear and logical exposition, balance of judgment, skills, attitude, ethics, power of assimilation, power of communication, character, suitability and intellectual depth, the like of the candidate, his/her tact and ability to handle various situations in the Court.
Candidates of all categories who have obtained a minimum of 18 marks in the viva-voce test alone are eligible for inclusion in the Select List.
The marks secured by a candidate in the Viva Voce Test shall be added to the total marks secured by him/her in the Main examination.
Download TNPSC Civil Judge Hall Ticket: The Hall Tickets for eligible applicants will be made available in the Commission's Website www.tnpsc.gov.in or www.tnpscexams.net or www.tnpscexams.in for downloading by applicants. No Hall Tickets will be sent by post. So the applicants should watch TNPSC website before the scheduled date of examination.
OTHER IMPORTANT INFORMATION
The applicants applying for the examination should go through all instructions carefully and should ensure that they fulfil all the eligibility conditions for admission to the Examination .
Their admission at all the stages of examination for which they are admitted by the Commission viz., Preliminary Examination, Main Written Examination and Viva voce Test will be purely provisional, subject to their satisfying the prescribed eligibility conditions.
If, on verification at any time before or after Written Examination, Certificate Verification and Oral Test, it is found that they do not fulfil any of the eligibility conditions, their candidature for the 20 examination will be liable for rejection / cancellation by the Commission.
The decision of the Commission in consultation with the High Court of Madras as to the eligibility or otherwise of a candidate for admission to the Preliminary Examination, Main Examination or Viva Voce Test shall be final. No candidate, to whom the respective Hall Ticket has not been issued by the Commission, shall be admitted in to the Examination Hall.
Mobile Phones and other Articles Banned
Applicants are not allowed to bring cellular phone, calculators, watches and rings with Inbuilt Memory Notes etc., or any other electronic devices and nonelectronic devices such as P&G Design Data Book, books, notes, hand bags and recording devices either as separate piece or part of something used by the applicant such as watch or ring etc., to the examination hall / room on the date of examination.
TNPSC Civil Judge 2019 Verification Details
Submitting one passport size photograph and by producing their own identity documents (any one) like Aadhar Card, Identity Card, Passport, Driving License, Voters Card, Pan Card, Photo Identity Card issued by employer or educational institution etc.
Document Verification                            
SSC (Standard 10th) or its equivalent mark sheet.
Certificate of proof of date of birth (Standard 10th or its equivalent certificate or mark sheet indicating a date of birth or school leaving certificate indicating a date of birth).
Caste certificate for SC/ST/OBC candidates, wherever applicable.
Aadhar Card, Voter ID, PAN Card.
Ration Card, College ID, Bank Passbook.
Passport, Driving License.
Any Valid ID Proof issued by Gazetted Officer.
Procedure to Download TNPSC Civil Judge 2019 Admit Card / Hall Ticket  
Visit official website http://www.tnpsc.gov.in
Find the link and open the page
Enter your registration no
or date of birth
Show on your desktop for TNPSC