Data-entry online from your home could be your solution if you are looking for a legit online job. If you choose the right companies and freelance agencies to work with, your data-entry job from home could be a source of constant income. Companies often offer online work-from-home data-entry positions.
Since the lockdown situation began in the recent pandemic, work from home, including the entry and management of data, has become very popular with big companies. Many data-entry jobs are suitable for entry-level employees. Still, if you have more advanced data-entry and typing experience, you might qualify for more senior positions in the data-entry field.
Data-entry comprises several processes, such as data-entry, data-mining, data-extraction, typing, and web research. When you are looking online for data-entry jobs, ensure that you look at all the possibilities that could suit you. Read on to find out how you can apply for data-entry jobs, what skills are needed, the average pay, and your typical duties.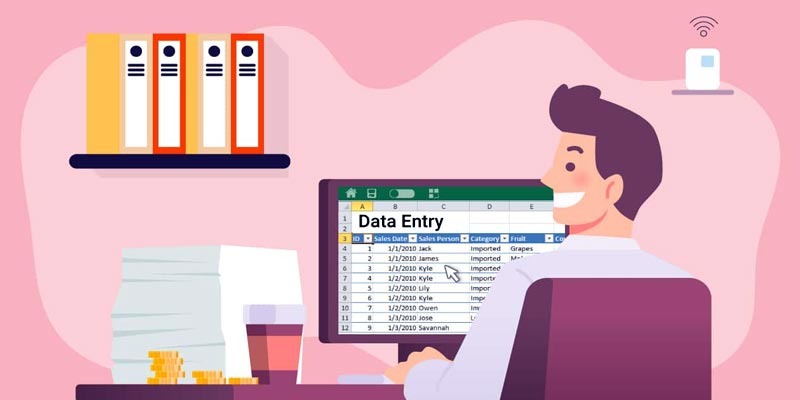 What Is Data-Entry Comprised Of?
In its simplest form, data-entry transfers data from one source to another by typing it in. This is done by using a computer or device connected to the internet. The data that has been typed in is then generally stored on the cloud or in a Google doc for the employer to access.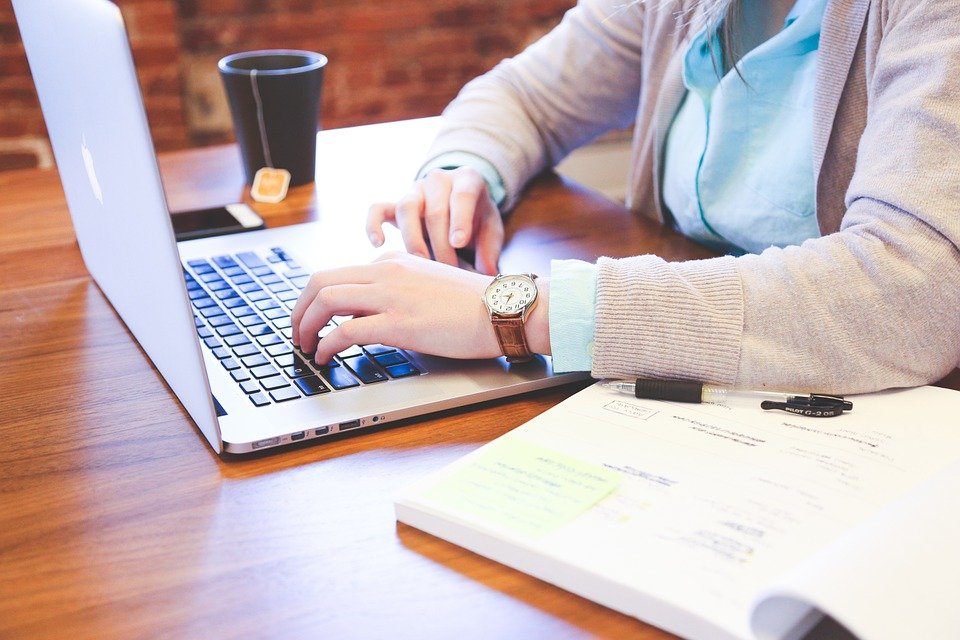 Sometimes, when the data has only to be typed into an Excel spreadsheet, you store it on your computer and email the completed spreadsheet to the employer. But the field of data-entry includes much more than this; according to the US Department of Labor, about 40 percent of the people working online are engaged in some form of data gathering, retrieving, processing, entering, and analyzing.
When looking for a data-entry related job to do from home, you have to consider all the different aspects. The time you have available per day would be your guideline of what you could do. Gathering and analyzing data take much more time than simply entering data into a spreadsheet.
You'll have to compare the greater fee for more advanced jobs against the time you have to complete more lower-paid assignments per day.
Requirements And Skills Needed For Data-Entering
The minimum requirements you have to comply with include having a computer with a high-speed internet connection. Experience with Excel or other spreadsheets and Word processing is generally essential. You also must have the necessary computer skills to send and receive emails and work with Google docs. Accuracy when entering data is, to a certain extent, more important than a very fast typing speed.
Thus, if you only have a reasonable typing speed but can type extremely accurately, you could be a good fit for the job. If you are looking for a more advanced job than just data entering, you could apply for jobs where you still have to enter data but also have to sort, calculate or interpret the data. Depending on what this extra work entails, the company you are doing assignments for would expect more relevant experience and post-school qualifications.
In summary, what you need to be better than the next applicant and to become successful and a sought-after data-entry freelancer is to be an accurate typist and an expert with the necessary computing skills. These skills include training and experience in working with Excel, Word, databases, and presentation software. You also need a fast working PC or another device with a high-speed Internet connection.
The Average Per-Hour Fee Paid For Data-Entry Assignments
In most cases, data-entry workers are hired as freelancers working for a fee rather than becoming salaried employees. The average per-hour rate for entry-level workers is $15 or less. You can even be offered a meager rate of $5 or $6 per hour for your first two or three tasks, and then, if the employer is satisfied, qualify for a higher rate.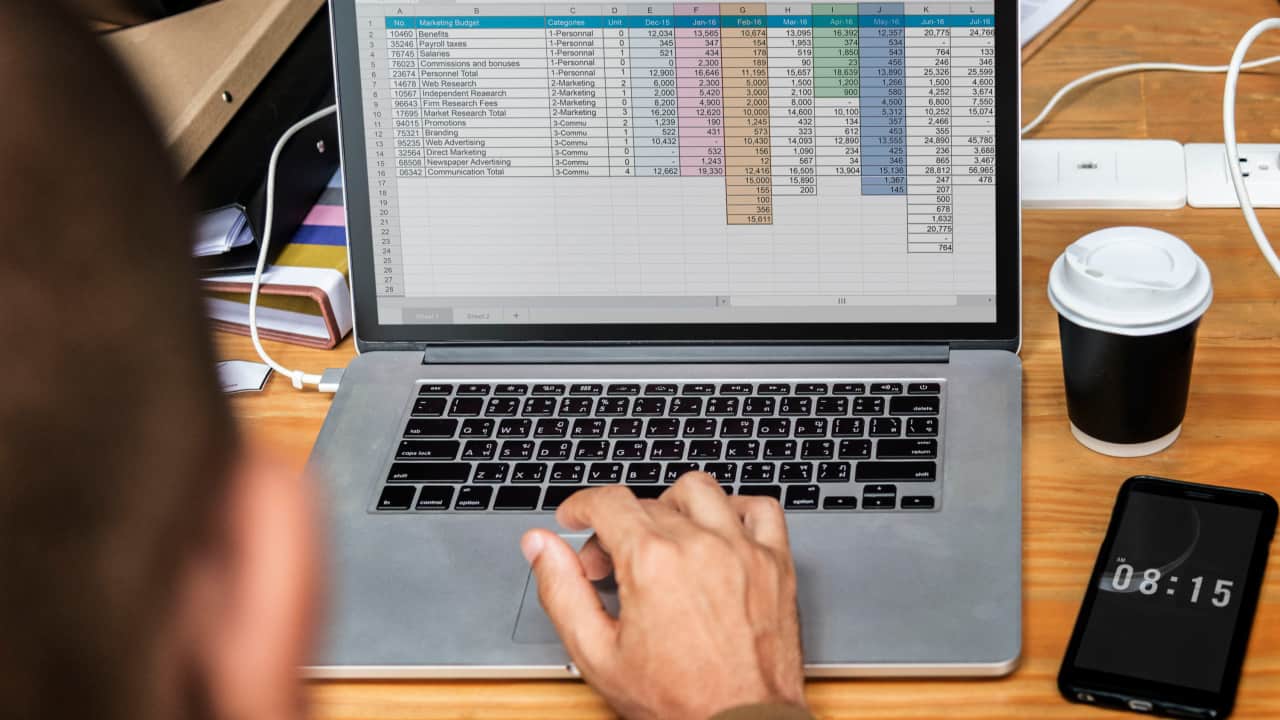 $15 per hour can sound good if you calculate your income based on an eight-hour, five-day per week job. But, the reality is that the tasks you would have to do in most cases will be provided to you daily, but most probably could be completed in a few hours.
If you want to work eight-hour days from your home, the solution is to get contracts with more than one company to fill your whole day with assignments.
Before you sign contracts with too many companies, find out from the companies you already have contracts with whether their assignments will increase or need more time to complete in the future. Based on this information, you can add other contacts to your portfolio.
Other Payment Options
Instead of being paid per hour, you can be paid per piece. You receive a payment based on the number of pieces you have completed. What a "piece of work" will be, has to be agreed on between you and the employer beforehand. To determine what your per-piece fee should be, you have to calculate how many hours the assignment will take to complete and multiply the number of hours with the amount you are prepared to accept as a per-hour fee.
The pros of per-piece pay include the opportunity to increase your payments over time. You also have more flexible work hours, and you have the incentive to be efficient. The biggest con of per-piece work is that your work could be rejected for quality issues, and you'll most probably be offered a low fee for your first few assignments.
If the company providing the assignments is satisfied with your first assignments, your fee could be increased. It is always good to stipulate possible increases in your initial contract with them. Another way to get paid is by keystroke. You have to link to the company's or the work-seeking platform's stroke-counting system, and you will be paid per keyboard stroke you've made while busy with the assignment.
How Do I Apply Online For A Data-Entry Job?
We suggest that you start by applying on a recruiting company's platform. These companies have developed online platforms where employers post their job opportunities, and if you are interested, you apply via the platform. The platform protects both you and the employer. All contracts and payments have to be done via the platform.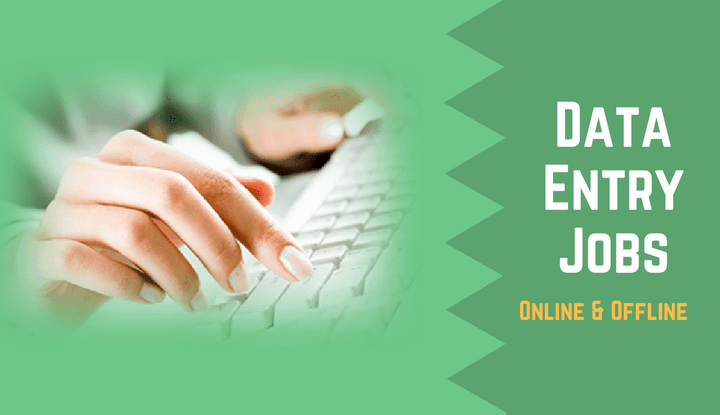 The platforms that we advise you to use are listed in this article. Just click on the name and follow the prompts. You will be required to register and give CV details. Some of them are free to use forever, and others offer a free trial period, and then you have to subscribe. All the detail is available on their sites.
With some, you will have an unlimited number of times to apply, while with others, it will be limited. If you register with all the platforms we suggest here; you could have at least one job before all your free options are used! The secret is that you have to keep on applying for small jobs to receive a constant income unless you succeed to get one or two long term jobs.
When applying for work-from-home positions, be wary of scams or online frauds. If a company or platform requires buying a kit or specific software, it is most probably a scam. They don't have jobs available but only want to sell software or kits with no intrinsic value. If a fee well above the market rate is offered, there is a good chance that it is a scam.
Platforms And Companies To Use
As indicated above, the first step on your road to becoming a successful data-entry freelancer is to get a legit and reliable online platform to use as your application springboard. For your convenience, we've selected some companies and platforms that you can use. Visit the sites and choose the platforms you feel comfortable with, or apply with all of them! You can always decline opportunities if you receive too many.
A trendy freelance marketplace is Fiverr, where you can advertise your skills, including your data-entry skills. Fiverr offers great opportunities to promote your data-entry skills and find data entry assignments. Indeed is an American worldwide employment website for job listings and also offers many data-related opportunities.
And if you want to find other freelancing opportunities available to data entry workers, a good place to look would be Upwork. Upwork is an online platform designed to pair clients with professionals who can complete tasks for them. data entry jobs are often posted on Upwork, and your payment could range from hourly to fixed price, set according to the job need and your experience level. Even entry-level workers can find work here!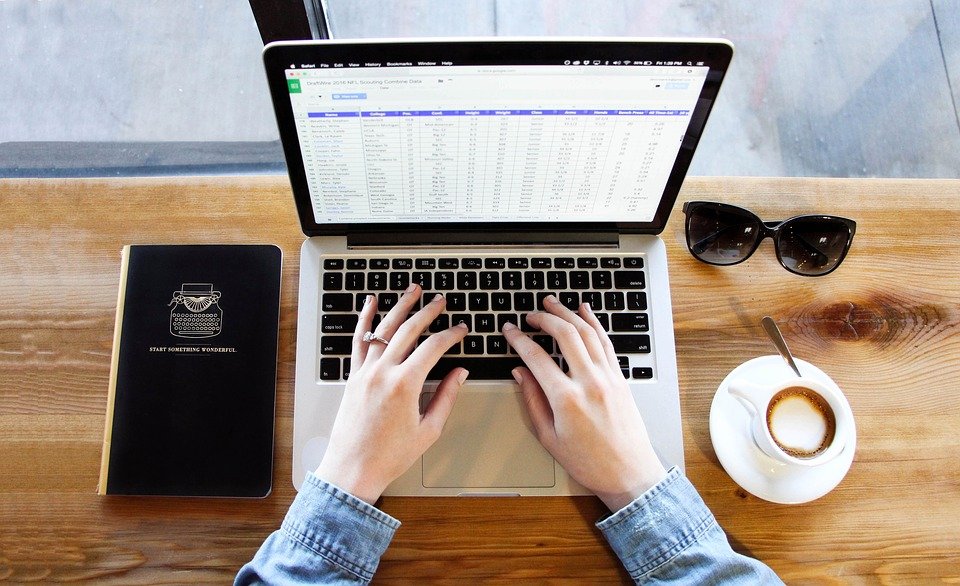 Conclusion
If you have data entry or relevant experience and want to give online data entry a try, click on the links we've provided you and start applying.
Do keep in mind that your typing skills and the accuracy of the data you can enter are critical. Instead, take it a bit slower to ensure that everything is perfect before sending it back to your client.