Zombie shows and movies are some of the most favorite genres of people around the world. As a matter of fact, the love for this particular niche has given birth to iconic shows and films such as The Walking Dead, Train to Busan, Kingdom, Army of the Dead, and many others.
For other people, living the post-apocalyptic horror life is more than just about watching these types of content – many also dream of becoming a professional zombie, whether it is to immerse themselves in the world of zombies, to have a change in profession, or simply out of a passion for the genre.
While this may be a strange profession, it no doubt continues to exist in various parts of the world today. Get to know this job and what it entails throughout this article. Read on to know more about this truly one-of-a-kind profession today.
What Is a Professional Zombie?
What it is Like to Work as a Professional Zombie
Essential Skills to Find Work as a Professional Zombie
Places That Hire Professional Zombies
Where to Apply for Professional Zombie Jobs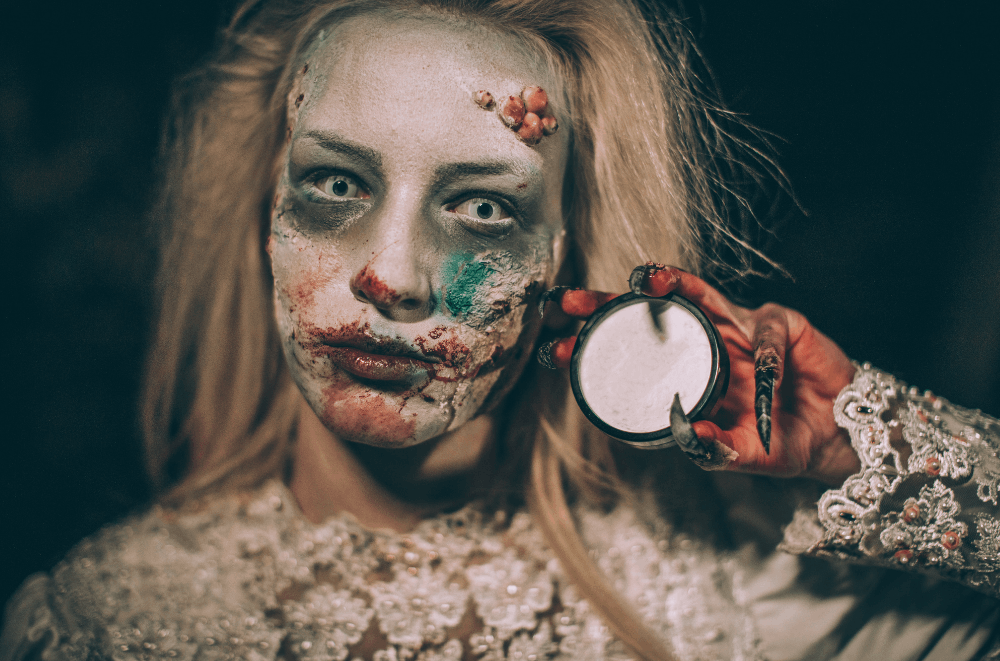 What Is a Professional Zombie?
A professional zombie is a person who acts as a zombie or like the undead for a living. Individuals who work as professional zombie actors typically help create a post-apocalyptic world with their skills and expertise.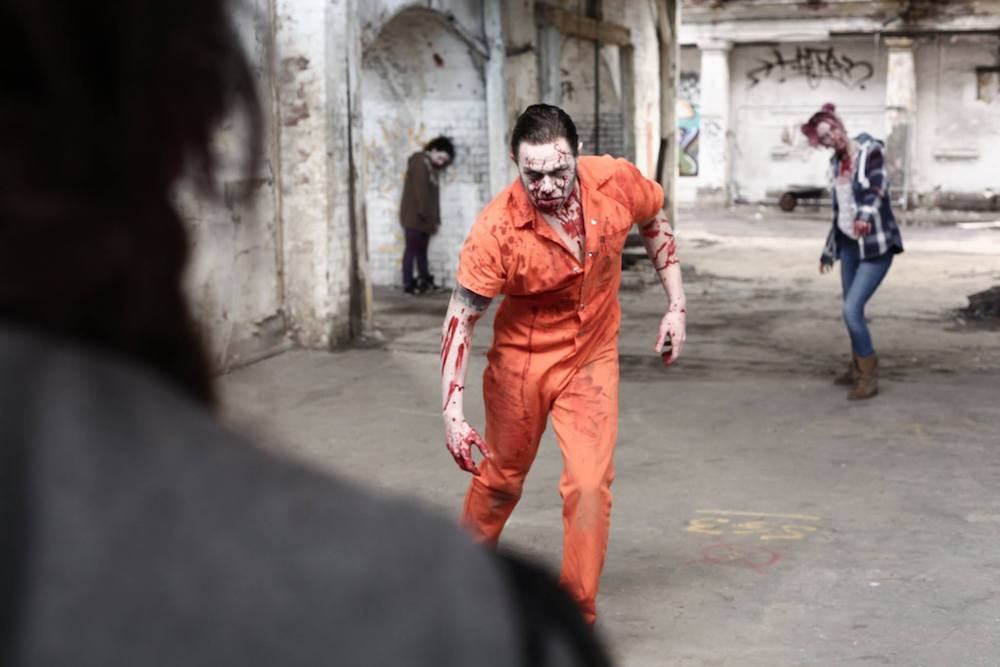 This particular position requires professional zombies to scare people – whether it be in film or television shows, in theme parks and amusement parks, in video games, or other settings.
Depending on the material, these people can be involved in promotional shoots and model zombie photos for shows as well.
Individuals who play professional zombies sometimes play roles in the background, while there are others who actively interact with the main actors of a show or film.
Role and Responsibilities that Come with the Job
One might think that becoming a professional zombie is quite easy. It is actually the opposite. The main duties of these professional zombie actors depend on what the studio or company they are working with requires.
In general, these performers usually employ scare tactics and abilities, as well as improvise actions, to help recreate that horrific and thrilling feeling fit for the genre. To complete the look, they are often decked out in prosthetics from head to toe.
Often, they may be required to maneuver across different types of spaces and settings, such as tight spaces, through the darkness, fogs, forest, and other special effects and landscapes.
What it Is Like to Work as a Professional Zombie
As mentioned, professional zombies work in different conditions and landscapes. They can work in theme parks and navigate through slim spaces, work on motion pictures and shows on set, and many others. Prior to this, however, these individuals might be required to go to zombie school.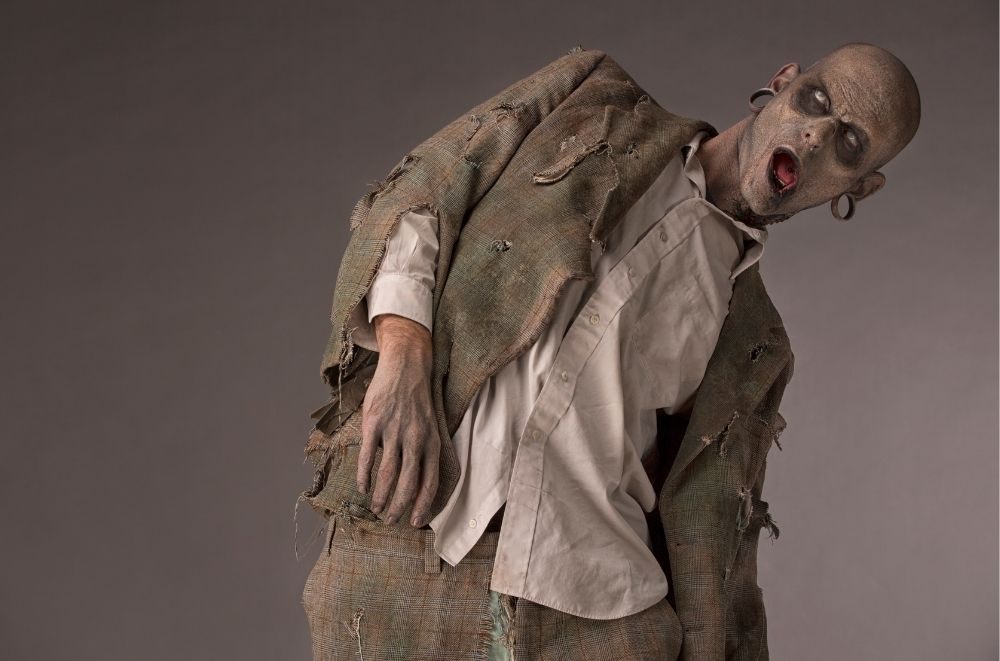 Zombie school teaches performers through a series of workshops on how to act like the undead. Here, students are taught how to walk, stagger, snarl, hiss, run, bite, and more like a zombie would.
Working as a zombie performer takes a lot of work, time, and effort. These professionals usually have to be on the set early in order to be dressed with prosthetics, fitted with costumes, and go through hair and makeup – all of which can take several hours.
Apart from the long days, the heat and humidity of the shooting locations, such as that of The Walking Dead in Georgia, can also take a toll on these performers.
More About Working as a Professional Zombie
For those working in the film and television industry, working on a set can take a whole day, around eight hours of work or more. This entails actors constantly repeating the actions required of them by the director and the production team, such as snarling, running, and much more.
The upside to this is that they can get cast for certain roles which require them to work closely with the main actors.
Meanwhile, those who are working in theme parks, such as that of the one in Universal Studios, must also demonstrate their skills and knowledge when it comes to their ability to scare people – all while in prosthetics, of course.
Essential Skills to Find Work as a Professional Zombie
There are different types of undead in existence – at least in the industry. How they got infected, the time it takes for them to come back to life, and generally what type of zombie they are factors in how a person plays this particular role. Learning this is crucial to know how to properly act out scenes.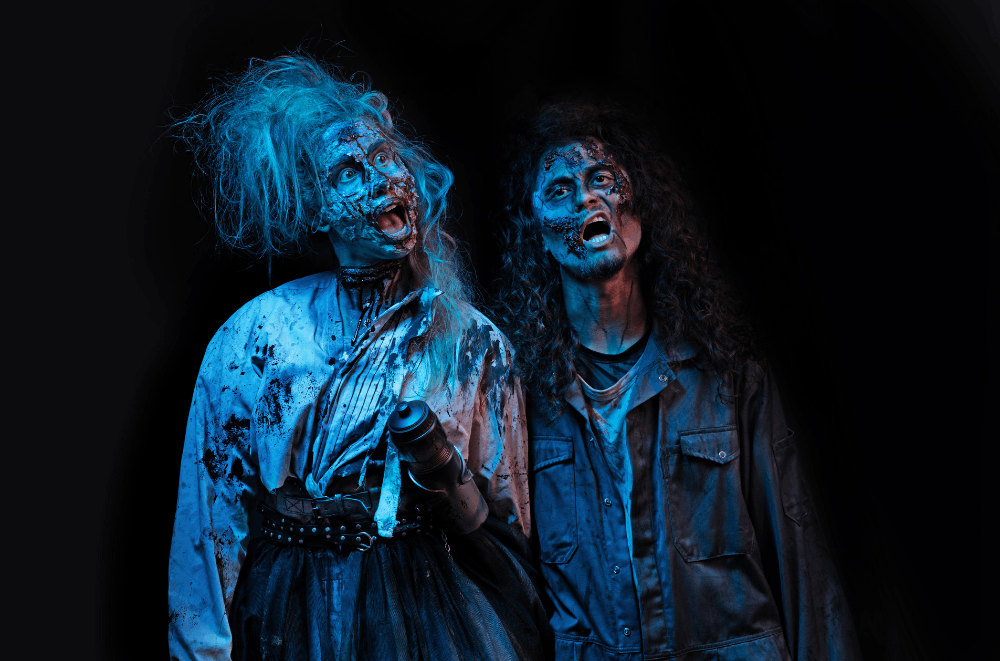 Usually, professional zombies need to be equipped with different types of moves in order to execute what is asked of them.
Moreover, these professional zombies should also know how to act more than anything – including tilting their head the right way, how to have their limbs limp enough, and the like.
Making the role genuine and authentic is key, so having a great background in acting, coupled with passion and fewer inhibitions, will make the work easier.
Requirements and Qualifications for the Job
For these types of positions, one of the main requirements is to be 16 and older to participate, but this can change according to the company's rules and regulations. It also helps that most applicants are local to the area as there are little to no travel stipends.
For The Walking Dead, all of the walkers needed to be aged 18 and above. Most were also required to be in fit condition with a slim physique in order to do the physical stunts and movements well. Applicants must also have no standout hair colors or hairstyles, as well as only natural nails.
There may also be height requirements that the studio or company is looking for, so be on the lookout for this when going on auditions. To make sure that applicants are perfect for the role, they may be required to send in headshots and body shorts for the role, so having copies of these at all times is essential.
Places that Hire Professional Zombies
Film and television studios are two of the main places that work with professional zombies, especially bigger production studios which require more bodies to fill in certain roles and positions such as AMC's The Walking Dead.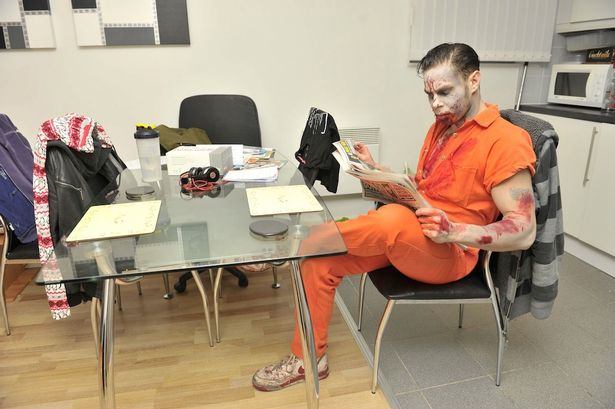 Since The Walking Dead has gotten big, it also has ties with Universal Studios and many other companies have followed in its stead. There are also haunted attractions that make zombies the star of the show, such as that of the Zombie Paintball Hunt.
However, there are also companies that only hire professional zombies seasonally for promotions and other similar campaigns for holidays like Halloween such as Goodwill, Walmart, and the like.
Professional zombies can also find modeling and commercial work, as well as side projects such as minor film roles.
Salary Range
The salary given for a professional zombie can change from one job posting to another. This can depend on the number of hours, the role given to them, and other defining factors. In general, those who did more stunts, had a bigger role, or were featured more were given more pay.
For example, an extra who worked as an extra on the set of The Walking Dead back in 2011 revealed that for two days of working on the set, she got around $600 plus a bonus at the end of the year. Meanwhile, in 2014, another extra on set said that the base pay for the role was $64 for eight hours of work.
Today, individuals can expect to get paid anywhere from around $14 to $17 per hour depending on their assigned position.
Where to Apply for Professional Zombie Jobs
Given the various zombie-related works in film and television that are popping up left and right, it seems that there is no shortage of roles and positions for professional zombies to work in. However, finding these jobs can be quite tricky, especially when it comes to navigating today's landscape and this niche area.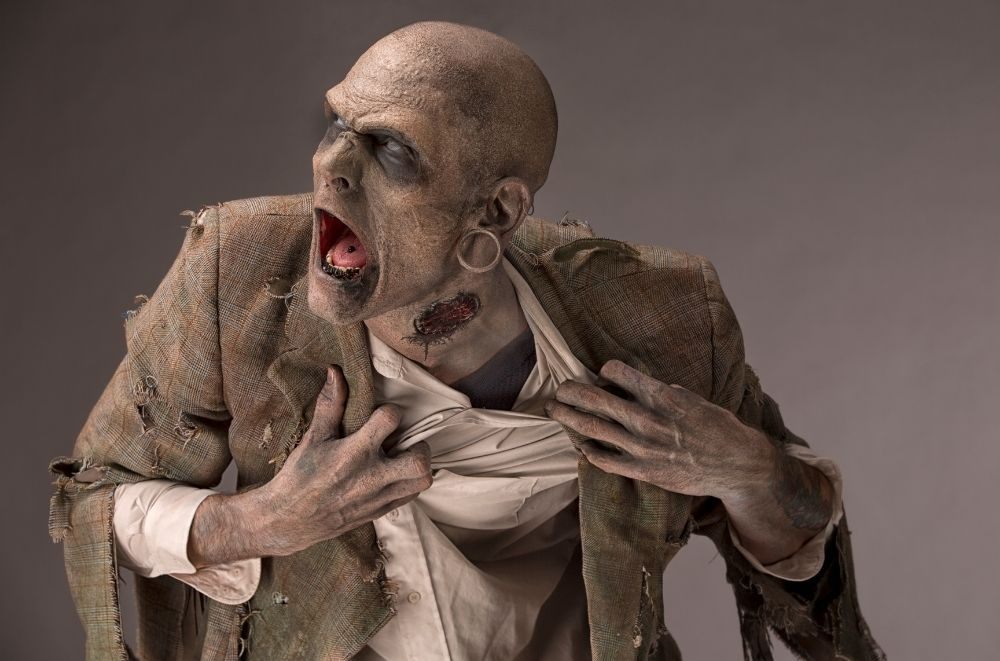 Because of this, looking for professional zombie jobs should be done outside of the more mainstream job search platforms. Instead, individuals should focus on finding this atypical job posting on websites such as Backstage and AuditionsFree.
Similar to other job search platforms, Backstage and AuditionsFree are websites designed for actors and models who are in search of certain roles. Job postings on this website usually include a brief background on the project, the target date and location, and the available roles and requirements.
Some of the job postings that require professional zombies include promotional material for Goodwill's Halloween campaign, a fan-made film based on The Last of Us, a college horror film, and many others.
Tips for Getting the Job
Those who are passionate about immersing themselves in this industry and acting as a professional zombie might want to consider enrolling themselves in a zombie school or class dedicated to teaching them the basics of the job.
A zombie academy or workshop would teach not only the basic movements that aspiring professional zombies could incorporate in their acting, but they will also be better equipped in how to attack people, and how to make it scary while staying safe at the same time.
The Bottom Line
Professional zombies might be unheard of by many, but this niche community in the entertainment industry is undoubtedly thriving with its various openings. For those who know where to look, the opportunities are brighter than ever before.