In education, there are hundreds of careers, and most of these are important to the institution's goal. For instance, outstanding instructors are needed who advocate the value of learning and assist their pupils in expanding their skills and experience.
In addition, you'll want capable school administrators to keep things running properly. But how do you go about finding and attracting people like these, as well as other top-notch educators and school administrators? That's where schooling and employment boards for teachers come in handy.
Exploring teaching job boards and education-specific websites is an efficient way to tackle your job search. In this article, we'll talk about the Learn4Good platform and find out how it works. Read on to learn more.
About Learn4Good
Features of Learn4Good
How to Find a Job
How Learn4Good Works for Employers
Other Information That Schools Might Want to Know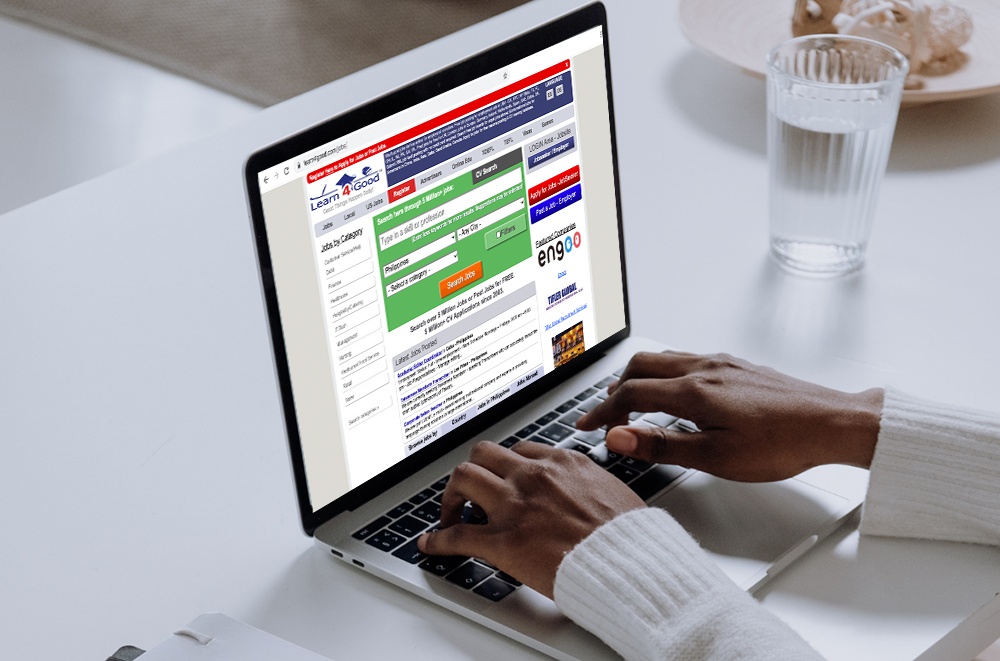 About Learn4Good
Learn4Good is an educational job website and teaching resource center with postings in 20 countries. Learn4Good allows businesses and jobseekers to submit open positions to a classified job page with a brief description.
Applicants can see all the provided information on the job advertisement and apply for the position online.
Learn4Good was started in Ireland in 2006, although it now serves a global audience. It's a wonderful way to recruit both local and international talent to your educational positions in the United States.
Employers may post classified job openings and get applications from suitable individuals alongside over 25,000 other organizations.
More About Learn4Good
All job openings on Learn4Good are advertised for six months. Employers may post jobs for free with a 20-credit plan, and may pay for access to a resume database and a highlighted company profile.
Learn4Good started with a clear purpose and vision – to become a leading web location for education and job opportunities in the United States, Canada, and throughout the world.
Since 2007, Learn4Good has had over 10 million visitors a year and has continuously ranked among the top 20,000 websites in terms of overall traffic.
Why Use Online Teaching Job Boards
Because Learn4Good attracts hundreds of thousands of people each month, posting your position online makes sense from a variety of perspectives.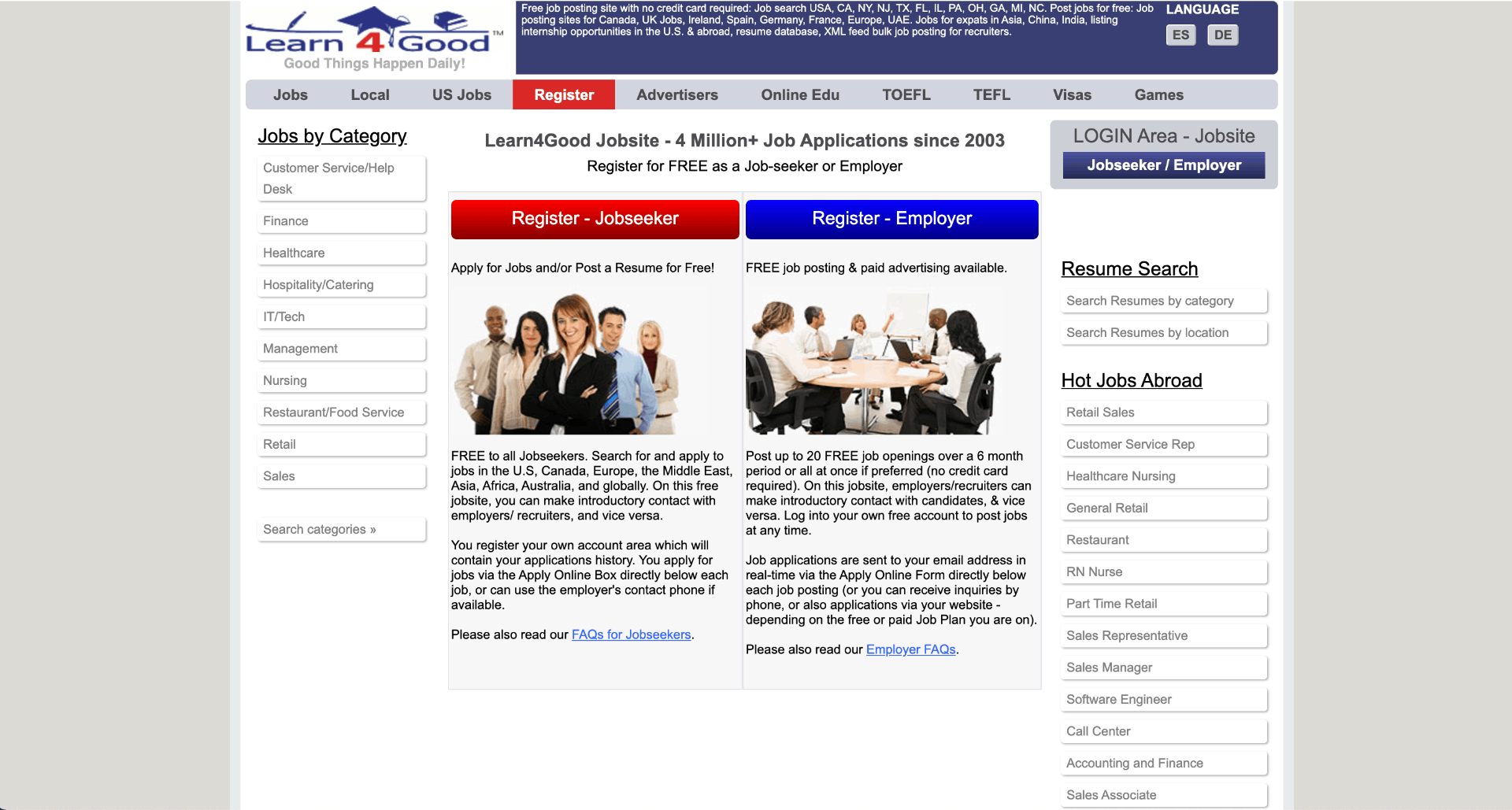 By putting your qualifications and job descriptions on a job board, you'll be able to reach a wide range of experts, and you'll discover that more of your candidates meet your high requirements.
This website may also assist any employer in developing an online brand.
Making the Search Easier
Recruiters may use job postings and business profiles to promote their employer brand and give additional information to job seekers.
Learn4Good also offers candidate and resume search, which allows recruiters to find and contact passive applicants that meet their employment requirements.
Features of Learn4Good
Browsing the Learn4Good website will make you feel like you are being bombarded with opportunities and information right at its home page. The first thing you'll see is the list of categories that you can explore, such as Jobs, Schools, Universities, Online Courses, and more.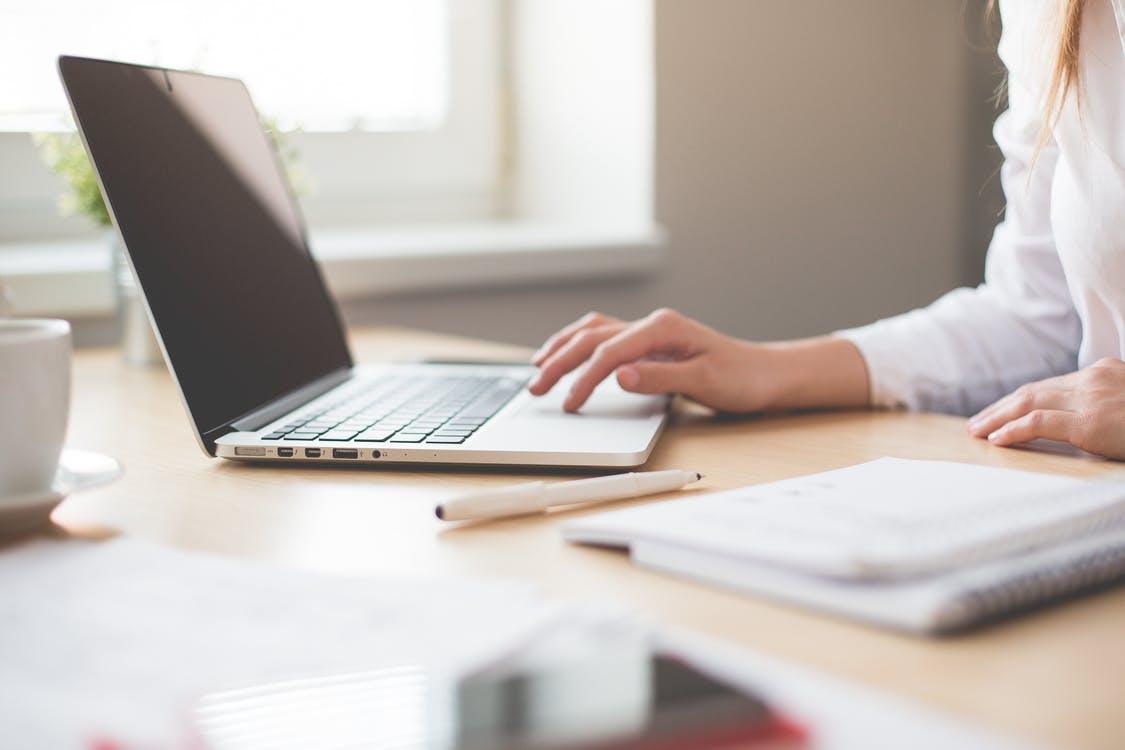 In Learn4Good, they also have categories for Language Classes, Language for Kids, Summer Camps, and TEFL courses, among others.
What makes this site easy to use is its featured section where a list of schools and colleges are provided so educators will find it easy to browse the universities that they might want to apply to.
Connecting Employers and Job Seekers More Effectively
Additionally, there's also a tab where you can add your school's profile if you're a recruiter.
Learn4Good also provides a list of programs and locations so visitors can easily find what they are looking for.
For job seekers, there's also a section where you can search for employment by typing the skill you have or the profession you want to apply for. There's also a drop-down list of countries and cities to help you narrow down your search.
Advertisements Inside Learn4Good
What makes Learn4Good more unique is its advertisement feature. Learn4Good links individuals with companies and is among the most universal education and career-related centers on the internet.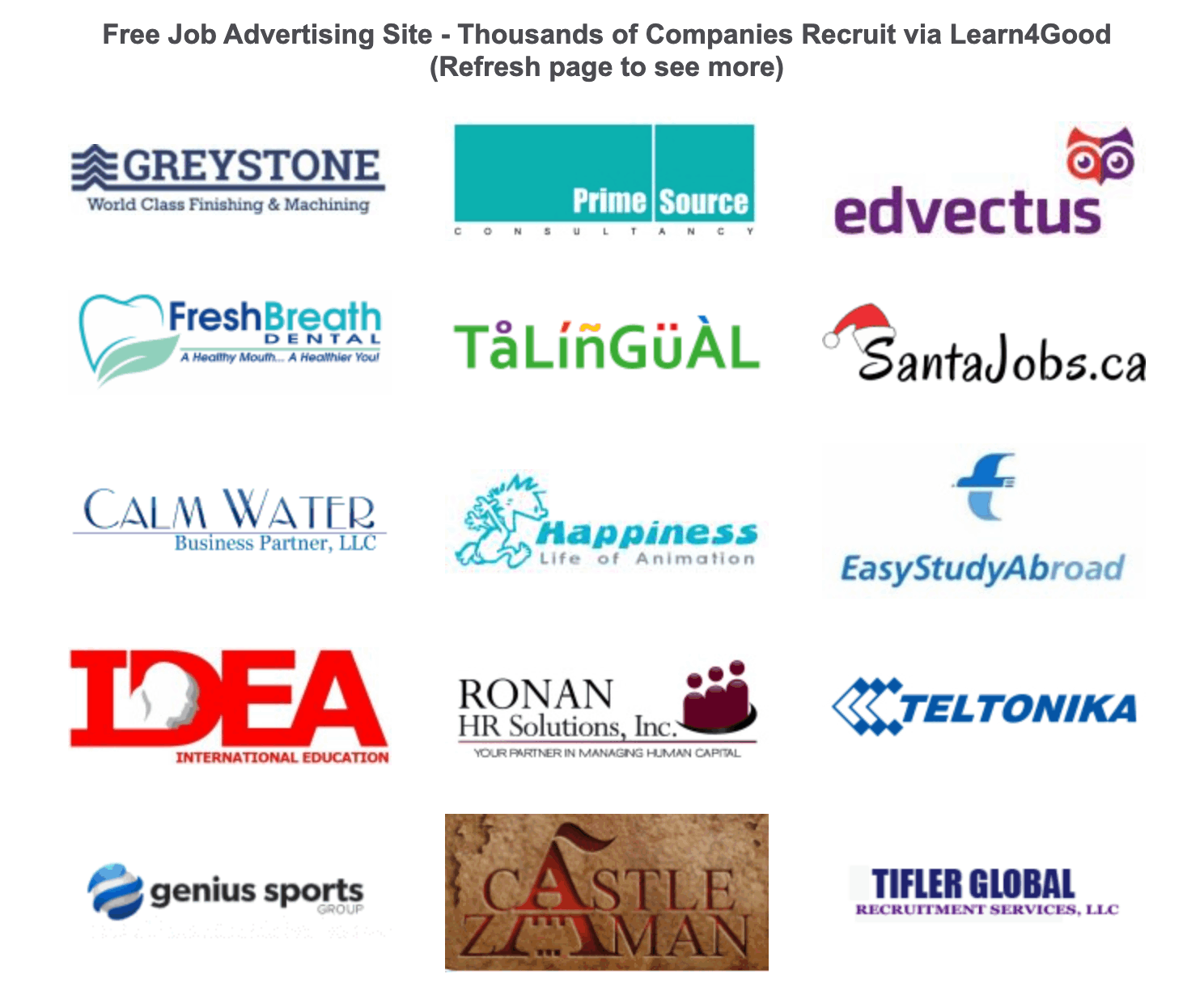 Learn4Good charges a fee for "Free advertising and enhanced placement" for educational institutions.
These advanced ads will obtain great leads for your institution through an appealing, informative ad listing.
The Free Advertising Option
Employers, on the other hand, may take advantage of Learn4Good's free advertising and enhanced placement.
You may join over 25,000 other companies in advertising job openings in your firm, industry, or sector and receiving applications from suitable people.
You may also design custom Candidate Filters to save time when it comes to recruitment.
How to Find a Job with Learn4Good
It's not difficult to find work with Learn4Good. There are hundreds of distinct professional specialties available in the United States and throughout the world. These are occupations that the website has deemed legitimate in over 100 major nations across the world.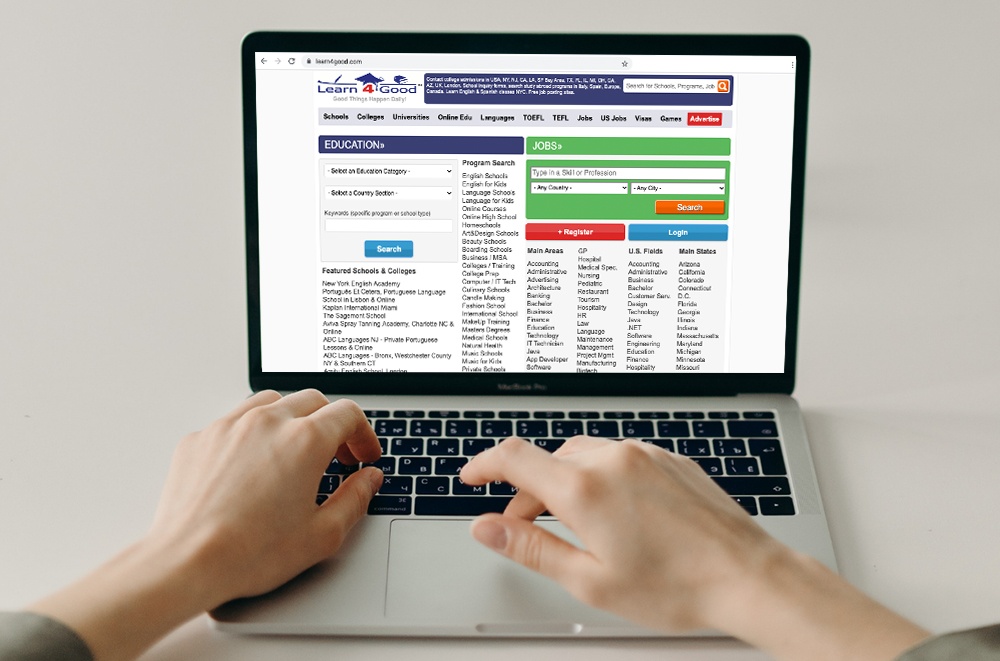 You must first register as a jobseeker and confirm your registration before applying for jobs by email using the Apply Online box available below every job ad.
Your account login information will then be emailed to you. You will be able to go into your account and access your Resume Outline there. When your credentials have been successfully saved on the worksite system, a notification will appear on the web page.
You may make as many changes to your Resume Outline as you want. When you apply for a job, this Resume Outline will be immediately delivered to the company in a clear and easy-to-follow style as part of your application.
Understanding How Job Application Works in Learn4Good
As mentioned, you may use the site's Resume Outline to easily apply for a job. However, you could choose to apply for a job without filling out your Resume Outline.
If that's the case, log in to your account and go straight to the job posting you're interested in. A link to apply online may be found right below the job description.
You may also attach up to three files to your application here. These files can't be bigger than 7 MB in total.
How Learn4Good Works for Employers
Employers may get free employment plans through Learn4Good. They may use this page to advertise for applications and select the email address they want to receive them at.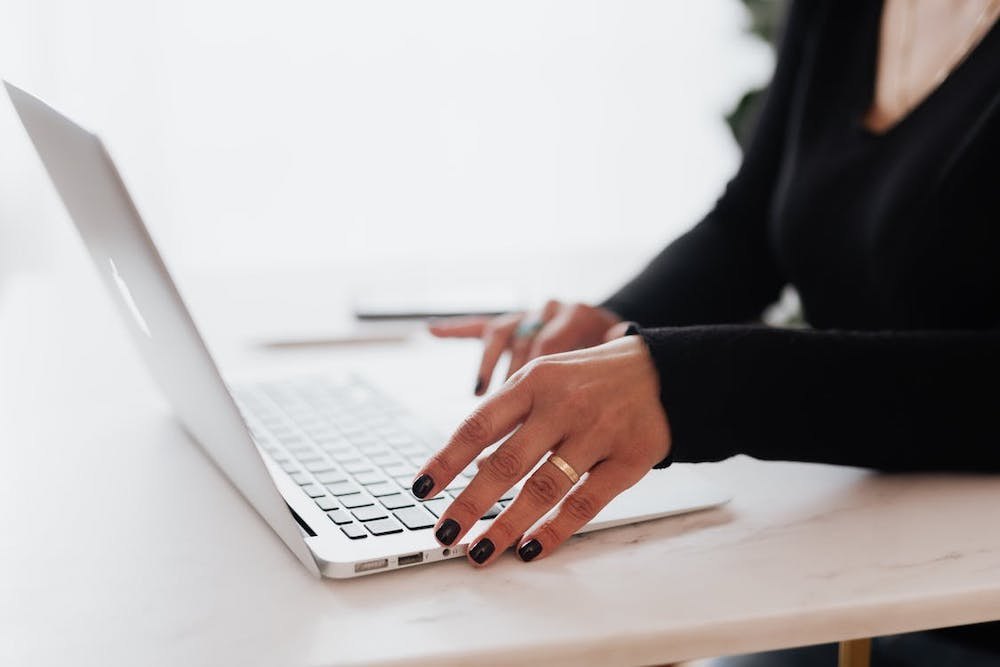 For manual job postings, the Free Job Plan option allows 20 free job listing credits for a six-month period, which may then be extended for another six-month term with another 20 free credits, and so on.
Your 20 job credits can be spent all at once or as needed, and you can alter your jobs at any moment. Free posts accept applications or questions through email, phone, or VoIP call, and you may get an unlimited amount of direct email applications or calls for your vacancies.
If you use up all of your 20 free job posting credits before the end of the six-month term, you should either wait until the period is up before renewing to a new Free Job Plan, or upgrade to a Paid Job Plan at any moment for more job posting credits.
Learn4Good Manual Job Posting
Employers can use the manual job posting feature by setting up their email addresses to receive applications. Interested applicants can apply for positions online using the Apply Online box found below each job ad.
If you're on the Free Plan, Basic Plan, Professional Plan, or ULTRA Plan, Learn4Good's job site program will send the application to the email address you specify in the job posting form for that listing, as long as the candidate meets your qualified candidate standards.
Employers can also submit their own URL to their job advert as an alternative for Paid Plan customers. Do note, administrators evaluate all tasks that are manually uploaded, and any jobs that they believe to be suspect or of low quality are deleted during the initial assessment.
Other Information that Schools Might Want to Know
Learn4Good has an education and employment-based ads hub. Here, they have a list of teachers, schools, and other academic institutions around the U.S. and worldwide.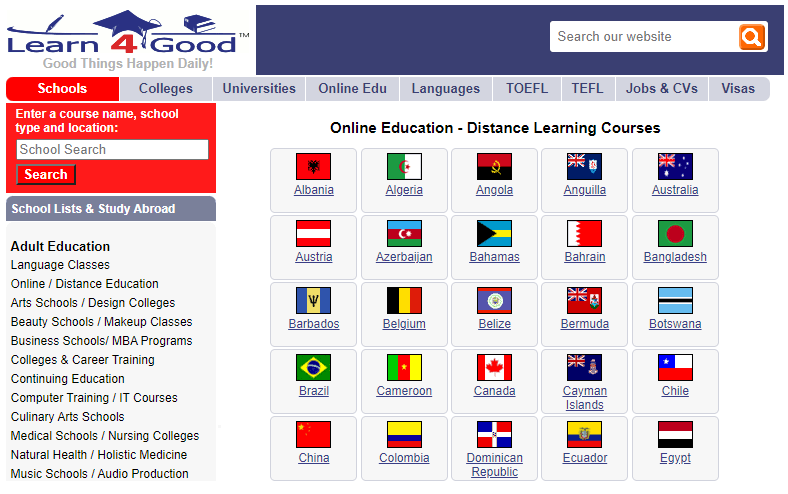 These sources offer millions of programs in different learning areas, such as languages, MBA, Science, graduate studies, and more.
The platform also offers a free listing option that employers can customize for themselves. This free listing option is accessible throughout the year.
Paid Featured Ads
Learn4Good also has paid Featured Ads that cover schools and other academic institutions for optimum exposure, which may lead to wider target market scope.
This optimum exposure also helps institutions to generate quality inquiries that convert into students or teachers. Learn4Good also has a premium placement order which takes the time of Learn4Good admins.
Conclusion
Through giving multiple alternatives for collecting and managing applications, Learn4Good can help recruiters with features including applicant tracking, getting applications directly to their inbox, or sharing their positions to other job boards, groups, and networks.