When it comes to searching for jobs, it can be tiring navigating from job site to job site, creating multiple profiles, and having your generic resume skipped over.
But with Jobxoom, job seekers can access over 30,000 job postings from exciting and reputable companies across many different sectors. Job searching is much more manageable when down through the Jobxoom platform.
Job seekers aren't the only users of the site who benefit from the array of features. Employers and recruiters can also hunt for the right candidate much easier and more directive. Learn more about the Jobxoom website below.
About Jobxoom
Features for Jobseekers
Searching for Jobs on Jobxoom
How to Create an Account on Jobxoom for Employers
The 30-Days Free Trial for Employers and Recruiters
The Professional Plan for Employers and Recruiters
Posting a Job on Jobxoom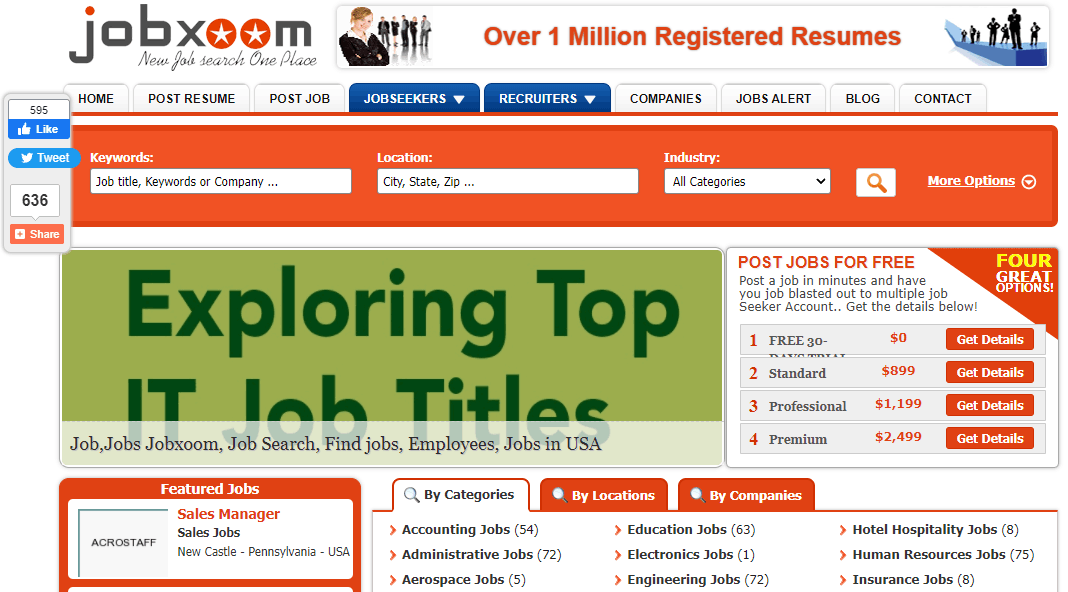 About Jobxoom
Jobxoom is a leading job search platform that contains thousands of listings of job opportunities in various sectors. It is one of the USA's leading job boards for advertising jobs in all sectors across the country.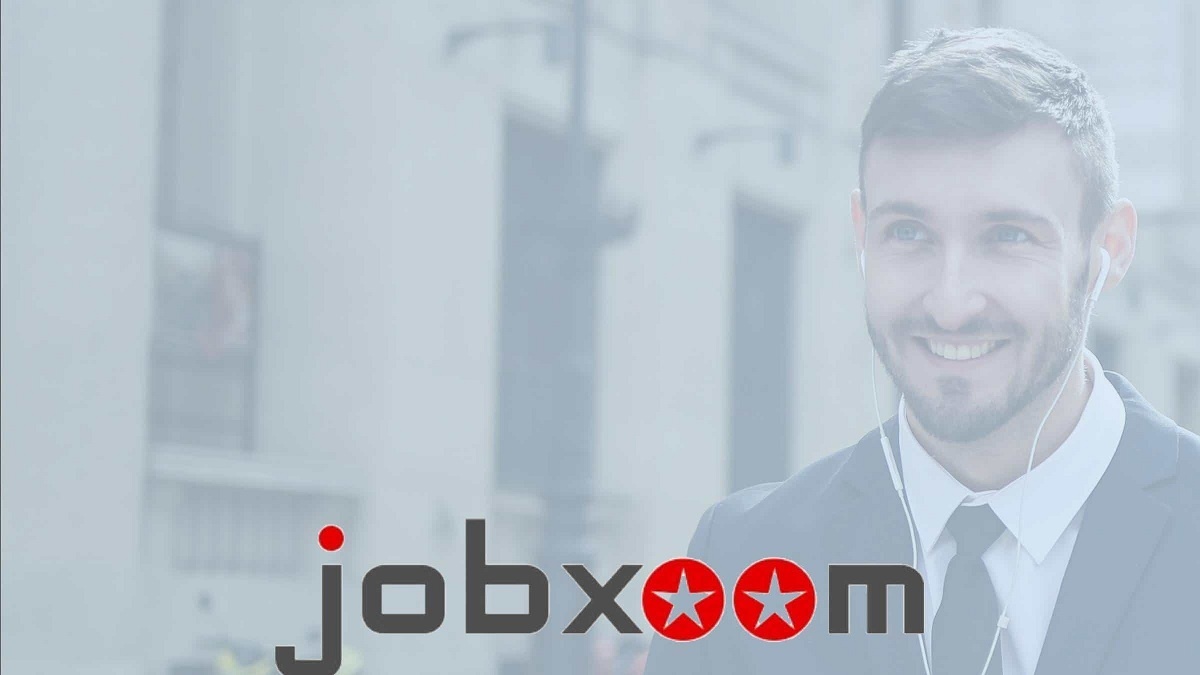 The platform is also available for job seekers in Canada, Australia, the United Kingdom, and India. Jobxoom provides access to the most up-to-date job postings and information about the companies that are hiring.
With Jobxoom, job seekers can apply directly on the platform to over 30,000 active vacancies from across the USA. Its enormous library of listings in numerous industries means Jobxoom reduces the time it takes to search for jobs.
Job seekers can upload resumes to their profiles that can be searched by employers using the site.
Why Use Jobxoom
Employers and recruiters use Jobxoom to find available candidates for their vacant positions because of the effective features it offers. By taking advantage of the popularity of the site with job seekers, employers can gain exposure to tens of thousands of potential candidates.
Over 80,000 unique users visit the Jobxoom website every month. For recruiters and companies, this means a higher volume of applicants to their job postings and a better chance of finding the right candidate for the job.
Jobxoom also offers easy resume matching according to job title, saving employers time sifting through piles of resumes or having to comb through them.
Features for Jobseekers
Jobseekers using Jobxoom can upload up to four resumes for free in order to be able to apply to various roles or industries from the platform. Having a resume that is customized to the industry will help with your chances of being called for an interview.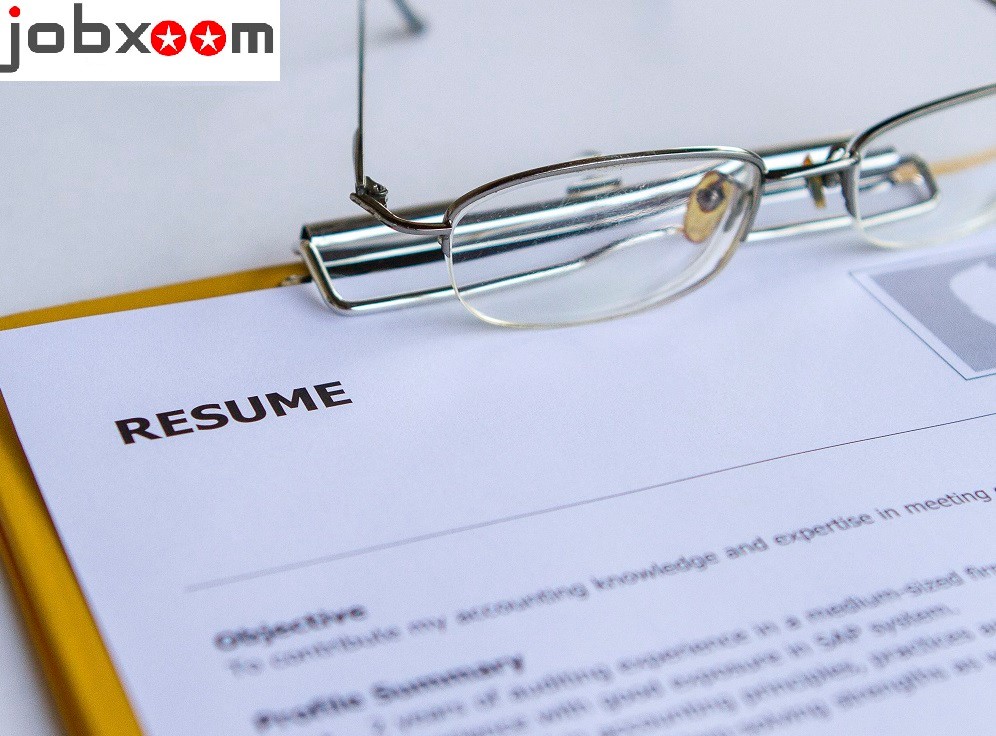 With Jobxoom job alerts, users receive daily, weekly, and monthly newsletters containing job listings that are relevant to their skills and career goals. The newsletter also provides the latest industry updates and career tips.
Job seekers can even block their current employers from seeing their profile, ensuring their job search is private.
Get Your Resume Seen on Jobxoom
Employers who use Jobzoom make over 13,000 searches each day on the platform for qualified applicants.
Employers and recruiters can search for job seeker profiles on Jobxoom to view their resumes and learn more about their skillset and experience.
Creating an account and uploading a resume will make the job search much easier, especially if employers are reaching out to you to apply for one of their jobs.
Searching for Jobs on Jobxoom
Searching for jobs on the platform is easy. Job seekers can add keywords to search for relevant jobs relating to their experience.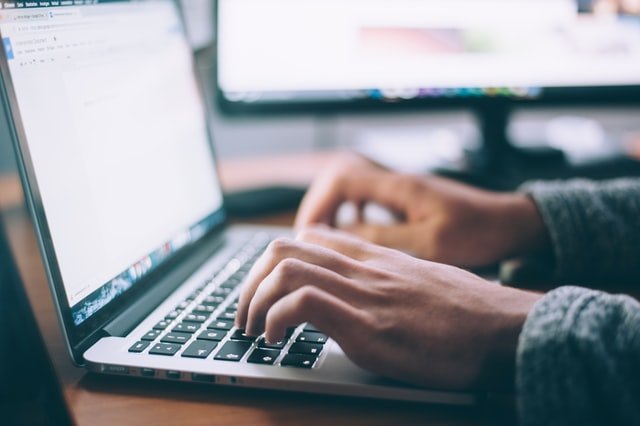 They can also search by location to narrow down job vacancies near them, or somewhere they'd move to. They can search by zip code, city, state, and more.
They can also search by industry from 57 categories based on sector. Some include biotech, transportation, engineering, real estate, supply chain, human resources, construction, design, education, and many others.
Some categories also include career path options like "Entry Level Jobs", "New Grad Jobs", "Executive Jobs", "Management Jobs", or "Training Jobs."
Refine Searches from the Results Page
After clicking the magnifying glass to begin your search, you will be presented with a list of job postings that fall under your specified location, industry, and chosen keywords.
From here you can further refine your results by sorting by date posted, location, company, or job title.
Users also have the option to save job postings, email them to themselves or someone else, view similar jobs, or view other postings from that company.
How to Create an Account on Jobxoom for Employers
By creating an account, employers and recruiters gain access to the extensive resume database, increased exposure to potential candidates, and the ability to get applicant resumes sent directly to their email inboxes.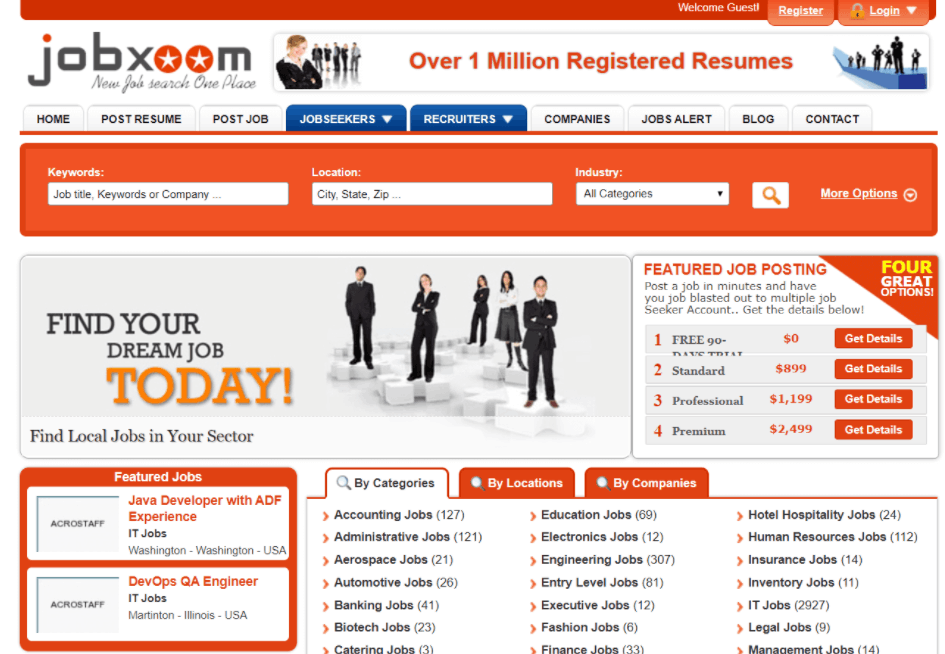 To create an account on Jobxoom, visit their website and click on the Register tab located in the right-hand corner of the homepage.
From there, you'll see the registration section for both employers and job seekers. Be sure to click "Register Now" under the "Employers – Start Recruiting!" section to create an account with access to all of the employer features.
Clicking "Register Now" will navigate you to the "Company Information" page. Here, information about the company that is hiring is important as interested applicants will read this to gain a better understanding of who they're applying to.
The More Details, the Better
Though a company description is not required when registering, adding one with details makes your company seem more transparent and allows job seekers to have a solid understanding of what your company does, its values, and more.
Also, make sure that all the contact information provided is correct and up-to-date so you never miss an incoming application.
The 30-Day Free Trial for Employers and Recruiters
When signing up as an employer or recruiter on Jobxoom, there are four main subscription plans available based on various pricing schemes and time intervals.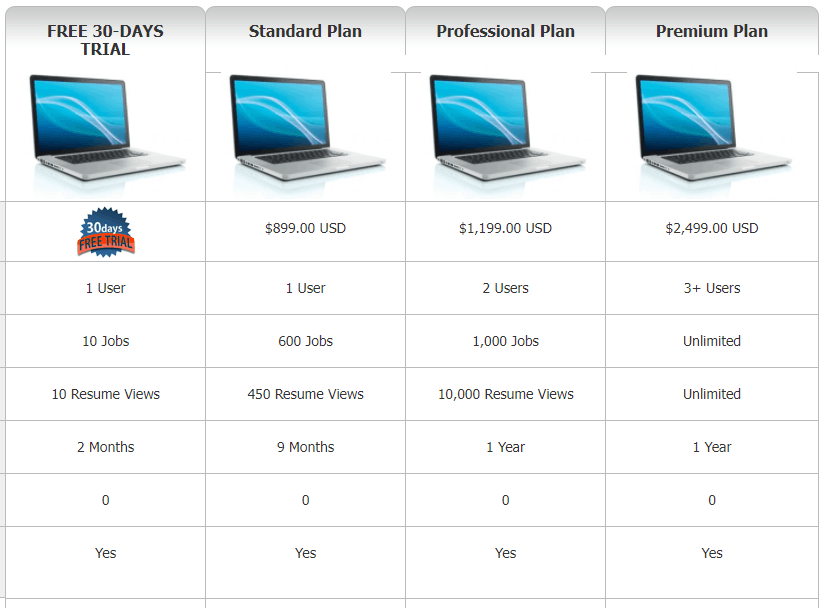 The Free 30-Days Trial Plan is for one user at a time.
It allows 10 job postings and 10 resume views that can be used for a duration of two months with your featured company.
The Jobxoom Standard Plan
The first paid plan is the Standard Plan which costs $899.00 USD and can be accessed by one user at a time for a nine-month period.
With this plan, employers can create up to 600 job postings. It also includes up to 450 resume views throughout the plan's time frame.
The Professional Plan for Employers and Recruiters
The third plan is the Professional Plan which costs $1,199 for a one-year subscription.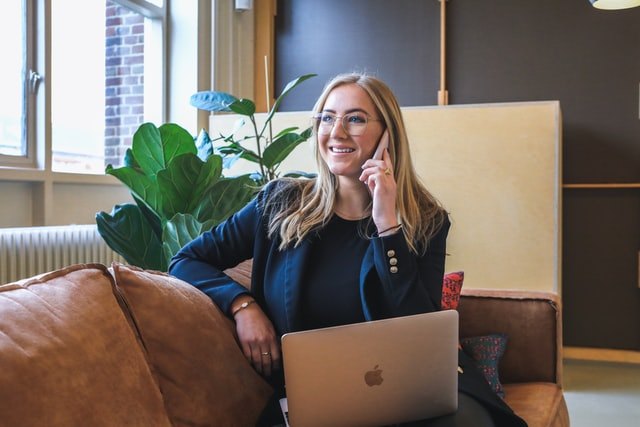 This plan is one of the most cost-effective plans offered by Jobzxoom.
It can be accessed by two users at a time and comes with the ability to post up to 1,000 job postings.
Employers and recruiters also have 10,000 resume views at their disposal.
The Jobxoom Premium Plan and Fine Print
The last plan by Jobxoom is the Premium Plan. It offers full access to the site and costs $2,499 for one year of access.
It can be used by 3 or more users and comes with unlimited job postings and unlimited resume views.
It is important to note that all of these membership packages must be used within a year of the initial purchase date.
Posting a Job on Jobxoom
To post a job on Jobxoom, click the "Post Job" tab on the main menu of the home page. You must be a member to post a job so sign in with your credentials or register as an employer.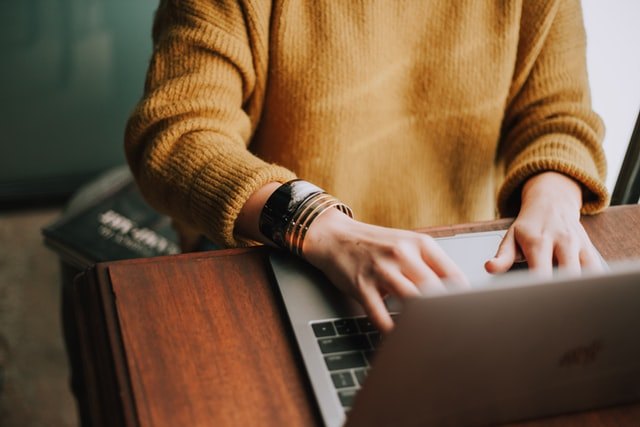 Once logged in, from your dashboard select the "Post Job" option at the top of the screen. If you haven't purchased a plan yet you can take advantage of the free trial plan to start out and then switch to paid job posting plans as needed.
Begin the posting by entering details about the job. You can even specify details regarding screening questions. Be sure to preview your job posting before submitting it.
It will be live on the site and available for searching within 24 hours. You can even share the posting on social media.
Jobxoom Shortcomings
Although there are a lot of features that Jobxoom offers, there are few shortcomings with this platform as well. Firstly, the website is not at all user-friendly. The homepage feels crowded and can be confusing to someone navigating the site for the first time.
Users report experiencing difficulties while logging in between sessions. Sometimes the Forgot Password option is not reliable. Either you will not receive the one-time password or it will create problems while logging in with the one-time password it does provide.
Another con is oftentimes little information is available or provided for the hiring companies. This can make finding a job with a company whose values are shared by applicants more difficult. The cost of the site is also a downside considering platforms like Indeed are free or cheap.
The Bottom Line
Jobxoom is a great way to find job vacancies across tons of industries and in various countries. With the help offered by Jobzxoom, job seekers can find jobs with reputable companies more easily and in less time.
Employers can also benefit from Jobxoom's features designed specifically for them. With exposure to over 80,000 potential candidates a day, and advanced search options to help sift through resumes, finding the right person for the team is a breeze.