Are you currently looking for remote work opportunities and have the talent and passion required for writing? Do you have the ability to manage various tasks and deal with different clients at the same time?
If your answer is yes to these questions, then you might want to consider entering the world of freelance writing. You may consider freelance writing more of a side hustle, but it is also a great option as a full-time career.
This article will talk about Freelance Writing, a website that you can use as a source of potential writing jobs. In this article, you will learn about its features, tools, and other resources, as well as how to apply for jobs using the platform.
About the Freelance Writing Platform
The Freelance Writing Website and Its Features
Searching for Jobs on the Freelance Writing Platform
Submitting a Job Application through the Platform
Gaining New Knowledge Through Freelance Writing Articles
For Companies Looking to Hire Writers on Freelance Writing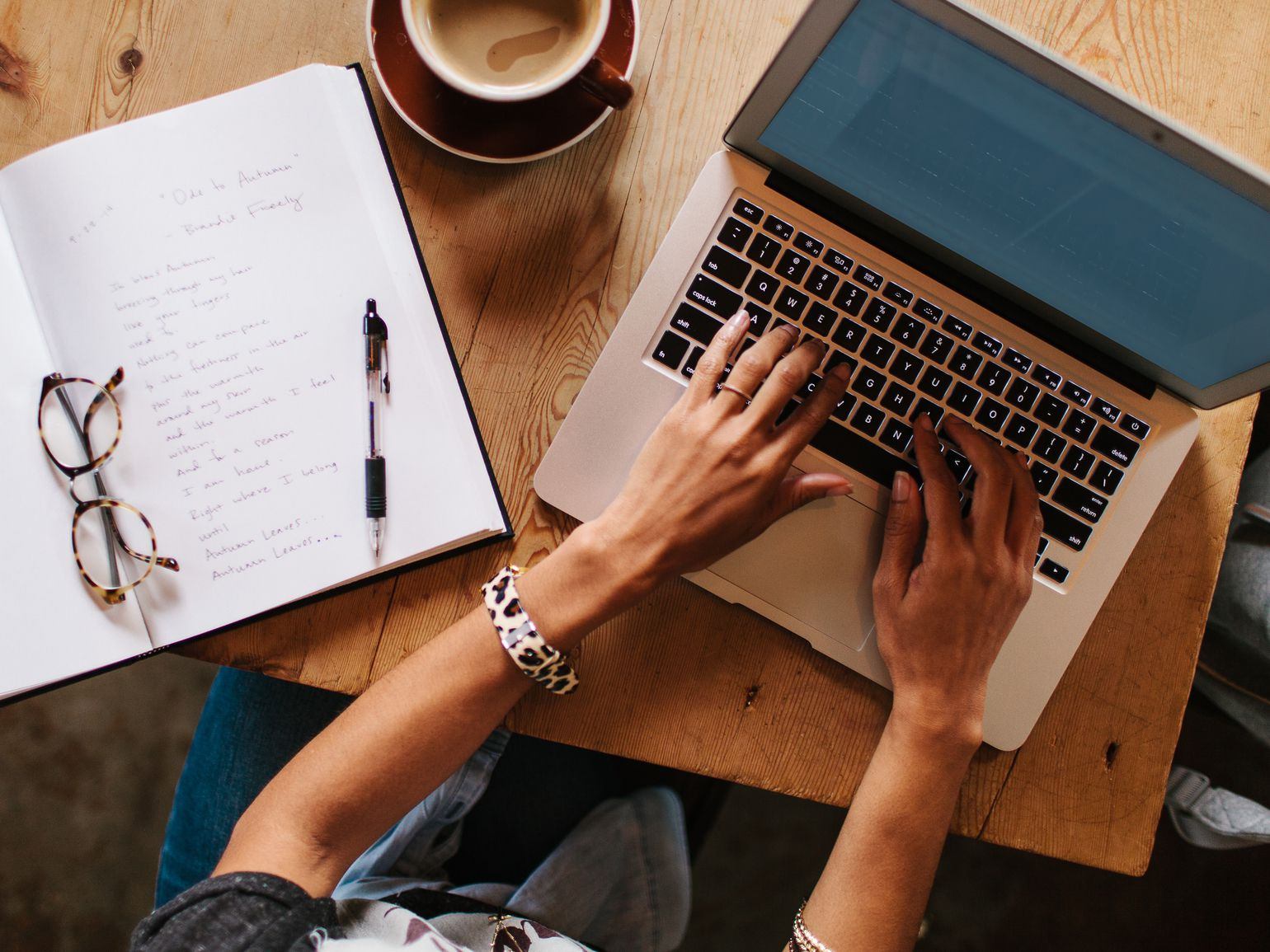 About the Freelance Writing Platform
Freelance Writing refers to itself as an online hub where businesses can hire top-quality writers. It is also where freelance writers can find high-paying writing jobs with one of the lowest take rates in the market.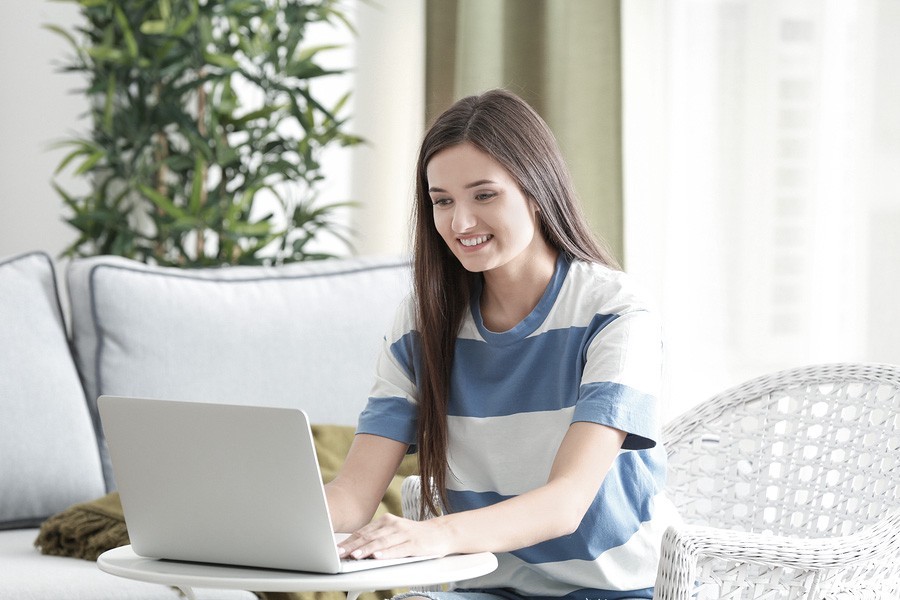 According to the company, the platform was made by writers for writers. Not only does it function as a writing job board, but it also provides freelance writing resources and offers information on writing contests.
Among the prospective writing tasks available on the Freelance Writing platform are blog posts, press releases, web pages, email newsletters, product descriptions, and white papers.
A Brief History of Freelance Writing as a Company
The company was founded in 1997, and since then, it has been providing its services and resources to help people transition and thrive in freelance writing.
Freelance Writing was formed with the goal of providing a platform where every writer can thrive, regardless of whether they're already established writers or those who are just starting off their careers in freelance writing.
For businesses, the company provides access to some of the best writers available online. It ensures this quality by using a rigorous vetting process. Over the years, it has become a one-stop-shop for companies' writing needs.
The Freelance Writing Website and Its Features
The features of Freelance Writing truly embody its objective of serving as a place for both freelance writers looking for jobs and companies looking to hire for their writing needs to source each other.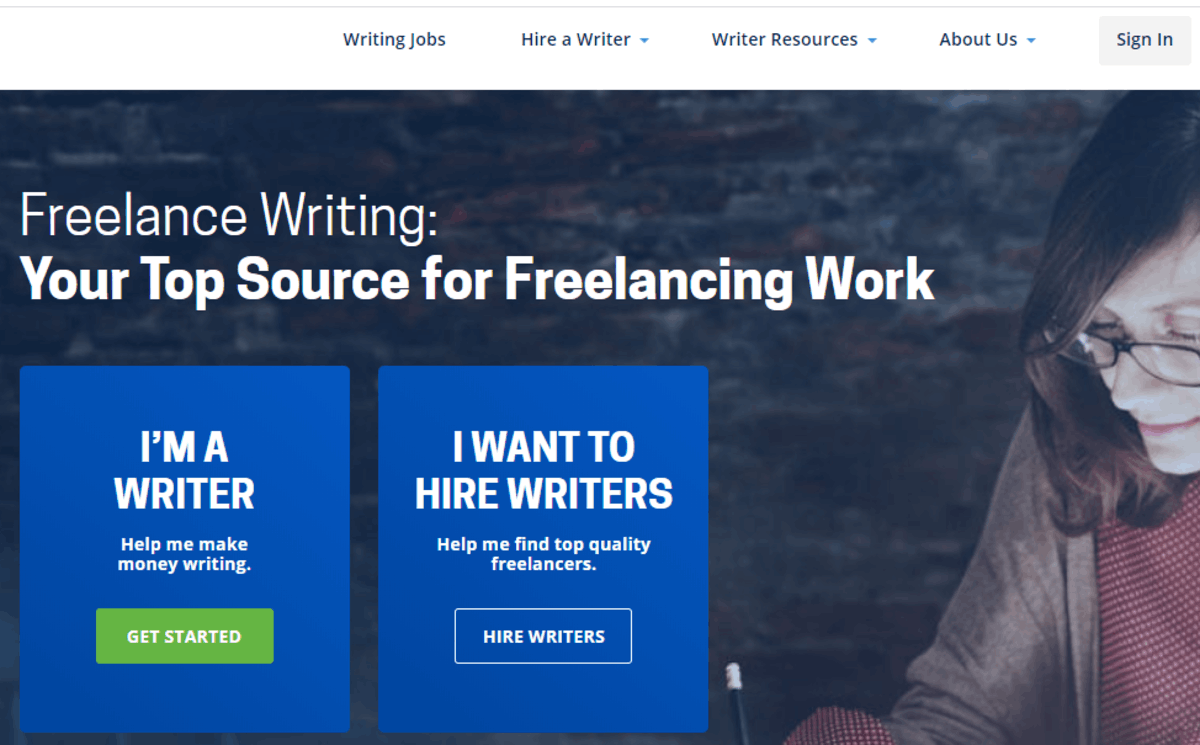 The website has a job board that allows freelancers to browse through the available writing jobs on the platform.
The "Hire a Writer" section is where companies look for freelance writers based on their writing projects.
Resource Sections for Freelance Writers and Publications
There is also a section called Writer Resources which contains articles related to writing and guidelines on writing for specific publications.
It also offers free resources like e-books and information on writing contests where freelancers can participate.
Searching for Jobs on the Freelance Writing Platform
You will find the latest writing jobs available on the platform by simply clicking on the Writing Jobs menu at the upper portion of the website. Once on this page, you will see a list of the latest vacancies posted.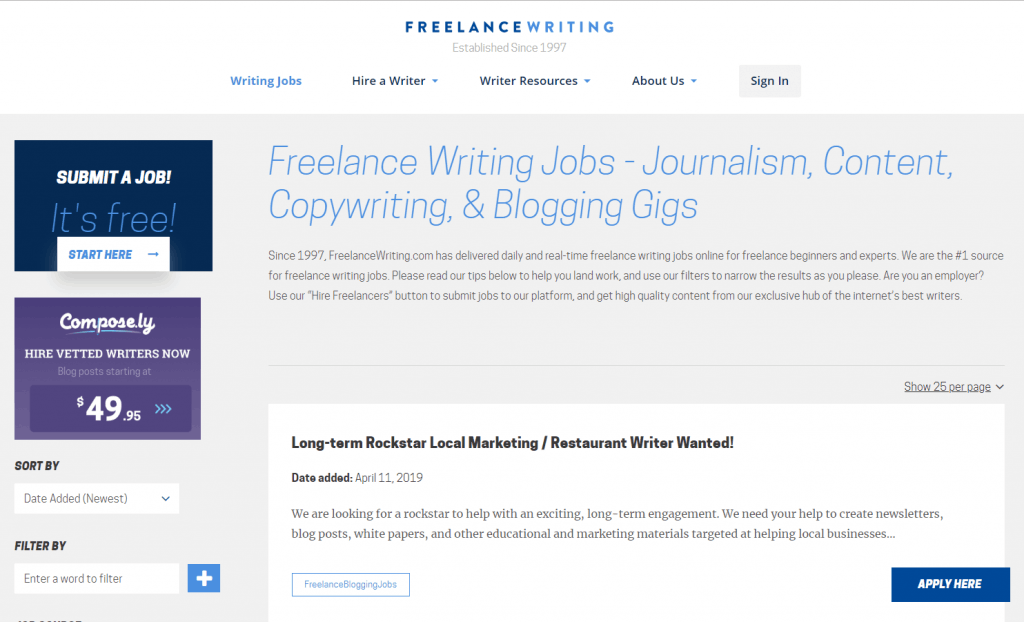 By default, the list will show 25 entries per page, but you can modify this to 10 entries or 50 entries depending on your preference. It is also sorted by Date Added (Newest), but you can change this to Oldest or by Title A-Z or Z-A.
The entries will offer a preview containing information about the jobs like position or title, the name of the hiring company, and an excerpt from the job description. It also indicates where the vacancy was originally posted.
Using Filters to Get Specific Results
Although the platform doesn't have a search bar, there is a filter tool at the left side of the Writing Jobs section where you can input keywords and filter the vacancies based on those terms. You can use multiple words for this filter.
You may also filter the entries based on specific writing skills, such as blogging, copywriting, and journalism. Another filters the vacancies based on the job source, including Craigslist, Indeed, and BloggingPro.
There is also a filter for location, so you can choose remote-based work or specific locations. Job seekers may opt to subscribe to receive daily updates on the latest freelance writing jobs by providing their email addresses.
Submitting a Job Application through the Platform
After browsing through the available jobs, sorting them according to your preferences, and using filters to narrow down your choices, the next step is to begin the application process.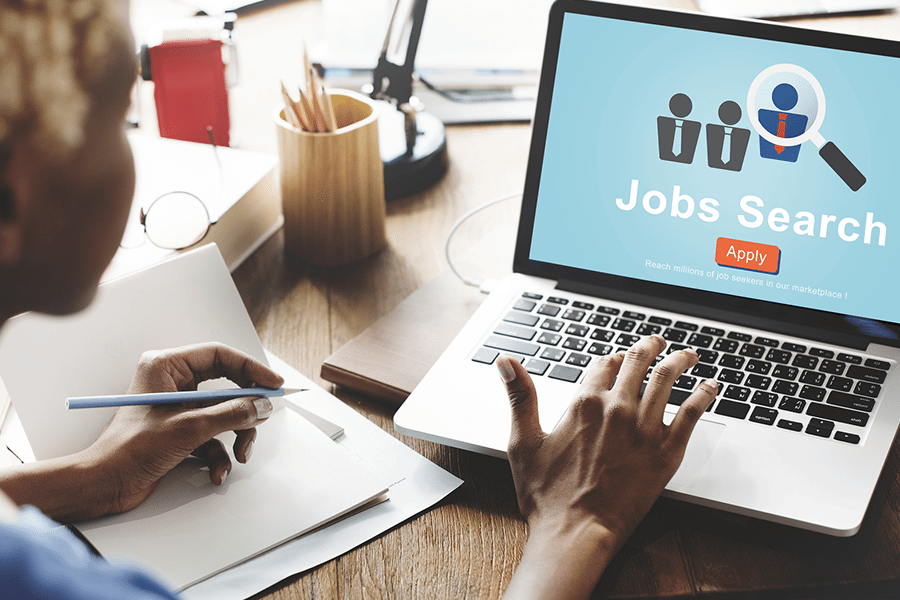 Once you've chosen a particular vacancy that you want to apply for, click on the Apply Here button located at the lower right corner of the entry.
This will take you to a separate job post window where you will again see the name of the position, the company that posted the job ad, and the date it was posted.
The Application Process
Most of the job ads posted on the Freelance Writing platform either let you apply via email or redirect you to the website where it was originally posted.
If the job post was set up for you to apply directly by email, then you don't have to do anything else. You will just have to wait for the company to respond to your submission.
However, if you encounter posts that redirect to other job sites, you may possibly be prompted to create an account on that site in order to submit an application.
Gaining New Knowledge Through Freelance Writing Articles
Aside from the job board, there are other resources on the site that freelance writers may take advantage of. One is the Article section, which features discussions about a variety of writing-related topics.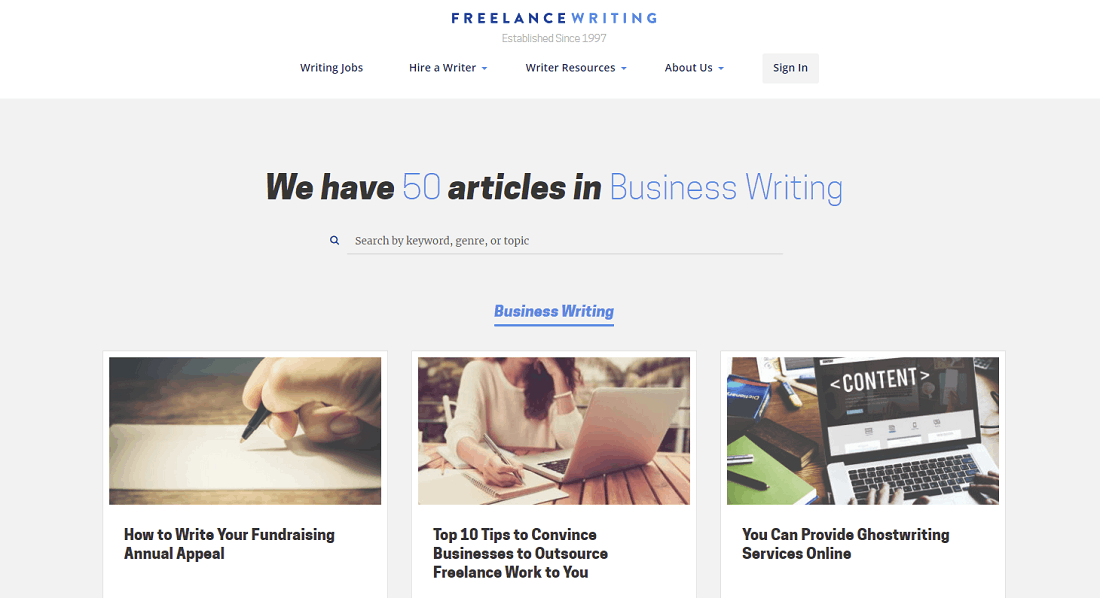 To access this section, click on the Writer Resources drop-down menu and choose the Articles option. You will immediately see links to articles based on writing-related topics, such as ghostwriting, journalism, and social media writing.
If you click on a topic, it will redirect you to the actual articles related to that topic. Since there are hundreds of articles that can be found in one category, you can use the search tool and enter a keyword to narrow it down.
Learn about Submission Guidelines to Specific Publications
Similar to the Articles section, you can find the guidelines by clicking on "Writer's Guidelines" on the Writer Resources menu. The guidelines are grouped based on the type of publications they are under.
Among the publication categories for the submission guidelines are aerospace, children, food, health, and entertainment.
Clicking on one of these categories will take you to a list of publications under them and a brief description of them. For example, under entertainment, you will find Emmy Magazine, Cineaste Magazine, and GAMES Magazine.
For Companies Looking to Hire Writers on Freelance Writing
Meanwhile, companies looking to hire freelance writers for specific tasks may also turn to the Freelance Writing platform for their needs. On the website, there is a Hire a Writer drop-down menu located at the upper portion of the screen.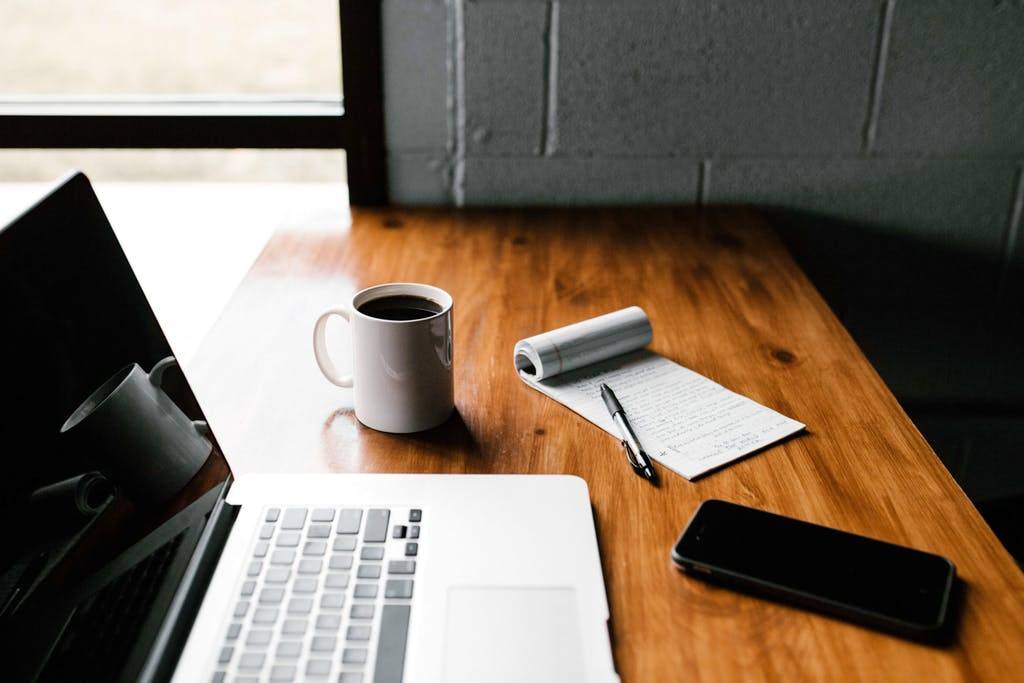 Clicking on it will redirect you to the Compose.ly website, where you may either request sample work or contact a specialist to talk about your specific writing needs.
If you hover over the menu, you will see the different types of writers that you could hire. Click on one that you need, and it will open a Compose.ly page that details the pricing for services.
Costs of Hiring Writers
When hiring specific writers, like press release writers, website content writers, and email newsletter writers, you will be given three options. The first option is the Content Writer Marketplace where you can hire on a pay-per-project basis.
There is also a Managed Service Subscription option that starts at $999 per month. Choosing this will give you a team of dedicated writers and a client success manager, along with proofreading and reviewing services from in-house editors.
Lastly, the Custom Projects & Content Blocks option is for companies looking for customized pricing for a fixed set of writing and editing tasks. This option is great for those launching a new website or revamping a blog.
To Sum Up
The Freelance Writing website offers a lot to established and budding freelance writers alike from its job board, resources, and marketplace. Although most of the jobs you'll see on it are from other job sites, it's more convenient to find freelance jobs in one place.
The Articles and Submission Guidelines sections are also very informative and can greatly improve your career as a freelance writer if used properly. Freelance Writing also serves as a great avenue for companies to find the best freelance writers online and connect with them for projects and contracts.