The global health crisis, along with improved access to fast and stable internet, has led to the increased popularity of remote work over the past couple of years. The lockdowns in the past months have forced companies to consider work-from-home options and employees have gotten used to them.
In the past, finding remote jobs was very challenging as only a handful of companies provide such options. But now that most systems are accessible online, more firms are becoming open to the idea and have become responsive to the demands of the labor market.
Job boards have also adapted to this trend and some have been created to cater specifically to remote work and freelancing. In this article, we will discuss one such job site, namely the Hubstaff Talent website. We will discuss its features and how to use it as a job seeker and recruiter.
Examining Remote Work and Its Differences with a Regular Job
Why Become a Remote Worker?
Why Hire Remote Workers or Offer Remote Options?
Take a Look at the Hubstaff Talent Website
Notable Features of Hubstaff Talent for Job Seekers
Benefits of Posting Jobs on Hubstaff Talent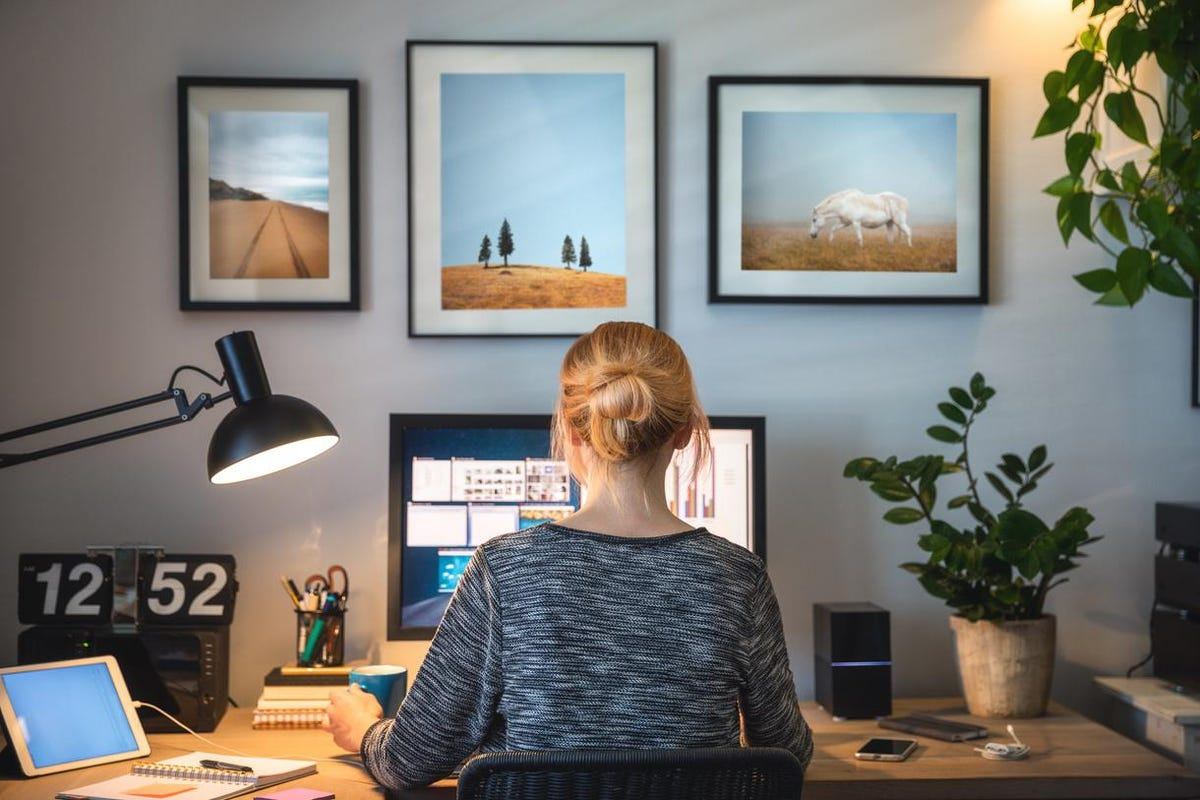 Examining Remote Work and Its Differences with a Regular Job
Remote jobs have been around for several years now but their rise to prominence as an option in regular employment has only recently been observed due to the global health crisis.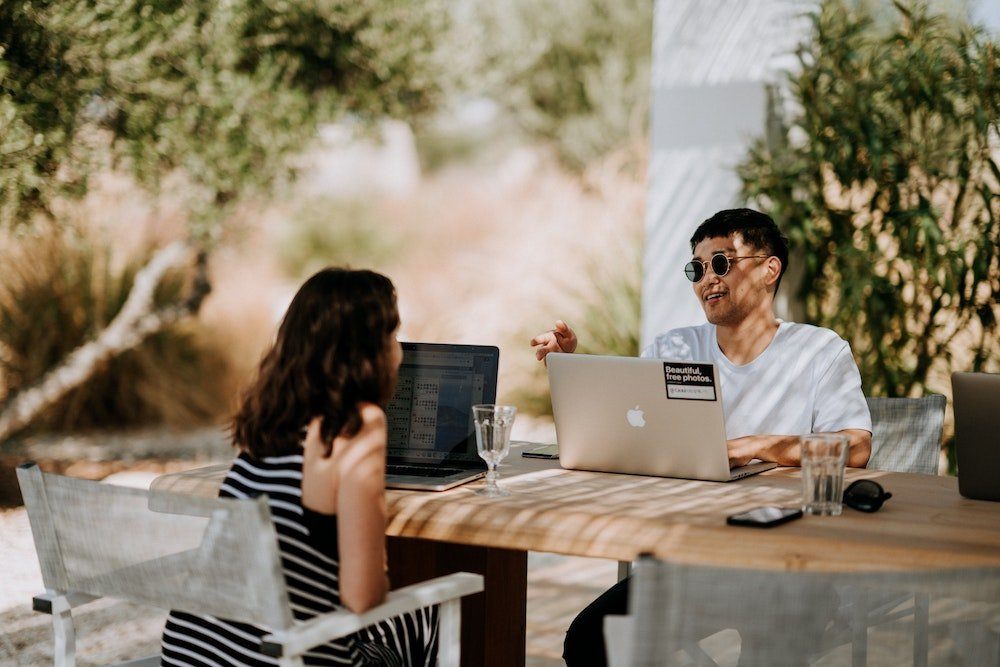 Basically, remote work is hinged on the idea that it doesn't matter where employees work as long as tasks can be accomplished and do not require an internal network to be executed.
Remote jobs enable people to fulfill their duties as employees of a company even outside of a traditional office setting. This saves time and energy from commuting and gives more flexibility and time for individuals to achieve a healthy work-life balance.
Methods for Working Remotely
Remote workers typically work from their homes or nearby locations such as cafes if their homes do not provide good working conditions.
Coworking spaces are also an option and are gaining popularity nowadays. These are facilities that act as a hub for remote workers, freelancers, and small business owners who can't afford to rent an office yet or whose teams are too small to invest in their own space.
Some have taken remote working to a higher level by integrating it into their lifestyle. Since most remote works allow flexible schedules, some become digital nomads who travel across the world while doing their jobs.
Why Become a Remote Worker?
As workers, there are a number of reasons why people choose remote work over traditional office jobs. The most common benefit that people mention is the flexibility it provides that transcends to their personal lives.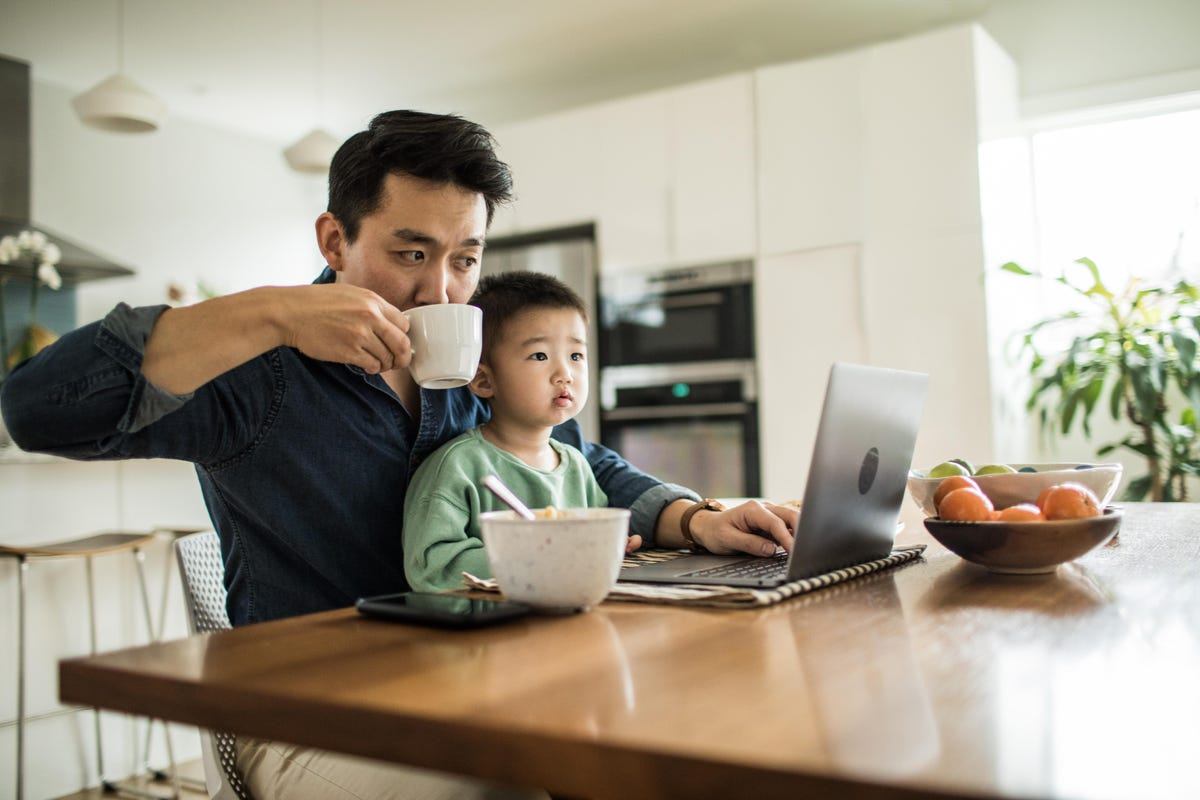 Some employees want to focus on other endeavors outside of work, such as becoming a parent or pursuing further education. They are able to do these because they don't have to spend time commuting to and from work.
The flexible work schedule also allows them to either begin work earlier to pick up their kids from school while others are able to take time off in the middle of the day to visit the doctor for a few hours.
Other Benefits of Remote Work for Employees
Another benefit associated with remote work is improved health and wellness for workers. According to the Royal Society for Public Health, remote employees have lower stress levels and higher morale.
This is because people feel most stressed during their commute and in harsh office environments. Taking away this aspect of work allow the employees to be comfortable in their working environment, thus becoming more productive and focused.
Remote employees also feel that they are more passionate about their jobs when they work outside the office because they find inspiration in their surroundings and being detached from the office gives them new perspectives.
Why Hire Remote Workers or Offer Remote Options?
As discussed earlier, remote work lessens stress and improves morale due to the flexibility it offers, resulting in increased productivity among employees.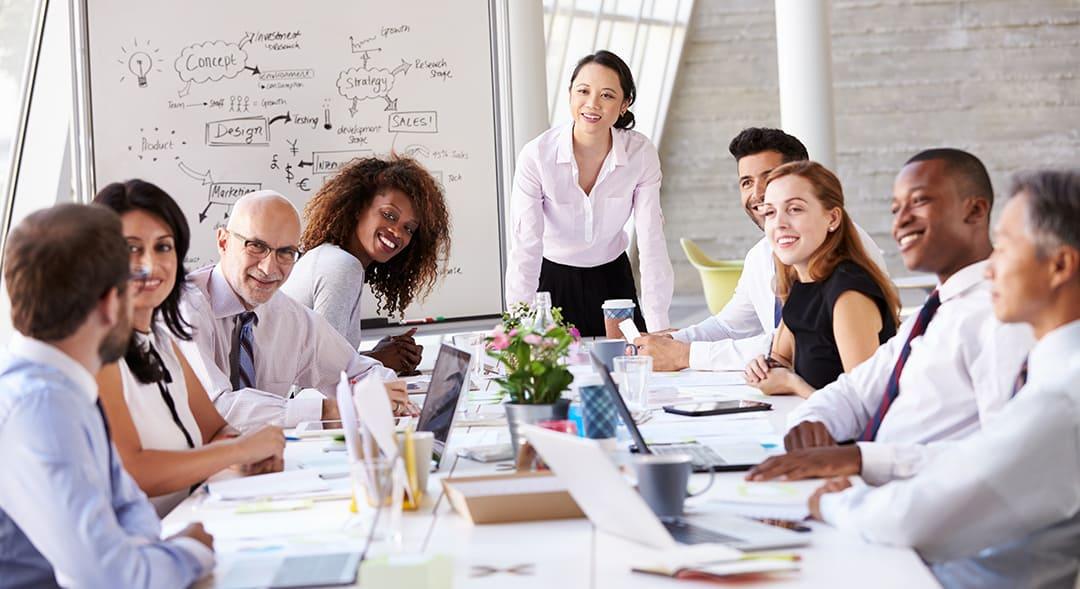 This means that remote workers have a higher tendency to go above and beyond with their duties compared with their peers who continue to go to work in the office.
The State and Work Productivity Report found that 65% of full-time employees believe that remote work increases productivity while 67% of managers observed overall productivity increase among remote employees.
Other Benefits of Remote Work for Employers
Not only is remote work good for productivity and morale, but it also saves money for the company as it decreases the overhead costs, such as rent and office furniture. About $22,000 can be saved per remote worker per year.
Employee retention is also higher among remote employees because they feel happy and engaged. A Softchoice study revealed that almost 75% of employees would resign if offered remote work elsewhere.
Employee satisfaction is also higher in companies with remote work setups because they feel happier and more valued within their role.
Take a Look at the Hubstaff Talent Website
Hubstaff Talent is a website developed by software company Hubstaff to serve as a job board where people can apply for remote jobs and companies can hire remote workers and freelancers.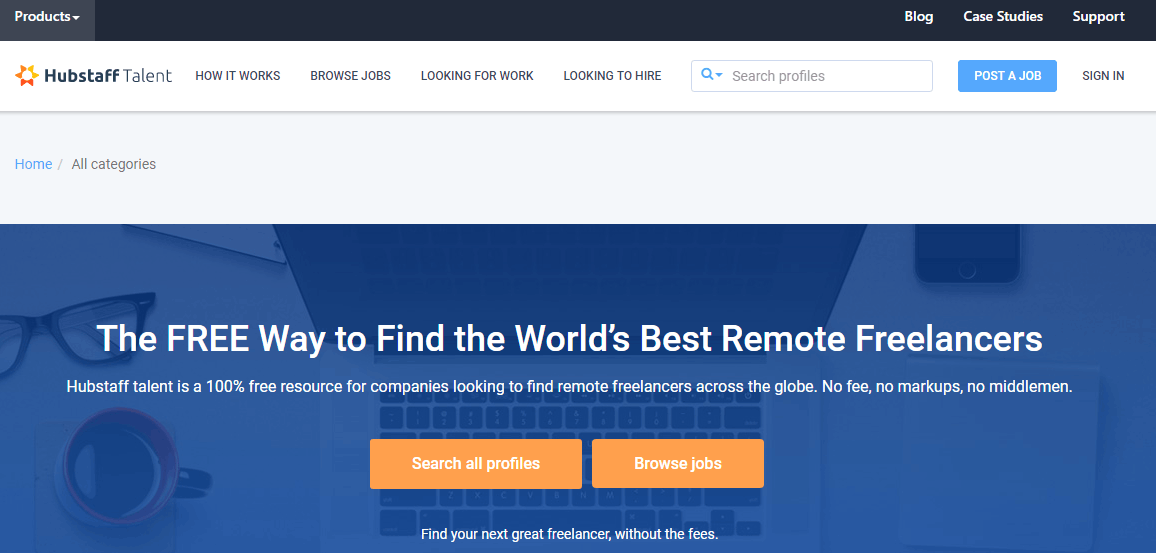 Creating a profile is free of charge for job seekers while job posts do not cost a thing for hiring companies. More than 50 new full-time jobs and over 80 hourly-based or fixed-price freelance work are added to the platform weekly.
Unlike other remote work and freelance platforms, companies and remote workers may directly communicate with each other and are not confined to the Hubstaff Talent system.
About the Hubstaff Company
The remote job board was created by Hubstaff, a workforce management platform provider founded by Dave Nevogt and Jared Brown in 2003 after they got tired of commuting daily.
It provides proof of work, time tracking, and payroll management solutions to thousands of clients, including e-commerce businesses, remote startups, and software companies.
Its products and services include the simple time tracking and reporting app Hubstaff Time, Hubstaff Desk, Hubstaff Field, Hubstaff Tasks, and the Hubstaff Talent website.
Notable Features of Hubstaff Talent for Job Seekers
Compared to other bigger remote job boards, such as Upwork, the Hubstaff Talent website may seem like a mom-and-pop shop beside a shopping mall. However, it is completely free, unlike others that impose fees.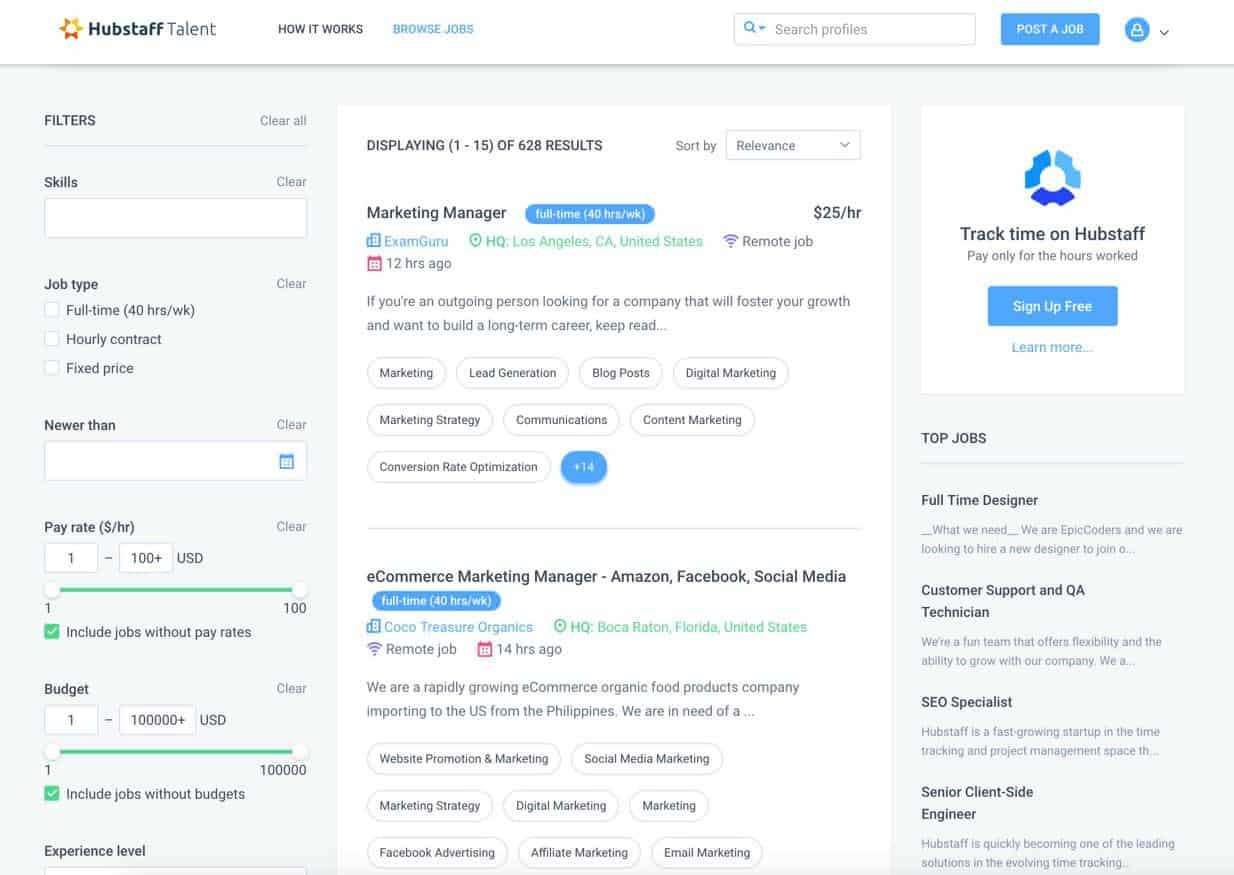 When you go to the Browse Jobs tab, it immediately populates the screen with the latest job posts. There are several filters that you can use on the left panel, including job type, pay rate, and experience level.
Even without filtering, you can easily determine the job type because each job entry has a colored label indicating whether it's a full-time, hourly contract, or fixed price position.
How to Use the Platform as a Freelancer or Remote Worker
The first step of using the Hubstaff Talent site as a job seeker is to sign up and create a profile on the platform. Make sure that you indicate all your skills so that your profile will stand out.
Once you've established your profile, companies that are looking for your particular skill set and experience will be able to find you and contact you directly about their vacancy.
You can also browse through the jobs already posted on the platform and click on apply to job if you want to submit an application. Payments involved in work contracts will be directly between you and the hiring company.
Benefits of Posting Jobs on Hubstaff Talent
As mentioned earlier, posting a job on the platform entails no costs or fees for a hiring company. When you post jobs and projects, applicants will directly contact you and explain why they are the best person to hire.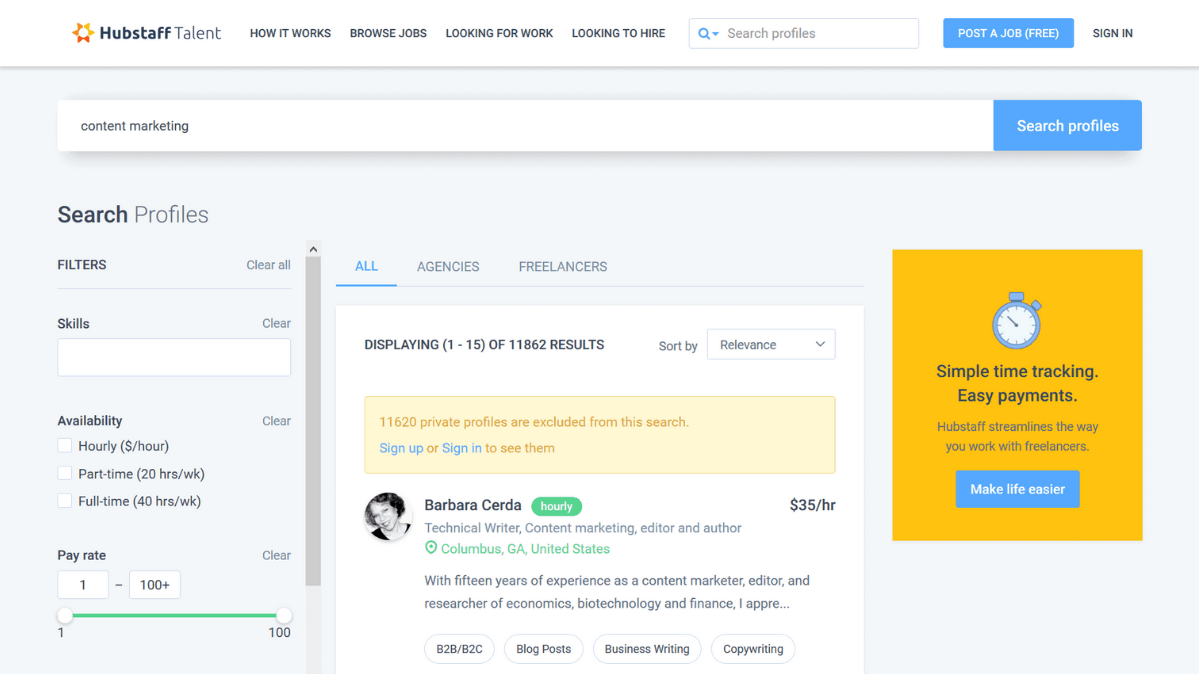 When someone applies to a job post, Hubstaff Talent will notify the company but it will not restrict communications between the applicant and the firm within the platform.
While you can definitely use Hubstaff's time tracking software in your project, the platform gives you the freedom to choose whether to use it or not.
How to Use the Platform as a Business Owner
As a business owner looking to hire remote workers or freelancers, you may either take the job post route or you can simply browse through the profiles of freelancers and agencies available on the site.
Contact them directly and decide on the work terms and pay for the project or employment. Start the work and complete it with the team of your choice.
Note that agencies are teams of freelancers and remote workers that work under an agency owner. If you want to hire an agency member, you will be negotiating terms with the agency sales team.
The Bottom Line
While the Hubstaff Talent website may seem small compared with more popular remote work and freelancing platforms, it remains a good prospect for both job seekers and employers because it is absolutely free to use.
With the increasing popularity of remote work, the Hubstaff Talent platform has the potential to even become bigger in the near future and would be able to cater to more workers, agencies, and businesses. If you're looking for remote work, this platform is worth a try.