Finding work online as a writer or any media and content professional has long been a challenging task, even prior to the global pandemic. There is a high level of competition among candidates for the limited number of job posts online.
Most mainstream job boards do not have much coverage for these lines of work compared with other professions. So it's not surprising that some job seekers struggle to find opportunities.
Luckily, there is a website called Mediabistro, which serves as a job board and online community for media and content professionals. If you want to know more about the site, continue reading the article below.
Mediabistro – Online Job Board and Community for Media Professionals
Job Searching Using Mediabistro
Examining the Information Job Posts Offer
Using Filters to Narrow Down Your Job Search
Signing Up for a Mediabistro Account
Costs and Subscriptions Offered to Job Seekers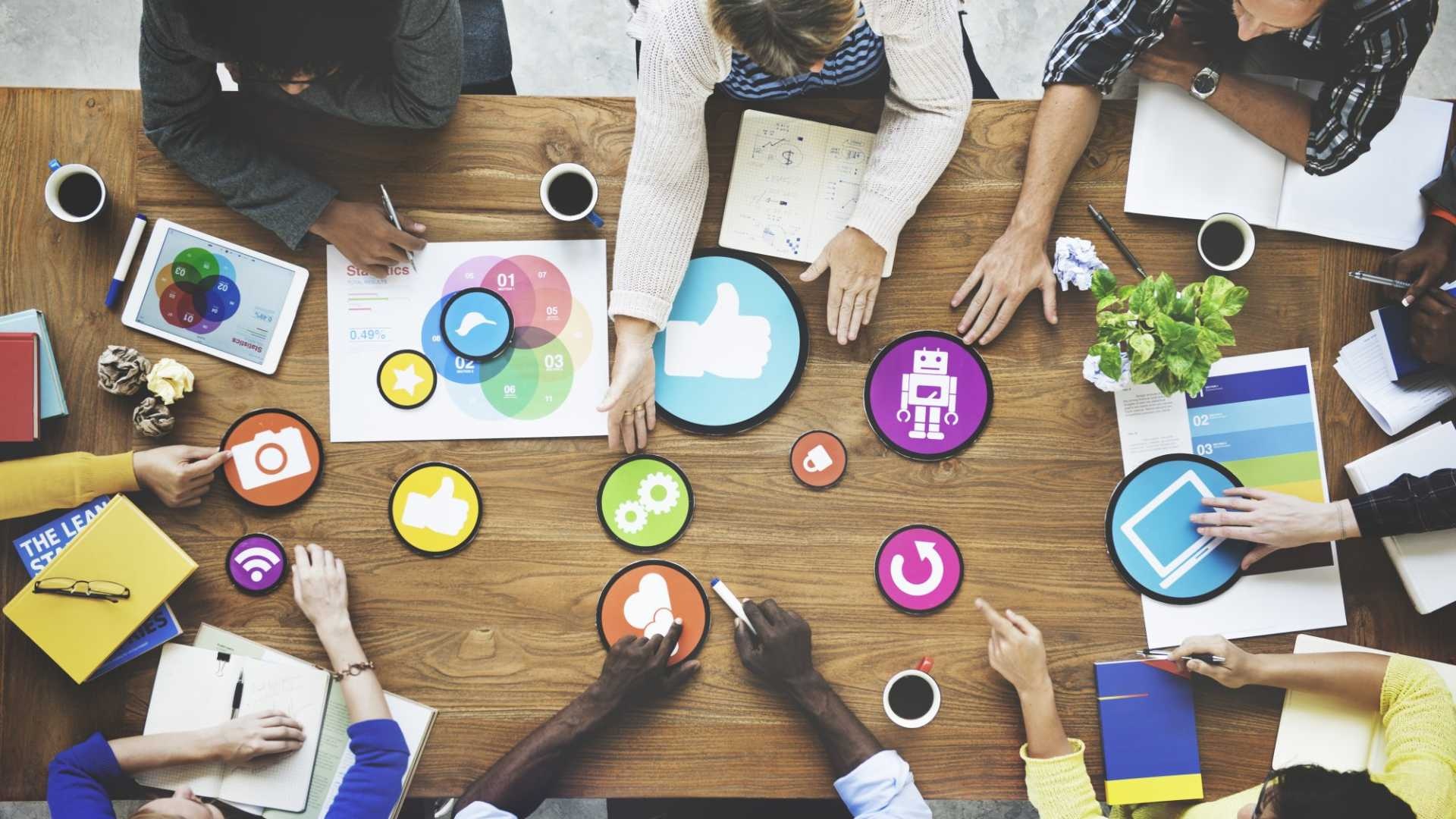 Mediabistro – Online Job Board and Community for Media Professionals
Unlike the most popular job boards that cater to various job seekers and professionals from different industries and areas of expertise, Mediabistro was created specifically for media and content professionals.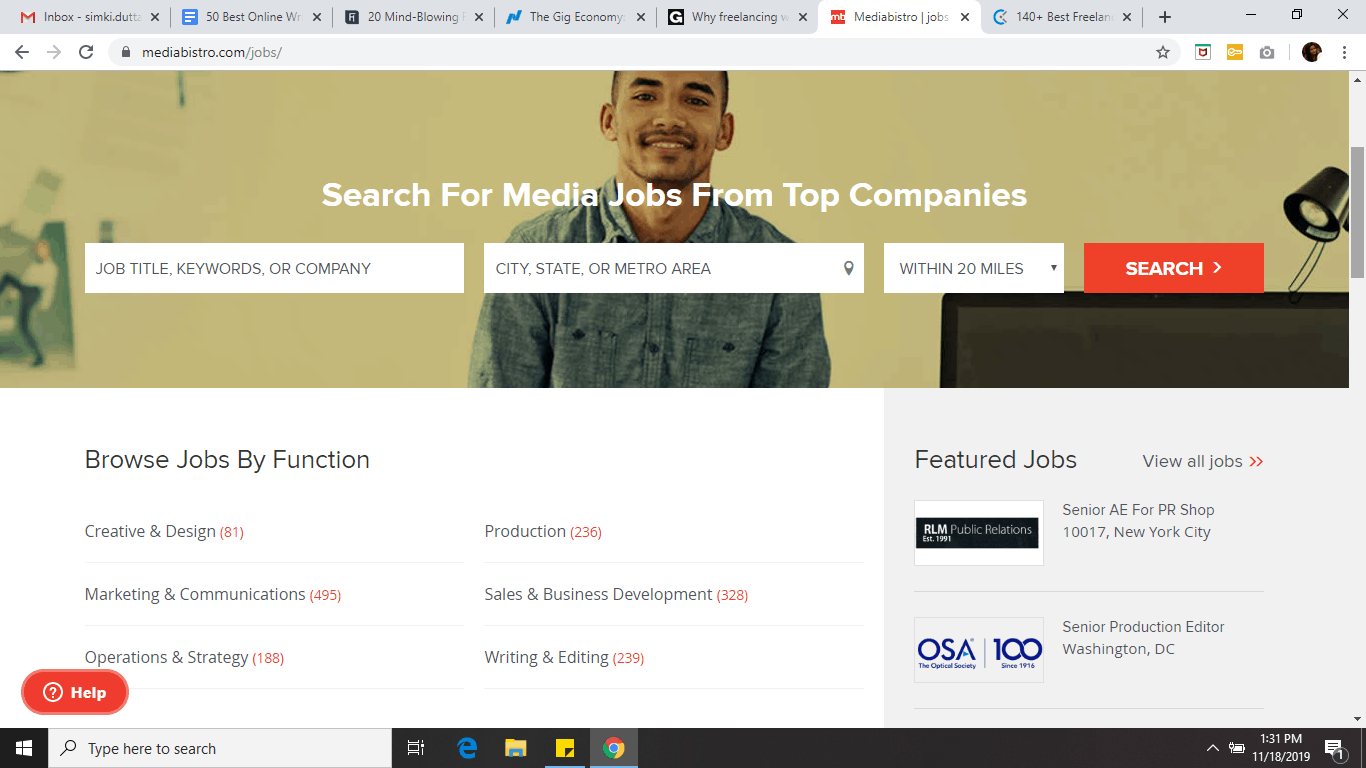 The Mediabistro website provides job seekers with a place to find work opportunities and resources for learning new skills to advance their careers. Mediabistro also offers useful tools, including professional resume writing services.
Mediabistro also serves as an online community for media and content professionals, allowing them to interact and connect with other people in the field. This enables them to further widen their professional network.
A Brief History of Mediabistro
In 1999, American journalist Laurel Touby founded the website to serve as a "gathering place for professionals in journalism, publishing and other media-related industries in New York City."
However, it has since expanded its scope and is currently being used by media professionals all over the world. The website was acquired by WebMediaBrands in July 2007 or $20 million in cash plus a two-year earn out.
Its publishing assets were then purchased by Prometheus Global Media in August 2014 for $8 million. Last year, recruiting solutions firm Recruiter.com Group, Inc. acquired the company for an undisclosed amount.
Job Searching Using Mediabistro
As a job board, the Mediabistro website is specifically geared towards job seekers in the media industry. It offers vacancy listings for opportunities like writing jobs, editor jobs, marketing jobs, and creative jobs.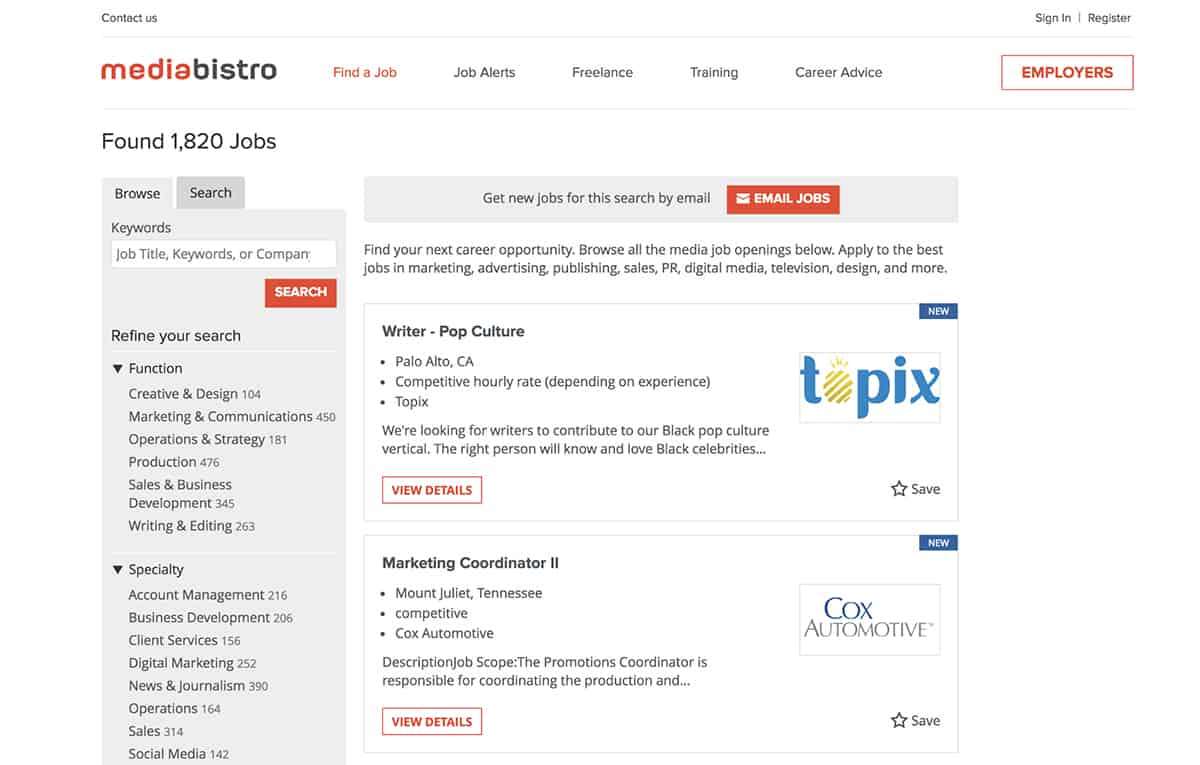 On the Home page, there is a search bar that you may use to start your search. You may type in your keywords and hit the Search button or click on the Writing, Editor, Marketing, Creative, and All Jobs buttons below it.
You may also click on the Find a Job drop-down menu located at the upper portion of the screen and it will also redirect you to the jobs page. Hovering over this and clicking View All Jobs will take you to the same page.
Browsing Through the Job Search Results
If you did any of the steps mentioned above, you will be taken to the search results page. Here, you will find the available jobs related to the search term you used or all of the available positions if you chose All Jobs.
Notice that the first few results have a colored background and have a star beside the company name or position advertised. These are the featured companies and featured job posts from employers who availed of Mediabistro services.
The results list on the left side of the screen shows a few details about the vacancy, including the position to be filled, company name, general location (city and state), how old the post is, and a preview of the job description.
Examining the Information Job Posts Offer
Clicking on a job search result on the left side will generate an overview on the right side of the screen. Meanwhile, clicking on the job title will open a separate page where you will find all the relevant information.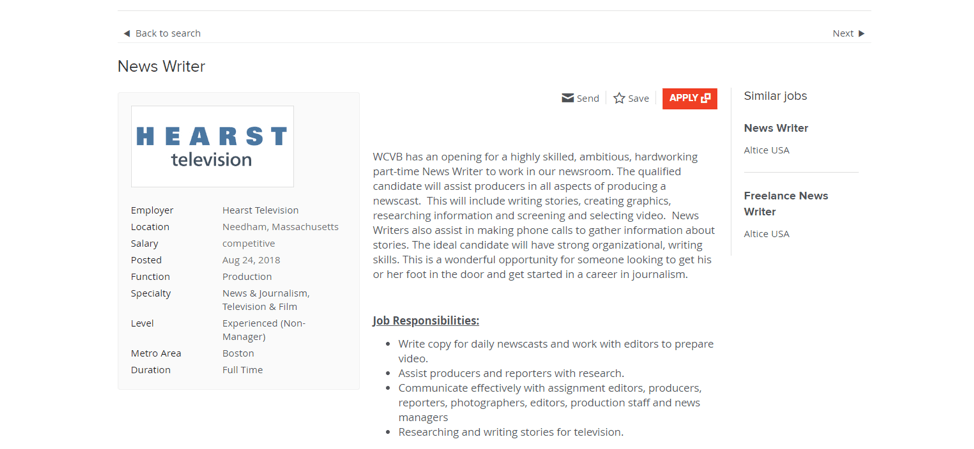 The overview will feature a brief description of the position, along with the duties and responsibilities that it entails. It will also have a summarized list of the educational qualifications and experience requirements needed to apply.
It may also provide the expected salary range for the job and a short discussion about the employer. Clicking on the Apply tab will also redirect you to the full job description page.
More Details in the Full Post
Unlike the overview, the full vacancy post provides a more detailed discussion about the job and its requirements. Aside from the job title, company, and location, it also classifies the post based on job level and duration.
The job responsibilities are more specific while experience and skills requirements are listed in more detail, including the number of years working in the same or similar position and proficiencies required to do the job.
Some job vacancies are directly posted on the website so you need to be logged in to a Mediabistro account to continue applying while other posts will redirect you to the companies' career websites to submit an application.
Using Filters to Narrow Down Your Job Search
Although the Mediabistro website is a specialized job board and won't generate tens of thousands of results for broad searches, getting hundreds of pages of listings wouldn't be unusual on the platform.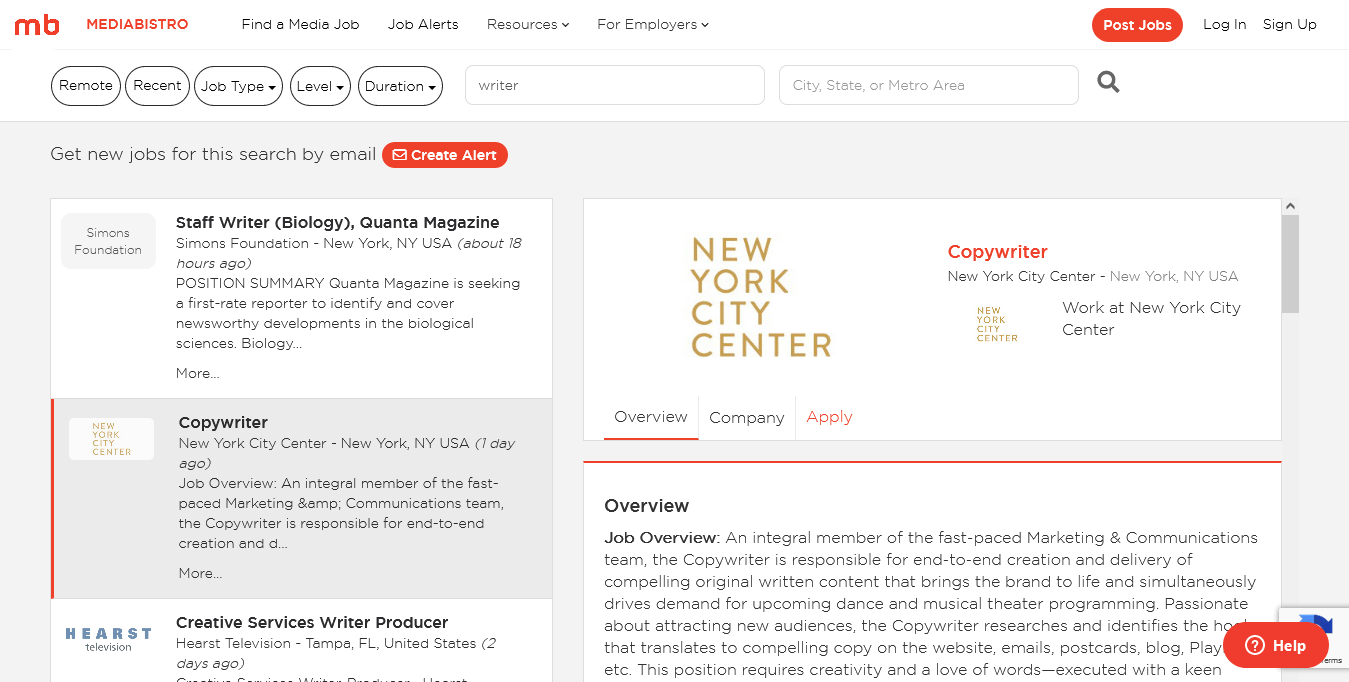 To make your job search more efficient, the website offers several filters that you may use to come up with more specific search results. These filters are located in the upper left portion of the page just above the results list.
If you're looking for flexible work schedules and telecommute arrangements, simply click on the Remote filter. If you want to see the latest posts first, simply use the Recent filter. In addition, you may choose more than one filter at a time.
Other Available Filters
A Job Type filter is also available for you to choose specific segments of the media industry, namely Creative & Design, Marketing & Communications, Writing & Editing, Operations & Strategy, Production, and Sales & Business Development.
There are also general filters to choose from, such as Job Level, which allows you to qualify vacancies depending on whether they are an Entry Level, Experienced, Manager, and Executive job level.
Posts may also be categorized based on the duration of the job offer. Filter options are Full Time, Part Time, Contract, Freelance, or Internship.
Signing Up for a Mediabistro Account
Since some job posts will require you to log into a Mediabistro account to continue with your application, it only makes sense for you to create an account with the platform to fully utilize it as a job search tool.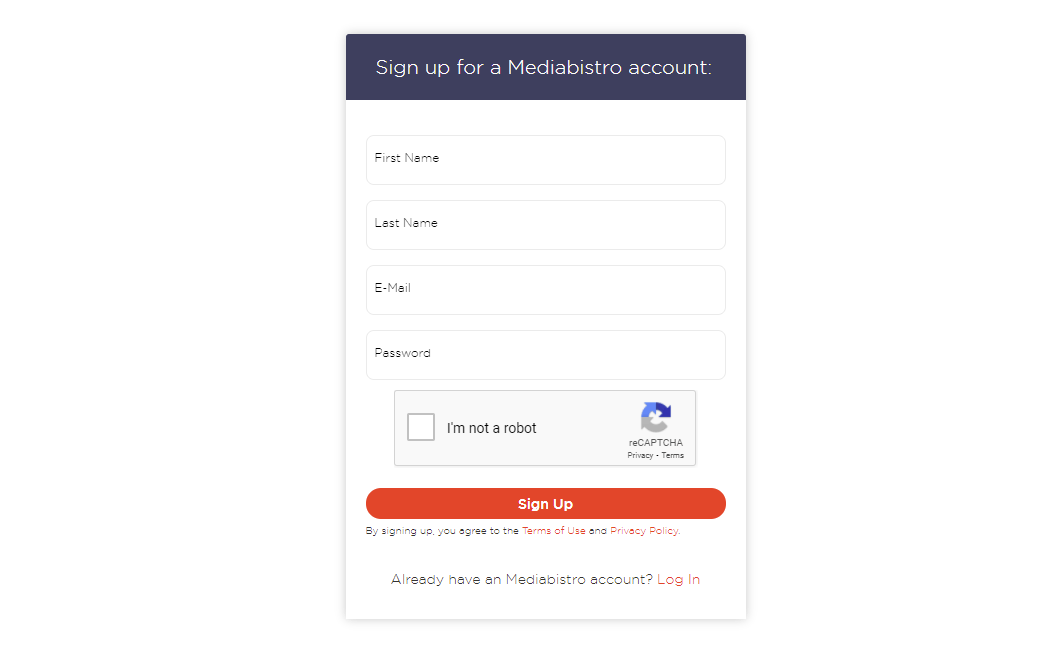 To register, you only need to provide your first and last name, as well as an email address, and to create a password of at least six characters. You may opt to receive the Career Tips Newsletter and offers from the website's sponsors and partners.
To get better job recommendations, providing your current employment information will be helpful. If you're currently employed, indicate your current job function, career level, and the date of your most recent job.
Creating a Personal Job Alert
To further personalize your job search experience with the Mediabistro platform, the website also enables you to create a personal job alert by simply providing an email address where you will receive the alerts.
You may specify the type of jobs you're searching for, your desired location (including remote jobs), experience level, duration, and the minimum salary you expect.
Once you're done providing the details, click on the Create Your Alert button to finish setting up your alerts. You may still edit, delete, or unsubscribe from Job Alerts at any time if you decide to do so.
Costs and Subscriptions Offered to Job Seekers
Although you may register for a Mediabistro account for free, the company offers additional perks to job seekers via its MB Unlimited subscription service. MB Unlimited offers a variety of tools, including online courses and freelancing guides.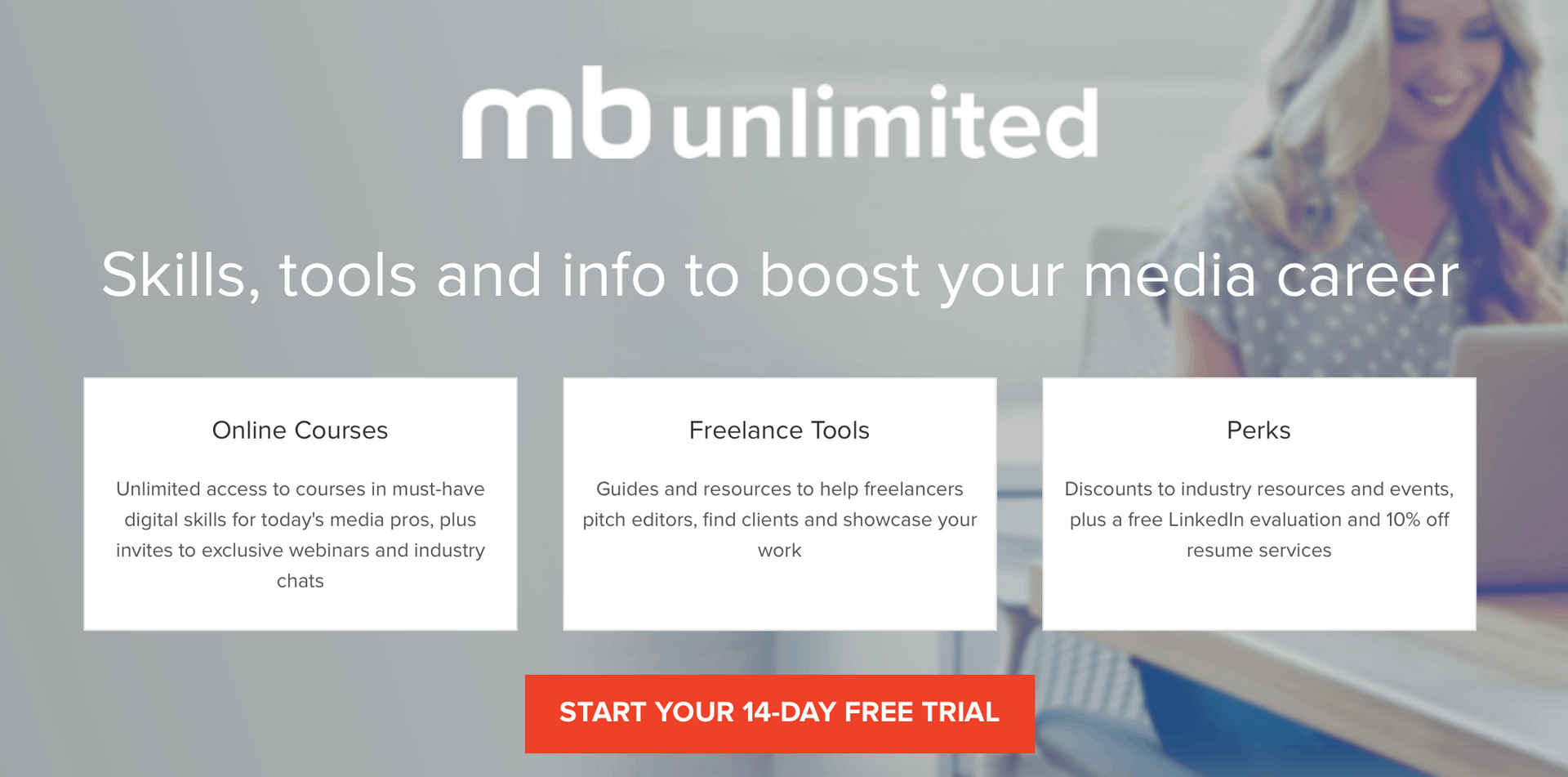 MB Unlimited subscribers are able to enjoy resume and LinkedIn services, access to exclusive webinars and expert chats, and guides for creating a portfolio as a freelancer. They are also given discounts to industry events and resources.
An MB Unlimited subscription costs $14.99 per month if you choose the monthly option or just $9.99 per month for the annual option when you pay for the whole year at once. There is an option for a 14-day trial if you want to test out the service first.
Other Job Seeker Resources
There are other available resources that job seekers may take advantage of via the Mediabistro website. When hovering over the Resources menu, you will see Resume Services, Articles, and Freelance Services.
Resume Services will grant job seekers access to a career expert who will help them improve their resumes and cover letters for a fee. The Freelance Services section provides an overview of how freelancers can create their own freelance profiles.
The Articles section offers free career tips, along with the latest industry news and trends. Topics include how to climb the corporate ladder, professional networking, management, and skill improvement.
Conclusion
Media professionals who are currently searching for a job, considering a change in employer, or shifting to a media career, will greatly benefit from using the Mediabistro platform.
Having a dedicated job board for the industry is something that not every professional gets to enjoy. The platform's paid subscription may also be worth considering if you're looking to elevate your skills and take advantage of available resources.