Pursuing a career in one industry can be a challenging yet fulfilling move, especially if you have the skills, experience, and drive to commit. Those who are looking for jobs in IT and other tech-focused opportunities will do well with OperationIT.
This website is dedicated to employers and employees alike who are hiring or looking to be hired in tech. It uses innovative and digital methods to connect the candidate with the right companies through its range of job postings.
If you are looking for a career opportunity in tech, you can use OperationIT to your advantage. We'll tell you how below.
About OperationIT
Employment in Different Areas of the Tech Industry
How to Find a Job Using OperationIT
Applying for Jobs
Tips for a Successful Application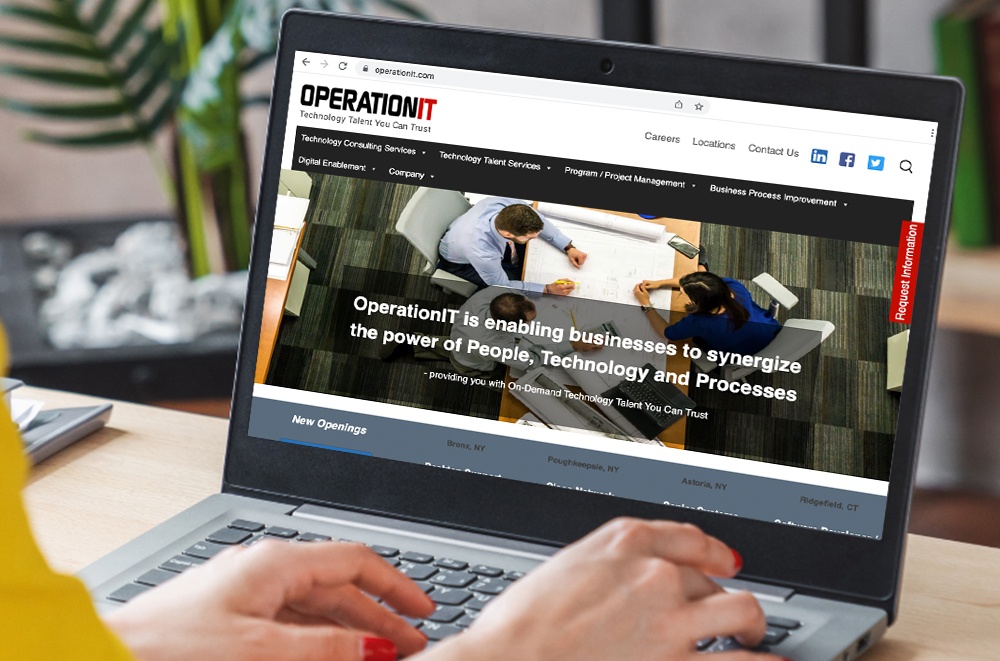 About OperationIT
OperationIT is a job site that caters to employers and employees in the tech industry, particularly in Information Technology. Individuals that are looking for a job at an IT-focused company, or companies who are in need of IT personnel, will find this website most useful.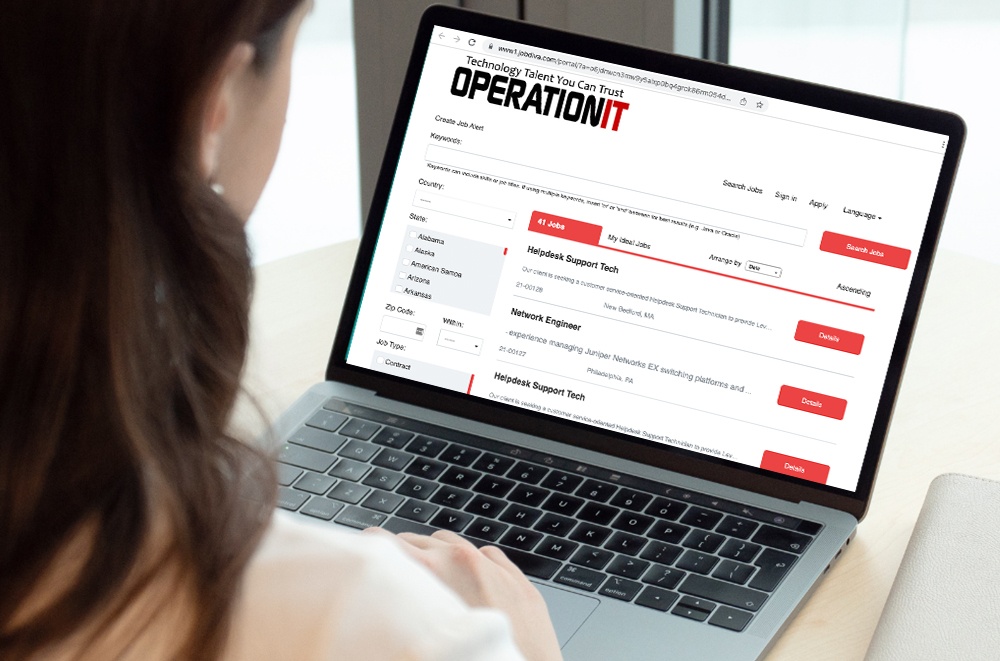 Organizations that need to fill IT positions favor OperationIT as it covers every step of the hiring process, from finding talented individuals and getting them hired. By providing quality talent, the website gives companies room to focus on other growth and innovation initiatives.
The main advantage of this website over other job search sites is its focus on technology. This is made apparent by the companies they partner with and the tools they use to connect with candidates.
It also has a portfolio of Talent and Technology solutions designed to help companies and applicants alike.
Tech Services Offered
OperationIT is not just a job search platform but also a tech service provider.
It deals with technology consulting services, technology talents services, program/project management, business process improvement, and digital enablement.
Employment in Different Areas of the Tech Industry
The OperationIT job search site lets job seekers find the career opportunity they need to boost their careers. It was able to help more than 100,000 job seekers over the past two decades find work, making it a very experienced resource available today.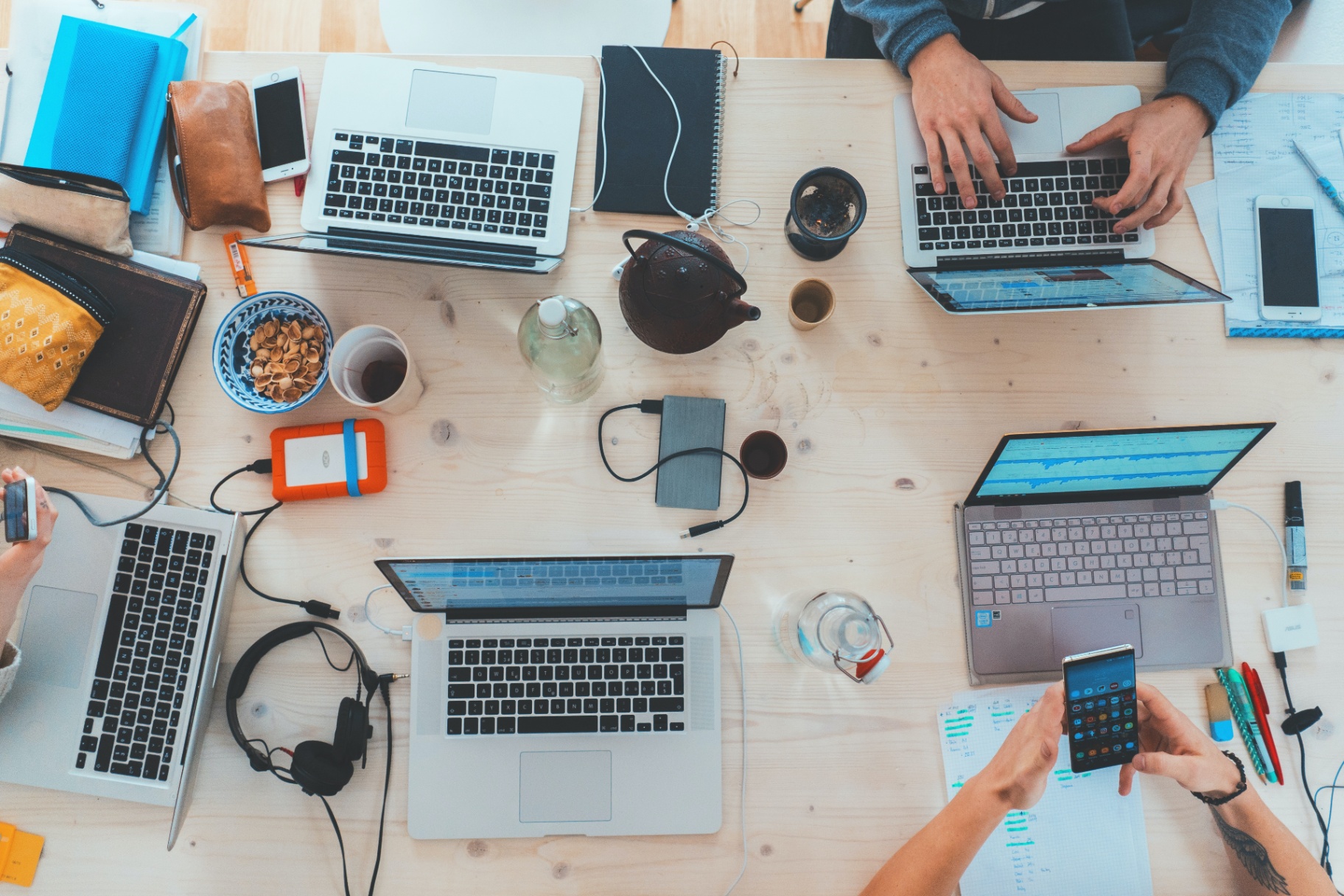 OperationIT is a great platform for companies and candidates alike because it covers the key verticals in the tech industry.
You will find services and openings in sectors like financial, capital markets, and insurance, legal, healthcare, and education.
It also supports biotech, pharma, and medical devices, manufacturing, energy and utilities, retail and CPG, and media publishing and entertainment.
Multiple Locations in the United States
OperationIT has headquarters in Jersey City, New York City, and Long Island.
So, aside from supporting different industry verticals, the platform also offers support for applicants and companies in this part of the East Coast.
Besides being headquartered in these cities, candidates can also find jobs in other parts of the United States such as Pennsylvania, Illinois, California, Florida, Cincinnati, and Massachusetts.
How to Find a Job Using OperationIT
Job seekers can create an account with OperationIT. You will need to provide information such as employment history, background, and experience. Skills and credentials may also be requested to complete your profile.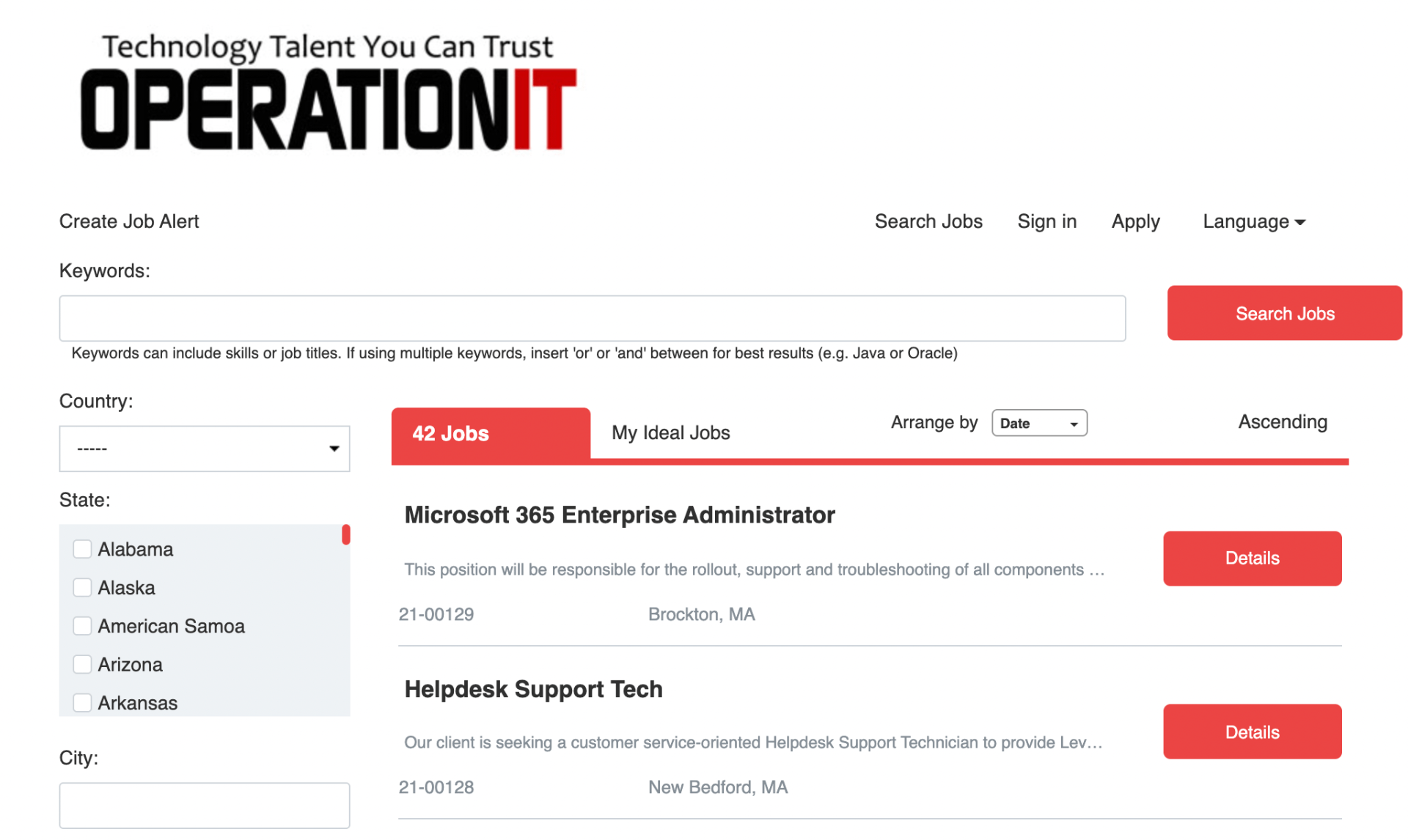 To find a job using OperationIT, users must go to the careers page. This will bring them to a candidate portal composed of all the jobs available on the platform. From there, you can scroll through the listings or start a search using your keyword of choice.
To search for particular jobs, just enter the skills or job title you prefer. For example, to find openings for an administrator position at an IT company, use the keyword "administrator" in the search bar.
The platform will then return with a list of openings for cloud administrator, system administrator, or NetSuite Administrator. OperationIT has a lot of openings available, so make sure to carefully check out the listings offered to see which one suits you best.
Using Filters
When looking for the right job, you need to make sure that you are doing it correctly from the very beginning and it starts at the search function. You can use words like "or" or "and" to properly indicate to the system the search parameters you are looking for.
Aside from this, you will benefit from using filters. One filter allows you to enter the country you want to work in. If you are in the United States, you can indicate the state or states you prefer. Then, you can enter the zip code to make it more specific.
You can also specify the job type and site flexibility you prefer. You can get contract, direct placement, full-time contract, retained search, and right-to-hire job posts. You can also select whether you want to work on-site, remotely in a partial capacity, or completely remotely.
Applying for Jobs
Once you find jobs that you like, take the time to send in your application. Click on the Details button to see details about the job role. This will give you essential information like position type, experience needed, level, location, and site flexibility.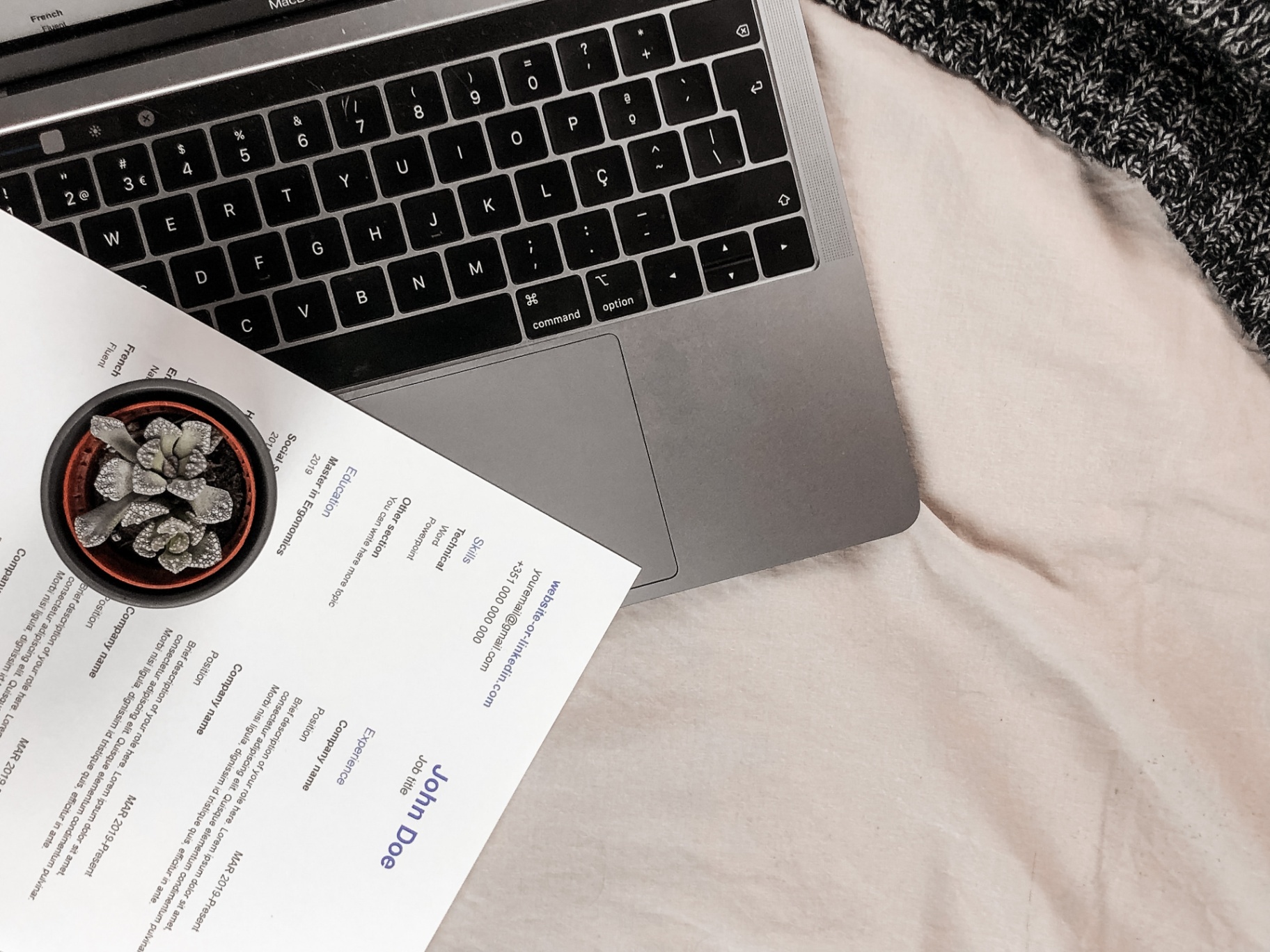 Here, you can also find out more about what the job entails. It will include a job description, eligibility, and requirements. Typically, this page gives you all the info you need to snag the job. Prepare documents like your resume and cover letter or pitch to send with your application.
You can proceed with your application by choosing between two different types of applications. You can apply using your OperationIT account by logging in or signing up for one. You can also choose the Quick Apply option, which does not require an account.
Keep in mind that having an account may be more favorable as you can reuse the information you have on your account, making it an easier option.
Requesting a Candidate
Applicants are not the only ones with the ability to use OperationIT to bid for a job. Companies can also request a candidate. They just need to fill out the resource request form, including the user's full and last name, company, title, email, and phone.
Then, they need to provide the qualifications they are seeking in the ideal candidate. This includes the position being filled, location, and job description. The system will help them connect with interested and eligible applicants.
This is a great thing for candidates that have all the right credentials under their belt, as this can get them under the employer's radar faster.
Tips for a Successful Application
A good resume is clear and concise. You do not want to bog down the hiring manager with an overwhelming number of details. Make sure to word your entries in a manner that is brief and goes straight to the point.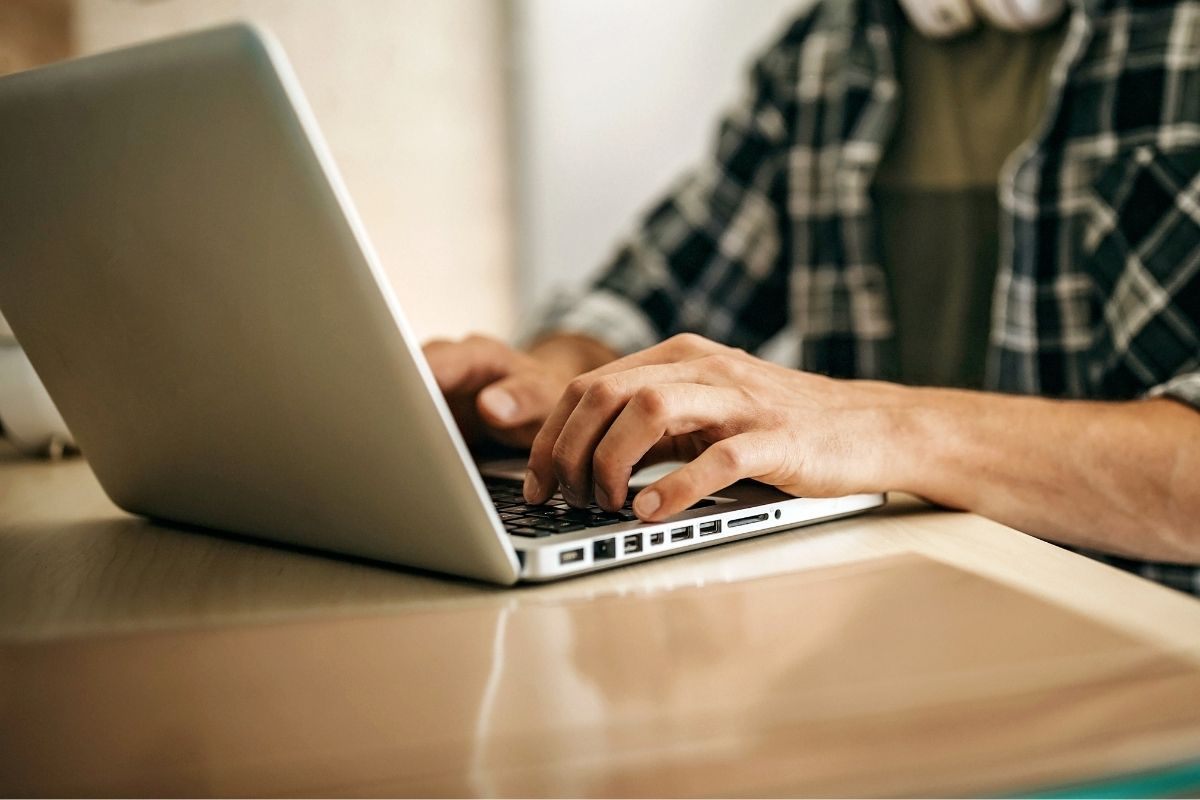 It can also work to your advantage to list your responsibilities in the form of achievements.
For example, if you were in charge of designing websites, your best bet is to express the results of your web designs. This shows employers that you can deliver results instead of simply mentioning what you were tasked to do.
Be sure to include your education, certifications, and skills. Technical skills are important, but soft skills are also valuable to add to a resume to show off your well-rounded employability.
Preparing a Portfolio
On this note, it would not hurt to prepare a portfolio. While you might not need it during this stage, this might be requested further into the process, like during the first or second interview.
Make sure to pick your best work to show off what you can do through your portfolio and back it up with achievements through your resume.
Writing a Cover Letter
Not every company may require a cover letter, but most choose to stick with this practice. An essential tip about writing a cover letter is to do your research about the company and position and incorporate it into the letter.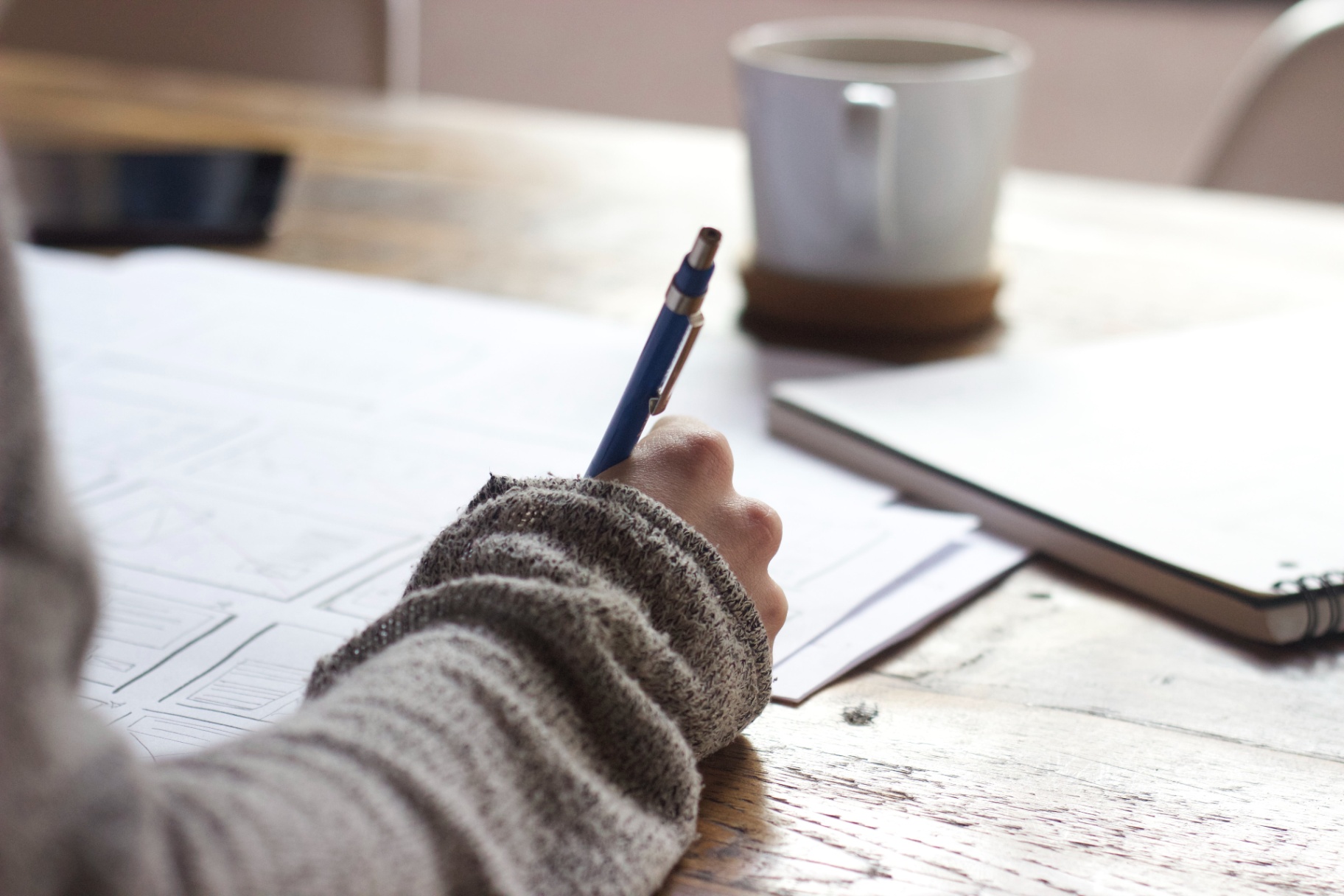 Using a loose template is acceptable when writing a cover letter. Just make sure to make it unique by addressing the qualifications and responsibilities mentioned in the job description. It should be attention-grabbing and relatable.
A loose cover letter template is not a fill-in-the-blanks type where you just enter the company and job details. You would benefit best by using it as a guide for what type of content goes where.
This way, you can spend your time filling in the letter with details instead of deciding where to mention particular details.
Preparing for an Interview
Preparing for an interview is also a great move. You want to do your research and start looking for aspects of the company, project, or position that is relatable to you.
Then, think of how you can help the prospective company and team using your skills, background, and experience.
The Takeaway
Finding a job using OperationIT can be a breezy experience if you are in the IT space. Using this platform, you can search directly within the industry and apply for highly-specific jobs that cater to your specifications.
References
candidate portal – Candidate Portal
OperationIT – OperationIT – Technology Talent, Consulting and Advisory Services