With technologies constantly being developed and our way of living rapidly changing, it's not surprising that the demand for engineering professionals continues to be high.
The US Bureau of Labor Statistics (BLS) expects a projected growth of almost 140,000 new jobs for engineers between 2016 and 2026. Engineers also receive relatively higher salaries, with a median pay of $91,010 annually.
This article will focus on the website, Engineering.com and its job board. It will talk about the features of the site, how to use it to find engineering jobs, and how to apply to these vacancies.
Understanding the Engineering.com Website
Examining the Engineering.com Job Board
Searching for Work Using the Engineering.com Jobs Platform
Information You Can Find on a Job Post
Applying for a Job through Engineering.com
Posting a Job for Employers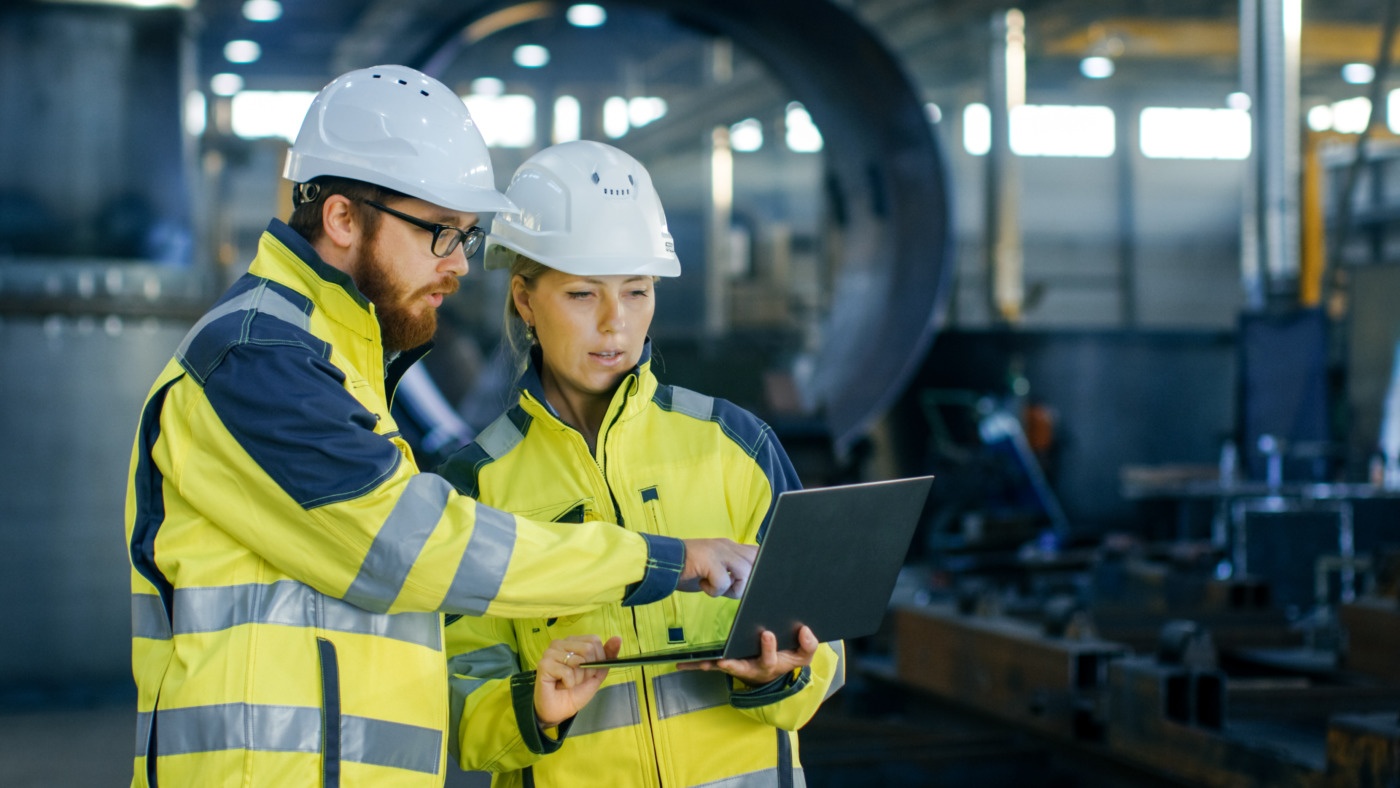 Understanding the Engineering.com Website
Engineering.com is a website created to provide information, inspiration, and an avenue for engagement among engineering professionals. Not only does it serve as a resource, but it also functions as an online community for engineers.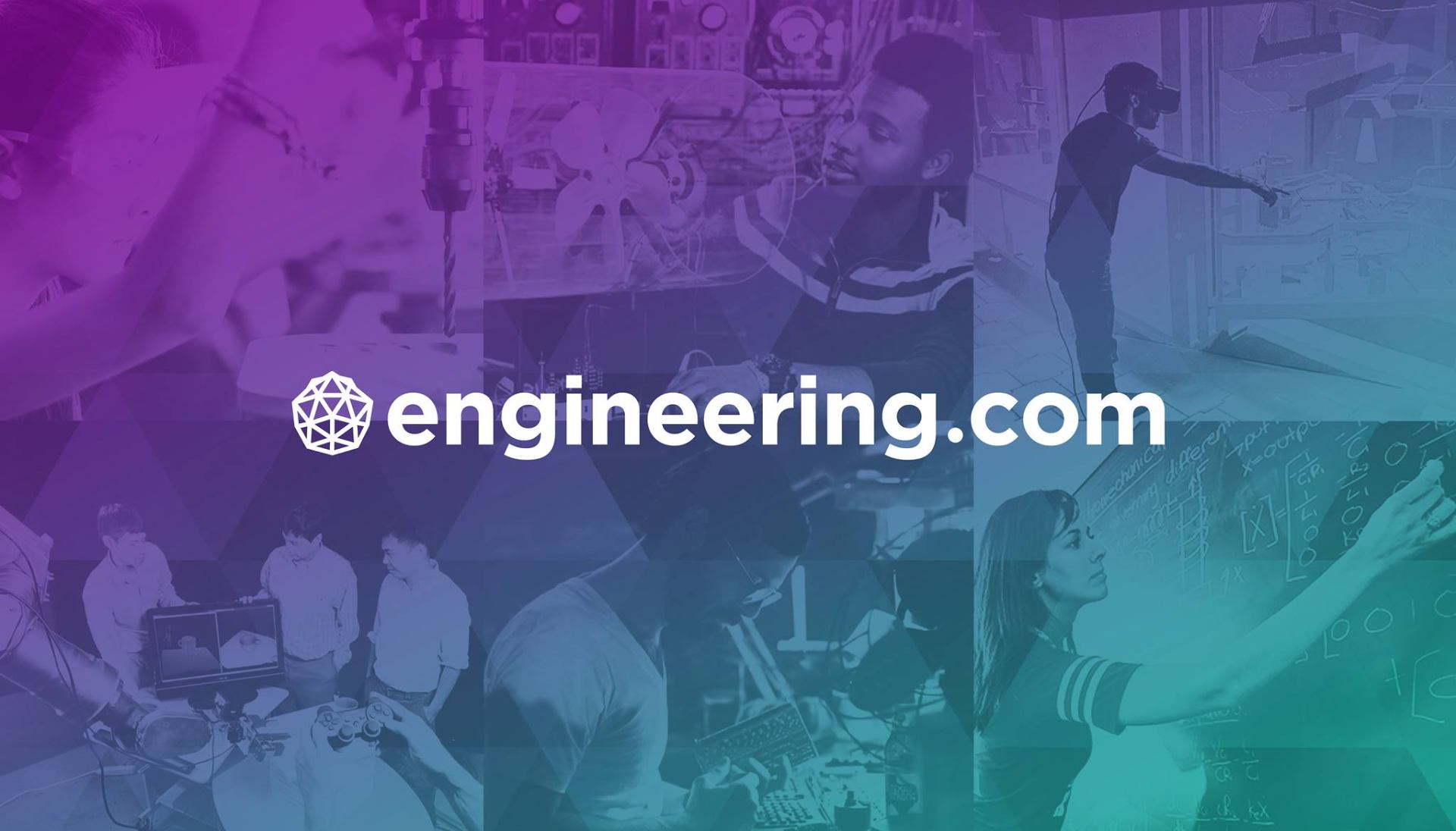 According to co-founder and chief executive officer (CEO) Frank Baldesarra, engineering is the most important job in the world. It affects everyone's quality of life every day and represents how the world will take shape in the future.
The website focuses on three activities to showcase engineering innovations. These are stories and resources related to the profession, discussion forums, and projects through its ProjectBoard platform.
What It Has to Offer
Aside from its own engineering job board, which will be discussed later, the website offers a lot of tools that engineers can take advantage of. On the home page, you get access to various stories and videos.
Its Resources section offers information on webinars, e-books and papers, and engineering projects. It also features useful tools and software, as well as games related to the profession.
The website is also home to a variety of engineering- and technology-related online communities. These include Eng-Tips, Tek-Tips, Engineersrule, Make: Projects, and STEM Games.
Examining the Engineering.com Job Board
Although there are tons of other things that can be discussed, this article will focus on Engineering.com jobs, the website's own engineering job board. It offers information on thousands of job opportunities in the US and Canada.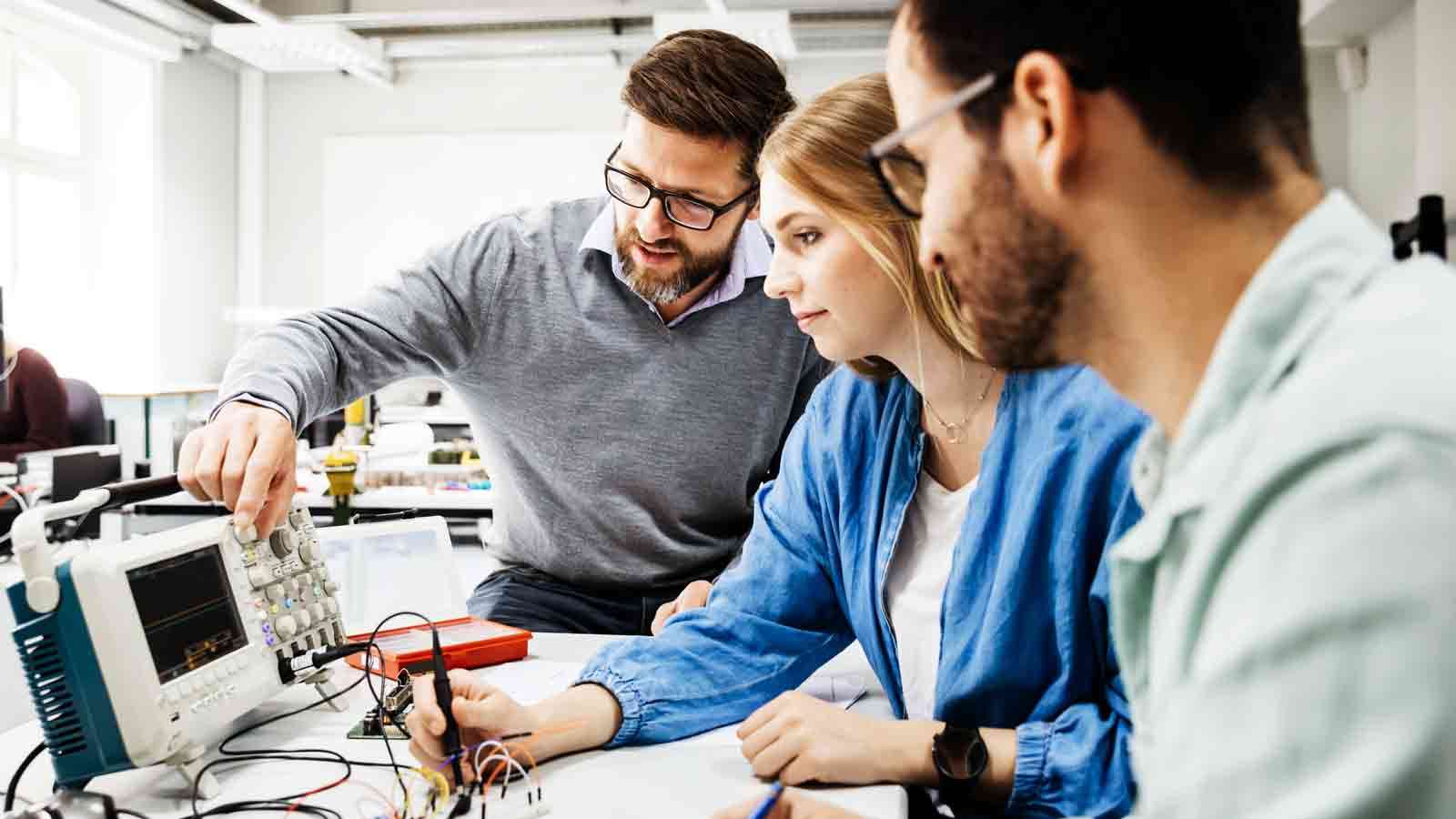 You will find a variety of engineering jobs based on discipline, work location, and other related categories.
Aside from searching for work, job seekers are also able to upload resumes on the platform.
Engineers may also browse the job board for career advice and job tips, such as writing engineering cover letters, the role of engineering in the gig economy, and the cornerstone skills engineers need.
Features of the Job Board
At the center of the page, you will immediately see a search bar where you can type in keywords related to the job you're looking for. You may also input your preferred work location before you proceed with your search.
In "Jobs by Category", you may choose the engineering field you belong to and only get vacancies related to your area of expertise.
There's also a Featured Jobs list, which highlights a few job posts, and a Latest Jobs list that features the most recently uploaded job vacancies. Buttons for sharing the job board online are located on the right side of the screen.
Searching for Work Using the Engineering.com Jobs Platform
Using either the search bar or the shortcut links will take you to the job board's search results page. This page will show all the related vacancies based on your search criteria.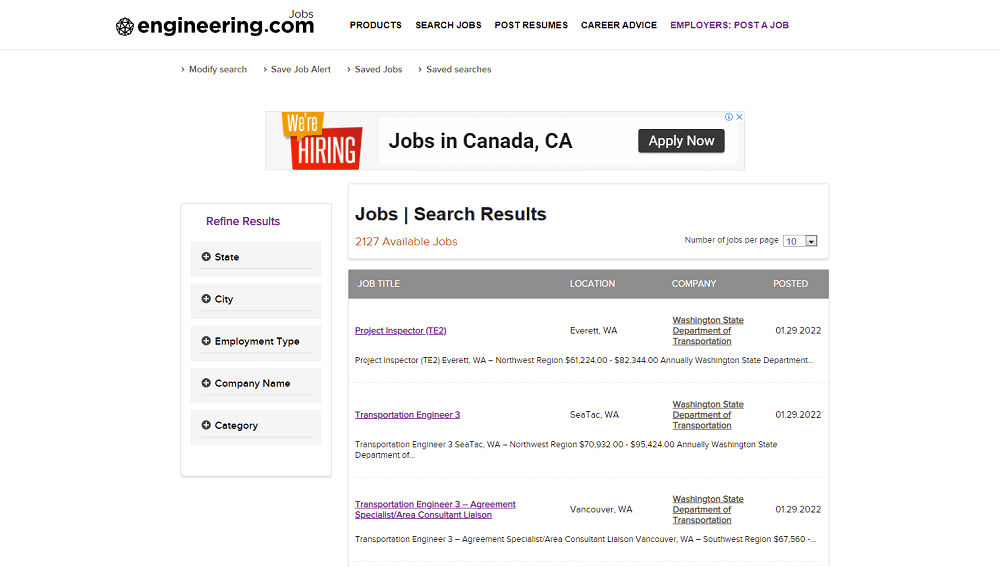 Search result details include the job title, work location, name of the hiring company, and the date the vacancy was posted. It will also show an excerpt from the job description that you will find when you open the post.
You have the option to choose how many results will be featured per page from at least 10 to at most 100.
Click on the "Previous" or "Next" buttons to go from page to page, or click on the page number of your choice.
Refining Search Results through Filters
To enable you to further narrow down the results of your job search, the platform has a few filters that you can use. You will find these filters on the left side of the screen labeled "Refine Results".
If you use the search bar, the filters that will appear are State, City, Employment Type, Company Type, and Category. Employment type refers to work arrangements like full-time or seasonal, while category refers to the engineering fields.
If you clicked on one of the Category links to do your search, you would only see the State filter, but if you used the City links, you'd only be able to view the Category filters.
Information You Can Find on a Job Post
Once you've chosen a vacancy you're interested in, click on that entry, and it will open a new page with more information about the job. Each post is headlined by the position name, the name of the hiring company, and its location.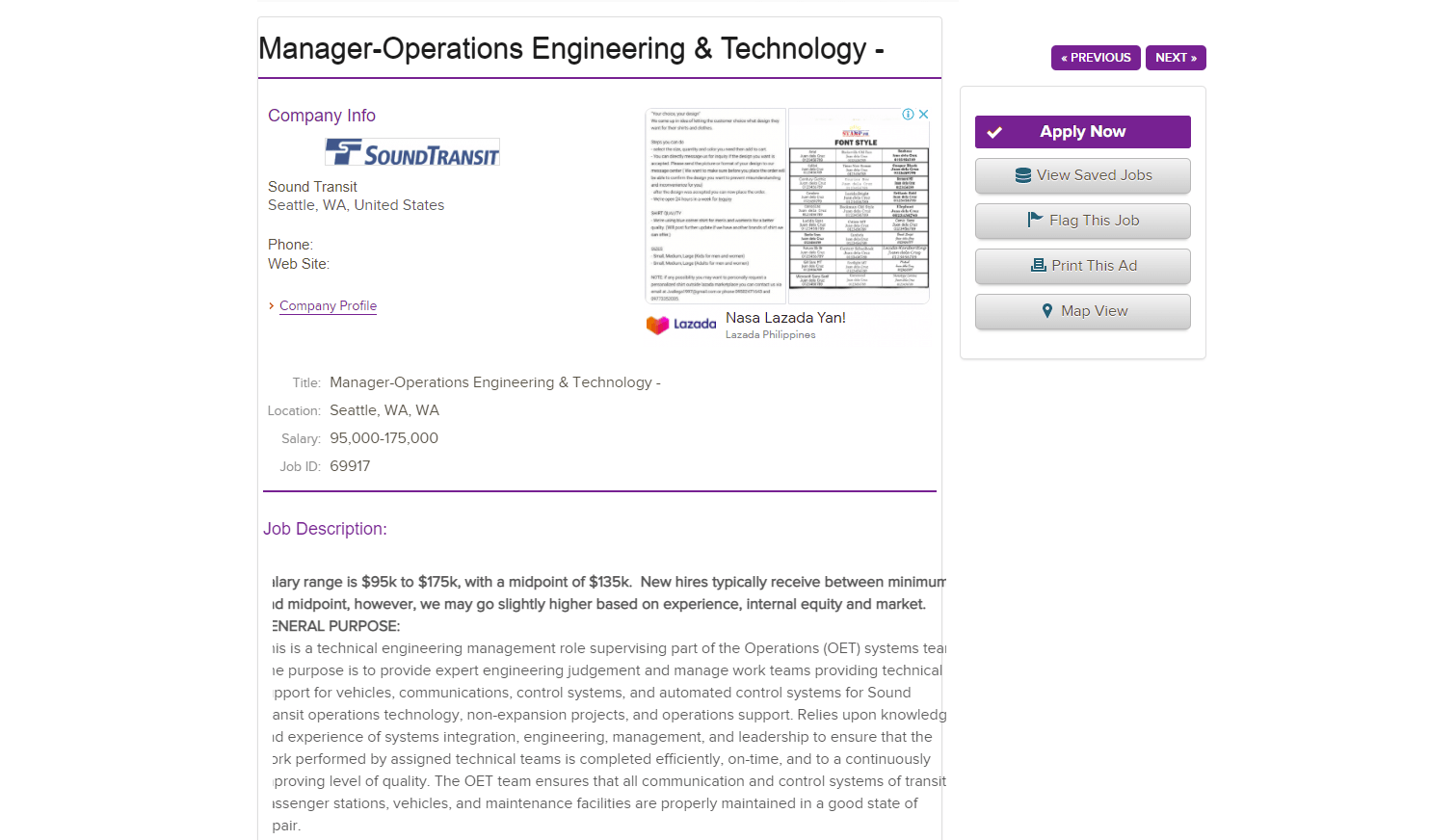 You may also find a link to the company website and its phone number. Some employers may even include the expected salary range for the position in the post.
A summary of what the vacancy is about is usually found in the upper portion of the job post, along with information on whether the job is full-time or part-time and if it's a regular or temporary position.
Other Details Included in the Post
No job post will be complete without a discussion of the duties and responsibilities that the position entails. Some posts are very detailed in this regard and even include a breakdown of the essential and non-essential duties.
You will also find the different qualifications that the vacancy requires, including years of experience, educational attainment, as well as licenses, certifications, and registrations. Some indicate both the minimum and preferred qualifications.
Some employers will also include the benefits and perks that they provide to successful candidates, such as health and life insurance, retirement funds, and paid time off.
Applying for a Job through Engineering.com
To submit an application to a particular job vacancy, click on the Apply Now button located in the upper right corner of the main job post. You need to be logged into your Engineering.com account to proceed.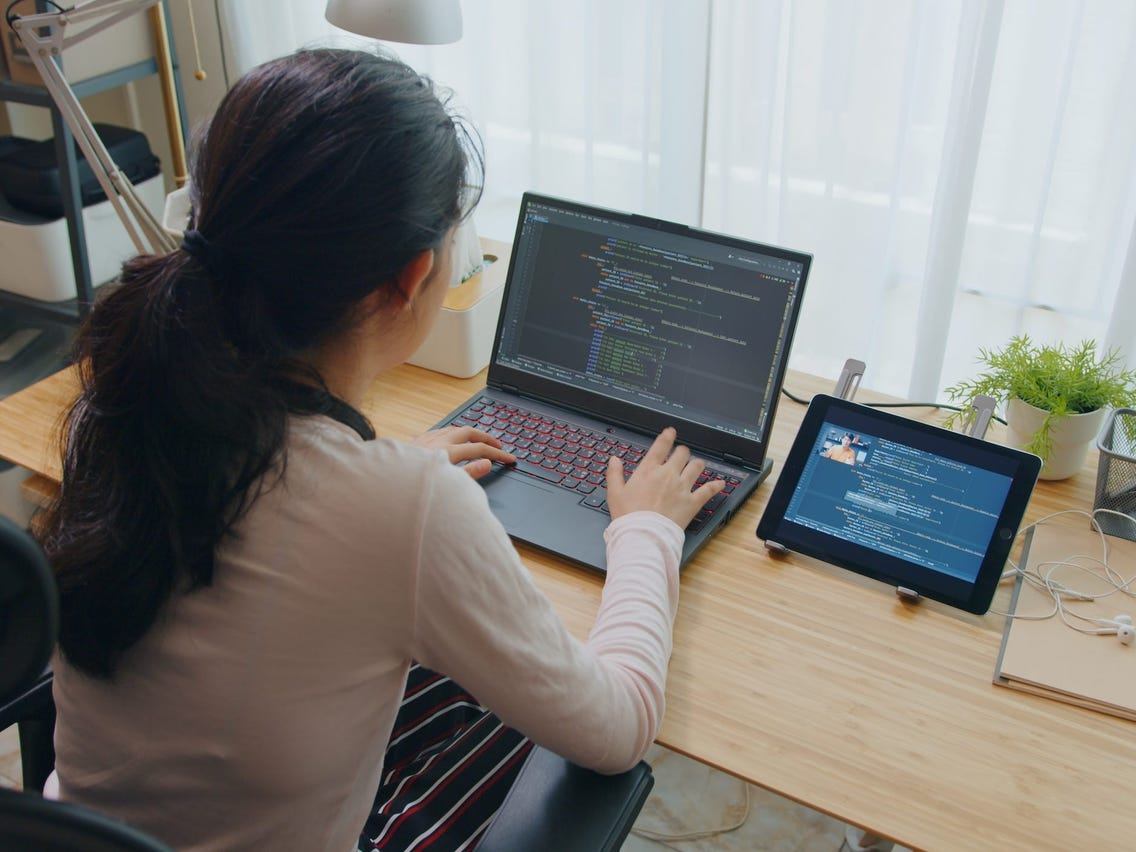 You may also save the job if you're still not 100% sure of applying. There's also an option to print the ad if you want to have a hard copy that you want to compile.
If you think the job ad is spam, outdated, or a misrepresentation, click on the Flag This Job button and place in the comment section why you think it is. Enter the code from the image to complete your submission.
Registering for an Account on the Website
To fully enjoy the features of the job board, you need to have an account on the website. Register by clicking on "Sign In" and choosing "Registration" below the Login field.
Registration will require you to create a username and password and to supply personal details, including your email, full name, phone number, as well as country, state, and city.
Your professional information will also be needed for the account creation, including as your engineering specialty such as electrical engineer, civil engineer, or petroleum engineer. You must also include your current job role and your industry. Enter the code from the image and click on the "Register" button to finish.
Posting a Job for Employers
Employers who want to post an engineering job on the website may do so for free. Since the website also serves as an online community for engineers, it's a great way to find qualified candidates for these vacancies.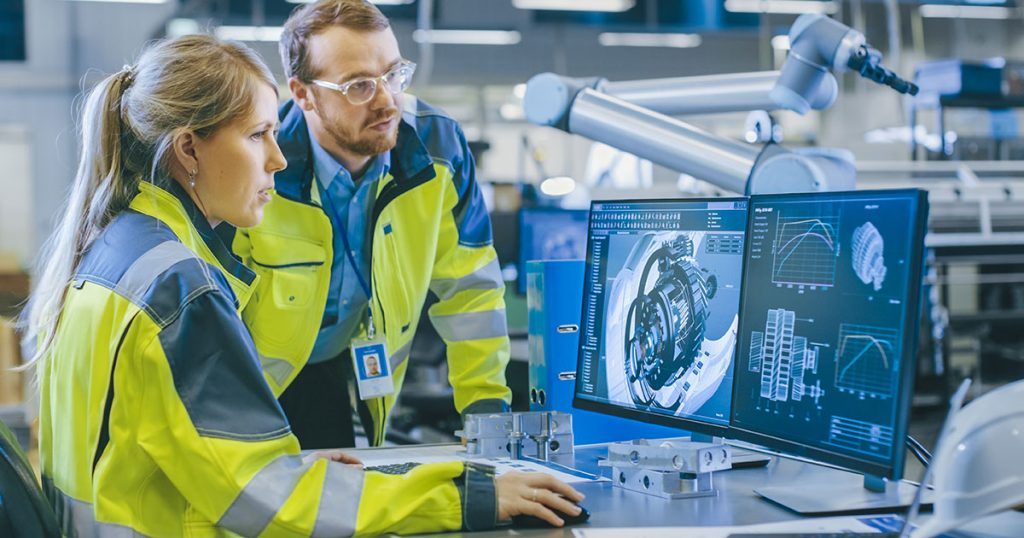 A job post will remain active for up to 30 days, and employers are free to post as many basic job ads as they can as this feature is also unlimited.
Companies are also given their own employer dashboard and management tools when they create an account.
Creating an Account for Employers
Registering as an employer is similar to registering as a job seeker. To start, you will select "Employer" to open the Employer Registration online form.
You will also create a username and password and provide details such as company name, contact name, and email address. Other details such as corporate website, phone number, and location are optional.
Employers also have the option of writing a company description that will appear on their profile.
The Bottom Line
The Engineering.com website is a great resource for information on anything and everything related to the engineering profession. Its online communities also serve as avenues for collaboration between engineers.
Meanwhile, the job board serves as a platform that helps connect job-seeking engineering professionals and companies looking to fill in their engineering needs. The best thing about it is that it's completely free to use.