Technological advances have made it easier for individuals around the world to find their dream careers even while working from home. With these developments, work can be done remotely and connections with businesses and clients are now accessible with the click of a button.
For individuals and freelancers who want to want to find jobs online, or simply those who want to practice living the digital nomad life, finding the right project is all it takes to jumpstart your career and live that work dream. This is where PeoplePerHour comes in.
PeoplePerHour connects freelancers to clients who are looking to fulfill specific jobs or roles, making it a win-win situation. To know more about this platform and what it can offer, read on. This article will tackle different aspects of PeoplePerHour and what makes it unique.
Get to Know PeoplePerHour
Why PeoplePerHour Is the Place to Find Work
Different Categories of Work
Registering on PeoplePerHour
Working After an Approved Proposal
Fees to Use PeoplePerHour to Find Jobs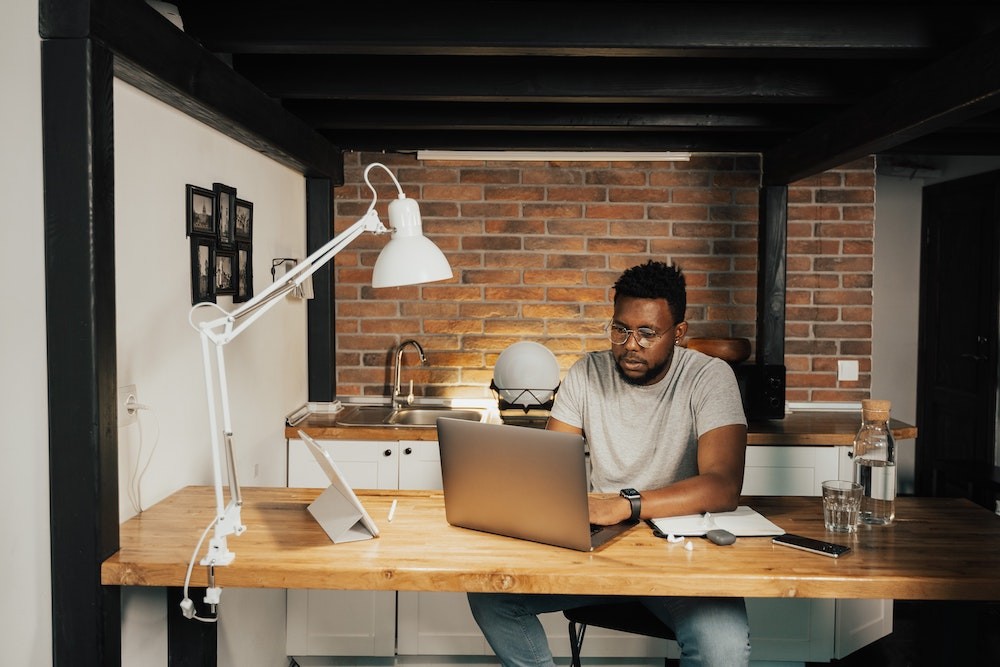 Get to Know PeoplePerHour
PeoplePerHour is a job search platform designed specifically for freelancers and for clients who want to connect with freelancers to do their respective projects. IT is considered the number one freelancing community that allows freelancers to find the right job and project for them.
This online community takes pride in having a rich and well-reviewed wealth of freelance talent to help partner clients and companies with their outsourcing needs for particular projects.
Freelancers and gig workers can use the platform to find jobs that relate to their particular skill set.
Founded in 2007, PeoplePerHour has been in the industry for more than 15 years. It is based in the United Kingdom and is the longest-running freelance service in the country.
How it Works
As mentioned, PeoplePerHour works by matching clients and companies, typically small or medium-sized enterprises, with freelancers or self-employed individuals to fulfill projects rather than hiring in-house or through agencies.
These businesses often have access to various freelancer profiles, meaning they can choose the right person for the job. In the same way, gig workers and self-employed professionals can market their skills and choose what jobs work for them through proposals.
What makes PeoplePerHour unique is that their business model starts on a granular scale by offering jobs from as little as one hour in length to longer contracts, and can be adjusted accordingly, thus the name.
Why PeoplePerHour Is the Place to Find Work
Freelancers and self-employed professionals who want to jumpstart their freelancing careers can find an extensive and exclusive network in PeoplePerHour where individuals can easily connect with businesses to find relevant work.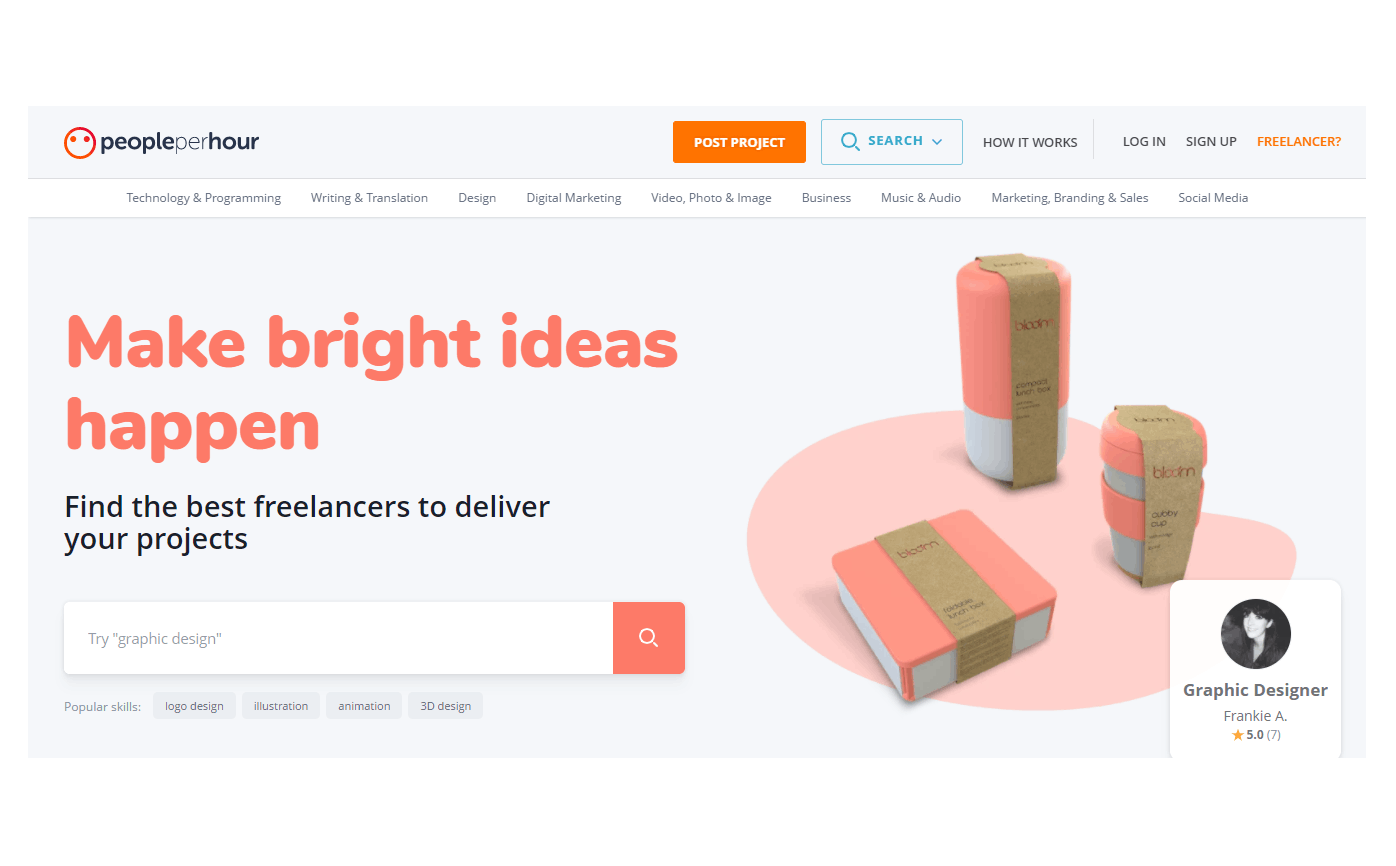 With a varied client base, users can find different types of interesting work related to their preferences and expertise. Individuals can be notified of new matches or projects that fall within their abilities. To grab these opportunities, individuals can submit proposals that outline their plans and capabilities.
PeoplePerHour makes connecting and communicating a breeze. Here, freelancers can talk directly with their clients and discuss details of the job, as well as share files and track deadlines through project streams.
To make contracts and projects more secure for users, clients need to make an initial deposit as proof of financial security and commitment. Invoicing is also quite simple and can be done through the project stream.
Freelancers Have Control
Users of the PeoplePerHour app will be happy to know that they can control the amount of work they wish to undertake, and set their own general rates and budgets that compete with others in the field. This means that individuals can choose what projects to commit to and how many hours they can provide per project.
Moreover, this means that freelancers can determine how much their pay is going to be. Freelancers who have more experience can charge higher rates, while those who are newbies can raise their rates as they gain more experience and skills on the platform.
PeoplePerHour users can also show what they want to highlight on their profile. They can focus on their extensive career experience and detail their skills. They can also provide examples of their work in their portfolio, allowing prospective clients to see what they are capable of doing.
Different Categories of Work
There are tons of opportunities awaiting individuals – from web design, Android app development, content writing, SEO, and many others. All of these jobs fall into varying categories such as Technology & Programming, Writing & Translation, Design, Digital Marketing, and Business.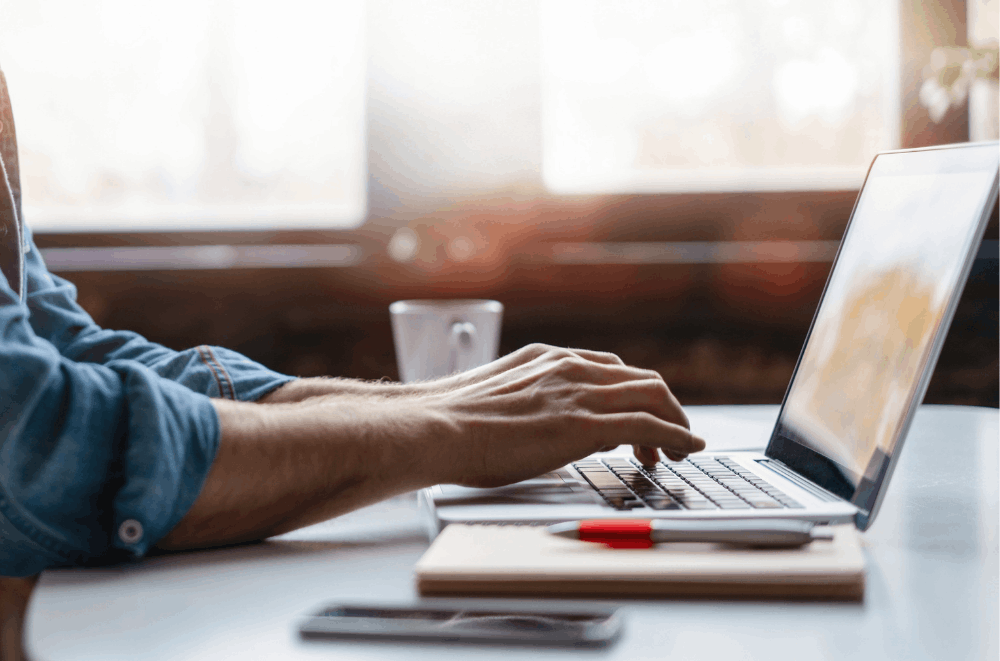 On top of the aforementioned categories, PeoplePerHour also provides other areas of specialization to choose from with categories such as Video, Photo, & Image, Music & Audio, Marketing, Branding & Sales, and Social Media.
Within these categories, there are advanced keywords and sections which could further refine the searches of users, something which this article will focus on later. Users have the chance to find freelancer positions for just about every job category and skill that they have.
The job opportunities at PeoplePerHour are as varied. Under Technology & Programming, one can find opportunities to develop social media applications and test software. Meanwhile, for Writing & Translation, a user can find opportunities for transcription, creative writing, ghostwriting, and content writing.
Helpful Insights and Stories on PeoplePerHour
PeoplePerHour has a dedicated blog intended to provide deeper insights not only about the various industries but also about small businesses and all the latest events and happenings.
From freelancer advice and experiences, community stories, industry insights to platform updates, this blog seems to have considered just about everything.
Some of the helpful and supportive content which freelancers can use include the introduction of new payments processes for users, its partnership with Indeez for health crisis insurance, and even how to make the switch towards the freelancing or moonlighting lifestyle.
Registering on PeoplePerHour
To find jobs on PeoplePerHour, simply sign up and register.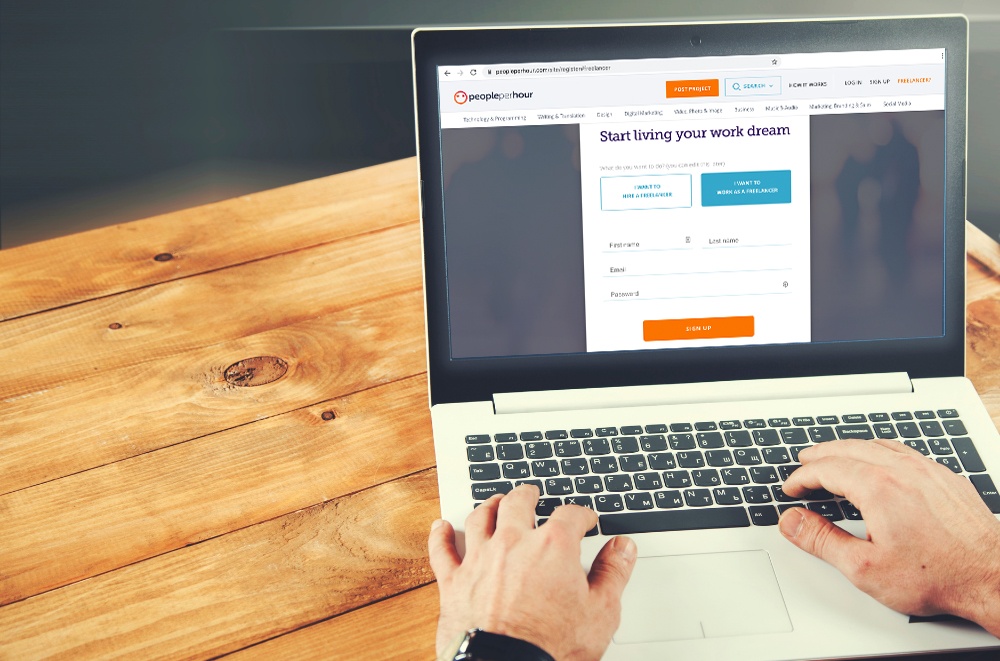 Individuals have the choice to sign up with their Facebook account or with their email and must provide their name, email, and password to do so. Users will then choose the type of account they want to create, in this case, a freelancer.
After registering, individuals can create their profiles. Here, professionals provide a more detailed description of their job title, their hourly rates, and their portfolio, as well as highlighting the skills they can bring to the table.
Users can also add references, choose their working environment preferences, and personalize their application. Once submitted, the registration will be under review can and take up to seven business days, but can be fast-tracked for a fee.
Offers and Projects
Those whose registrations have been approved can now find freelance work and opportunities by posting an Offer. These offers are packaged services for a given price.
Alternatively, individuals can also search for Projects and create and submit a customized proposal according to what is needed.
What's great about these projects is that these already come with the pay rate and the details of the project, as well as the number of applicants who have applied as well.
Working After an Approved Proposal
Once a proposal or application has been selected, freelancers can start working on the project or contract.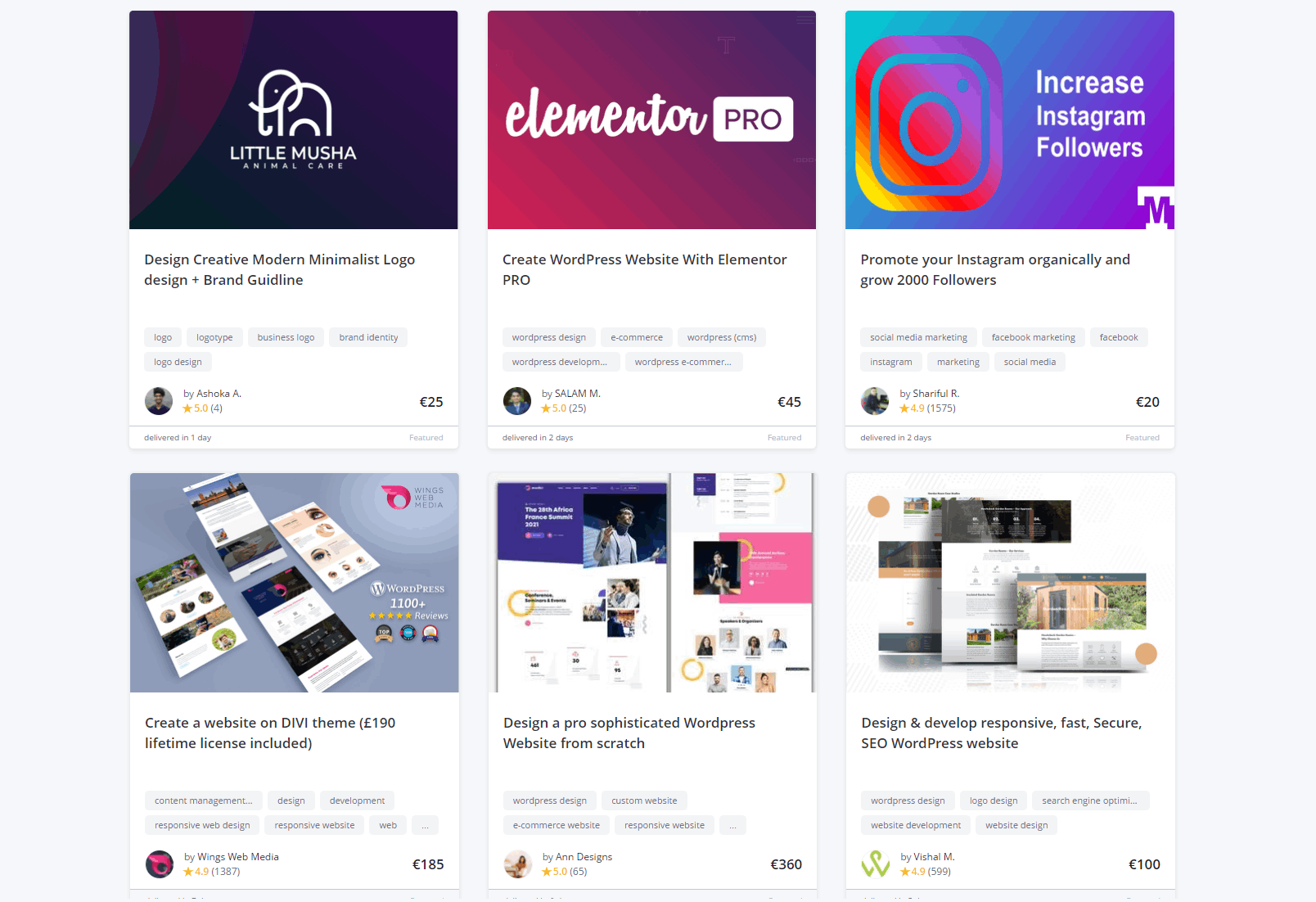 They can also work directly with the client and manage deadlines, as well as exchange files and feedback through the project's stream.
Payment will be made after the project is completed.
Searching for Projects with the Help of Filters
Individuals can search for projects simply by tapping in keywords. This will bring in thousands of search results. To further refine these, users can select categories in which they want to find this particular gig.
They can also filter results by the delivery time required, the freelancer country they are from or they are targeting to find work in, and the price of the project.
These opportunities can also be sorted according to their relevance, popularity, their trend, and project price.
Fees to Use PeoplePerHour to Find Jobs
While PeoplePerHour acts as a means to connect and set up freelancers with clients, it also offers a complete platform in which safe and secure transactions take place. Because of this, there are a few fees that come with the service offered by the company.
Although account creation and registration are free of charge, there are corresponding fees for searching for Projects or putting up an Offer. There is a 20% service fee for projects below £250, $350, or €300 per buyer.
For larger projects between £250 and £5,000, $350 and $7,000, and €300 to €6,000, there will be a lifetime billing per buyer at 7.5%. Meanwhile, for those exceeding £5,000, $7,000, and €6,000 respectively, these will be charged with a 3.5% service fee per buyer.
There will be a minimum service fee per invoice of £2.5, $3.5, or €3, while the minimum payment made via Auto Pay or contracts on a per hour basis is £6, $10, and €7, respectively. All of the aforementioned lists of fees are exclusive of VAT.
Downloading the PeoplePerHour App
PeoplePerHour takes job applications and opportunities seriously. It allows individuals to find jobs and projects even while they are on the go with their mobile app available for download on the Google Play Store and the App Store for Android and iOS users.
The PeoplePerHour app lets freelancers find posted projects as well as connect with their clients. This also allows clients to post projects accordingly.
The Bottom Line
PeoplePerHour is the perfect resource for freelancers and self-employed professionals to find jobs online. With this platform, they can finally take control of their lives and make their dream opportunities happen on their own terms.