Applying for a job stops being simple when rejections start coming. Most of the time, it's hard to guess where things go wrong. This is where Evisors comes into play.
Evisors connects job seekers to mentors who can offer them career advice and practical guidance. These mentors are professionals with tons of experience in their fields.
If there's a job worth pursuing, then it's worth giving your all. Finding a career coach through Evisors may be just what you need to get out of a rut. Read on to learn how.
How a Career Coach Can Help
Landing Your Dream Job through Evisors
Meet Your Evisors Mentor
What Makes Evisors Coaches Credible
Conversations on Career Growth
A Wealth of Webinars
Signing Up with Evisors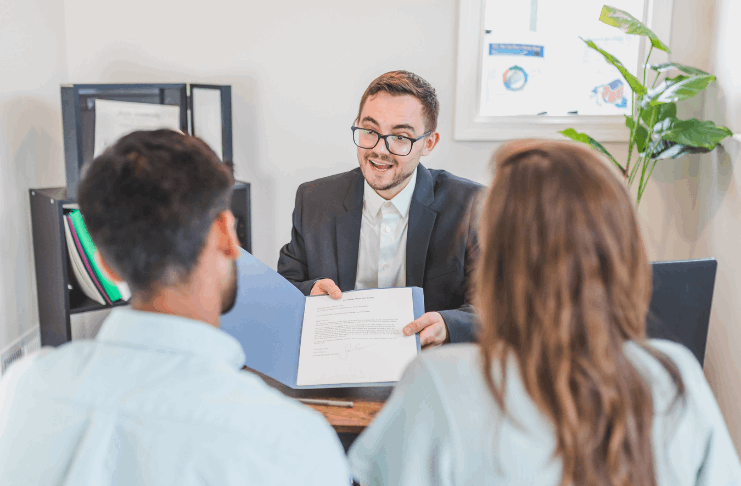 How a Career Coach Can Help
When you are trying to figure out your next career move, you may feel overwhelmed with the available choices or lack thereof. This is where a career coach can help.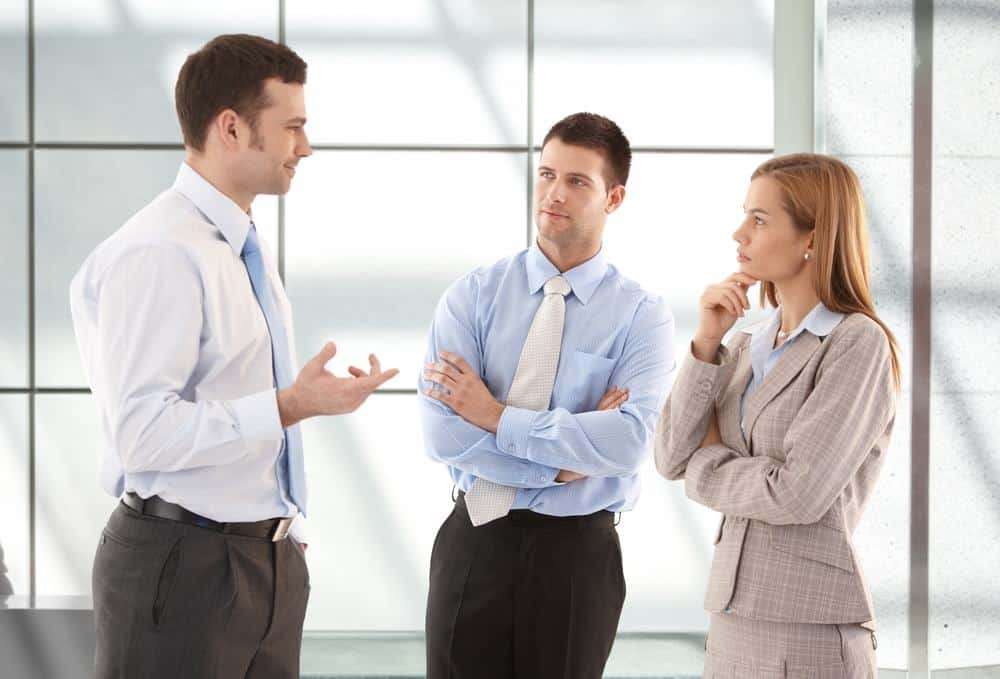 According to the National Career Development Association, a career coach is a partner who provides direction and the means to take action.
Meanwhile, career coaching is defined by The International Coaching Federation (ICF) as "partnering with clients" in a process where they can reach their personal and professional potential.
Career coaches support both students and professionals. Consultations can be done face-to-face, over the phone, or via email and instant messaging.
What a Career Coach Does
Career coaches can help identify issues surrounding your job or affecting your career path. This process involves evaluating your strengths, weaknesses, and potential.
They can help you come up with a new goal and a plan of action and guide you in finding better opportunities. Refining your resume, cover letter, and interview skills could be a part of this service.
If you're seeking a promotion, career coaches can help you determine what new skills and qualifications will be needed. Apart from your conversations, questionnaires or surveys can also be given to you during your sessions to assess your capabilities and goals.
Landing Your Dream Job through Evisors
The main idea behind Evisors' platform is to make knowledge on employability and work performance more accessible to job seekers.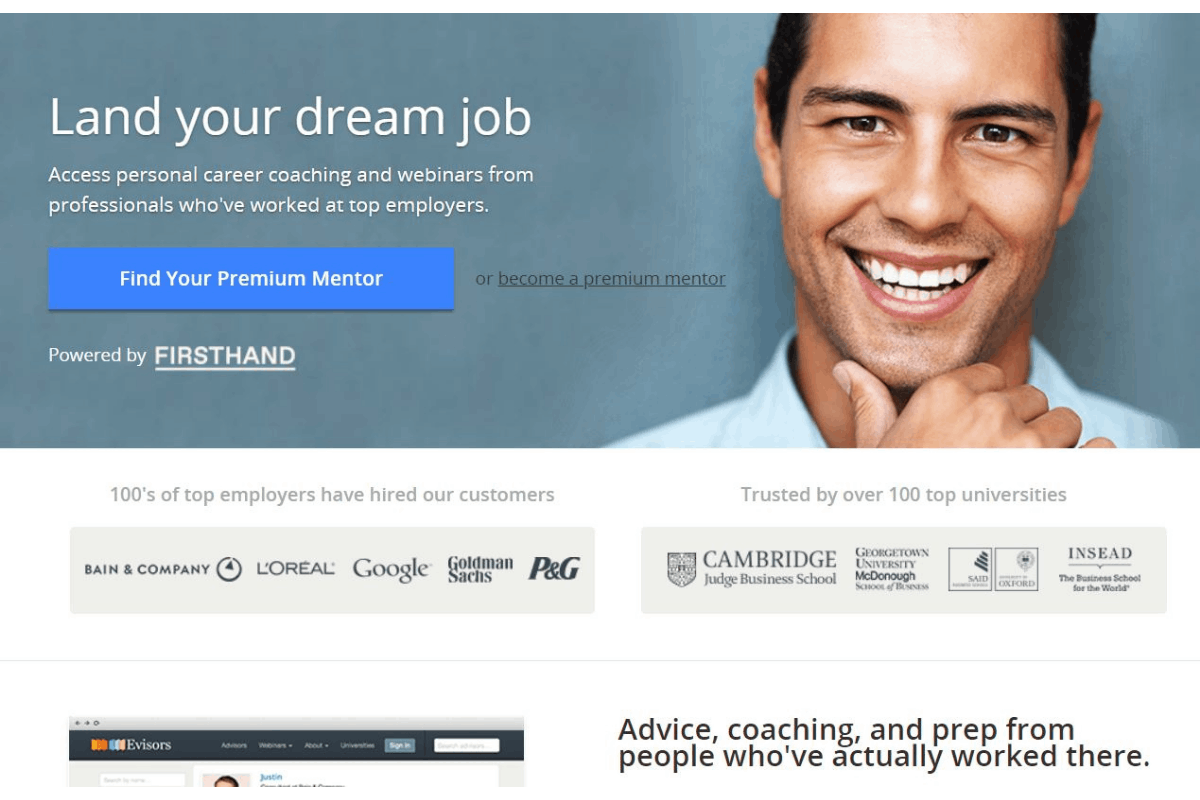 Evisors users can access personal career coaching services and resources like webinars. These webinars are hosted by professionals who have worked for major companies.
Evisors takes pride in utilizing its experts' experience and knowledge on employers, industries, and career paths in helping users with their employment journey.
On the platform, job seekers can browse and search for mentors they want to contact according to company, location, or industry.
Connecting with the Perfect Career Coach
Evisors users have the opportunity to select their career coach on the platform. They can evaluate the coaches based on their profile, availability, and feedback.
After selecting one, the job seeker can consult with their career coach over the phone. During their conversation, they can discuss anything career-related.
Meet Your Evisors Mentor
The layout of the Evisors platform is like any other job site. But instead of jobs, you'll be looking at career coaches' profiles.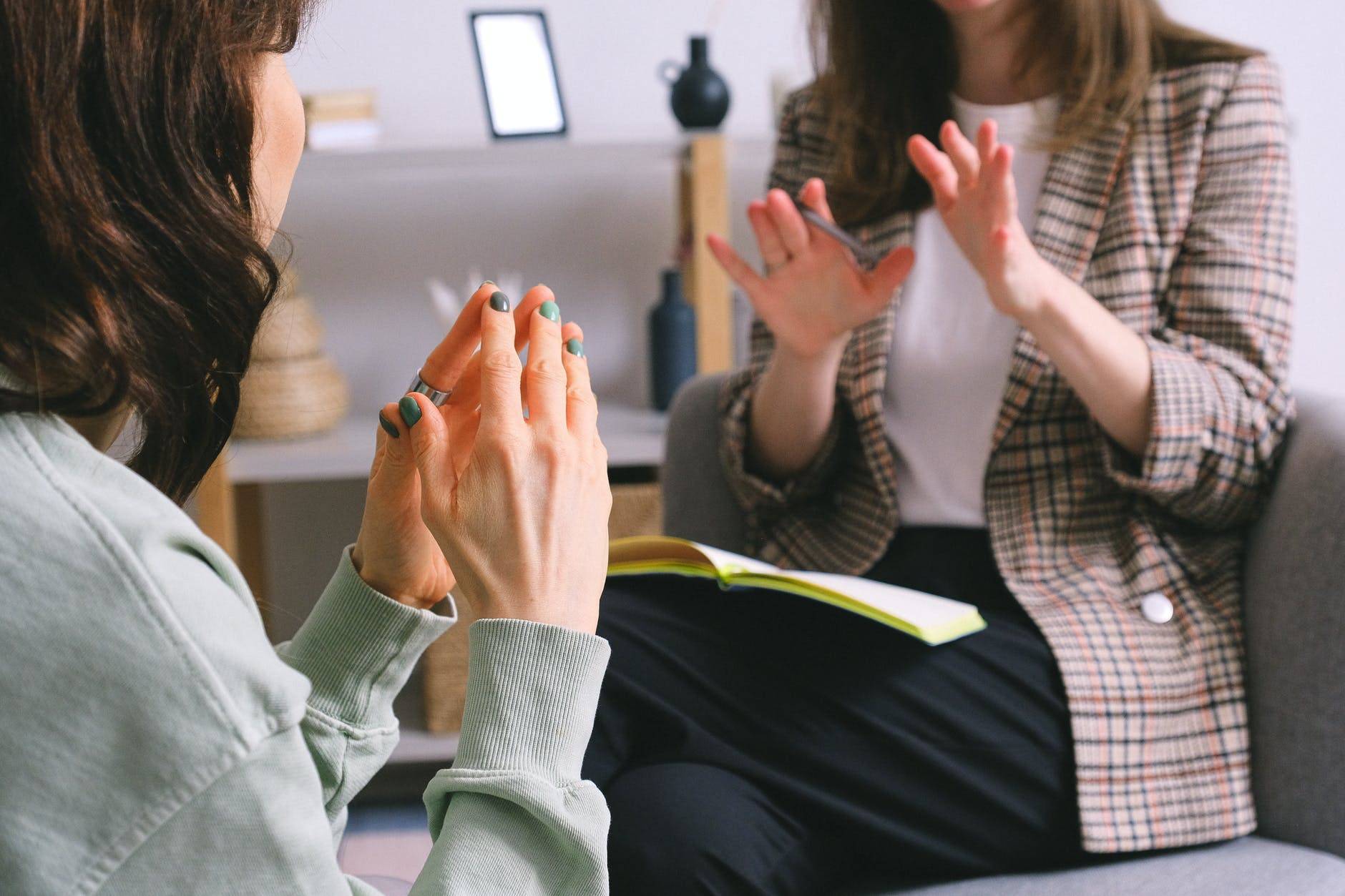 On the home page, click on the "Find Your Premium Mentor" button. It will direct you to a page that showcases the details about your potential coaches.
When you're on the coaches' page, you'll see a search bar on the left side. It displays the categories that can help you filter your search. It has the "Available Now" category for coaches that can speak with you right away.
The other filters are the advice topics, employers, location, fields of study, price, functions, industries, and universities. Evisors supports diversity and inclusivity and offers a languages category to cater to individuals whose language is not English.
Peruse and Pick a Profile
Click on a career coach's profile, and you'll navigate to a full page featuring them. Each profile shows the title of the coach first at the top.
The next information is about the topics the coach provides advice for. Beneath that is the coach's description of their mentoring style, their background, and what users can expect from the mentoring session.
Also on the profile are the coach's previous jobs, education, and languages they speak. Another great thing about the profile is that previous students can add their feedback. This way, potential users will have an idea of how the mentor can actually help them.
What Makes Evisors Coaches Credible
Evisors is asking for your time, trust, and attention. With its set of career coaches, you know that every minute of the session is worth it.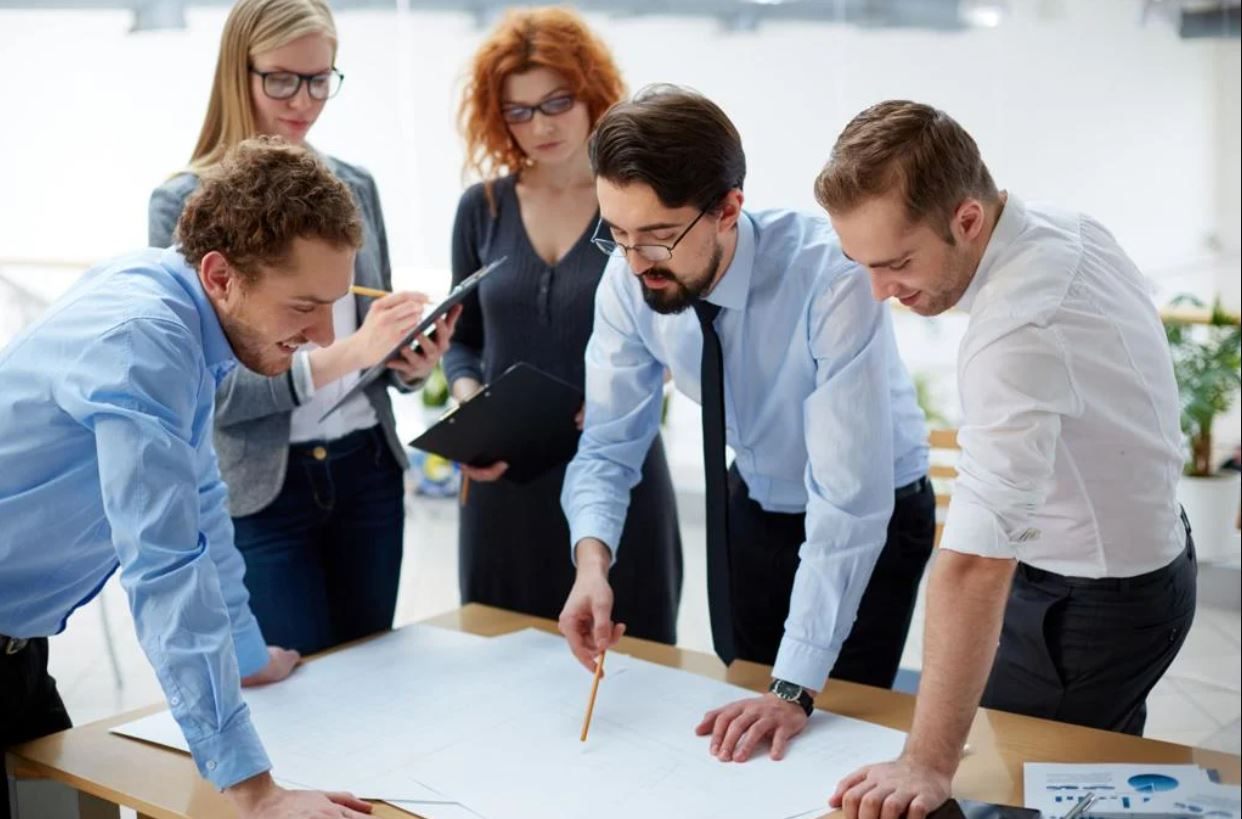 Career coaches come from reputable companies, such as McKinsey & Company, Boston Consulting Group, Bain & Company, Goldman Sachs, Deloitte, and Citigroup.
Others are from the Bank of America, Merrill Lynch, Microsoft, Morgan Stanley, Accenture, Google, JP Morgan Chase & Co., and IBM.
Industries
Whether you work in finance or marketing, there is a coach on Evisors who can give you advice. You'll be impressed with how varied the backgrounds of the coaches are.
There are coaches who focus on industries and career roles like consulting, entrepreneurship, technology, legal, human resources, administrative, operations, accounting, engineering, and medical.
Conversations on Career Growth
Once you get in touch with your Evisors career coach, you can begin asking them questions and seek their advice on your employment journey.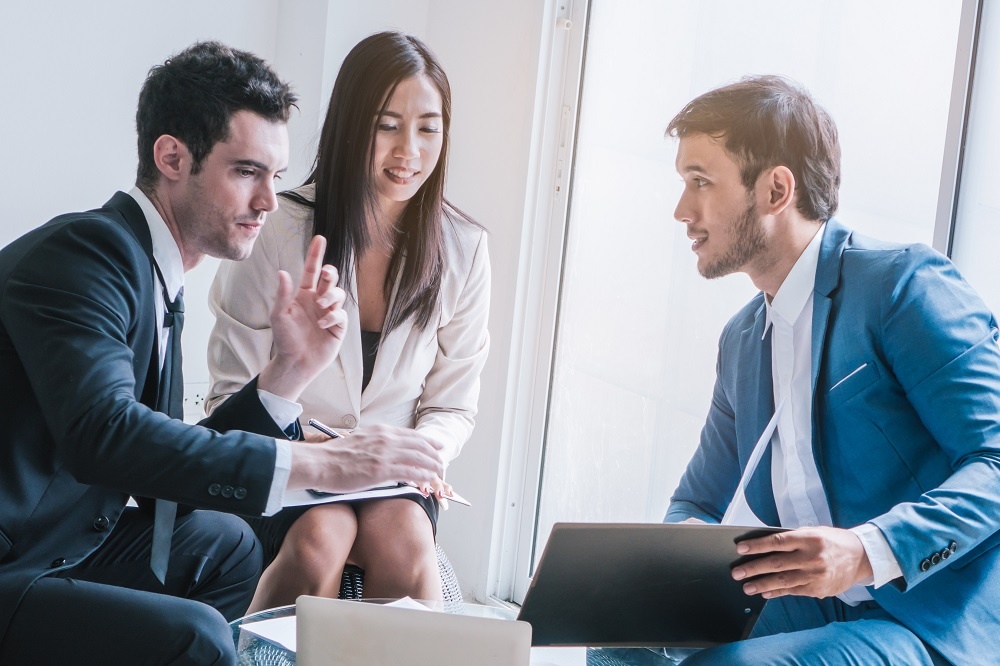 You can save more time by using a career coach from Evisors because you don't have to do any networking. On the platform, you can directly reach out to a seasoned professional.
Career coaches on Evisors can critique your resume and cover letter. Their reliability is sealed by their experience at major companies and exposure to various industries.
One of the most daunting phases of the job hunt is the interview. But Evisors career coaches can conduct mock interviews to help job seekers practice for the real ones and sign a job contract.
Choosing a Topic
As an Evisors user, you have the freedom to choose a topic you want to discuss with your career coach. Under the category Career, you have career conversation, mock interview, job search, being successful at work, and changing careers.
For entrepreneurial individuals, you can look for a coach who can give you advice on business. Under the Startups and Business category, the topics are industry insights, business plans, product management advice, marketing advice, and product design advice, among others.
For other endeavors not covered by the categories above, they can be found under the Opportunities category. It includes volunteering, partnering, and serving on a board.
A Wealth of Webinars
If you can't block out a date for live chats with your career coaches, Evisors offers tons of webinars that you can watch at your own schedule and pace.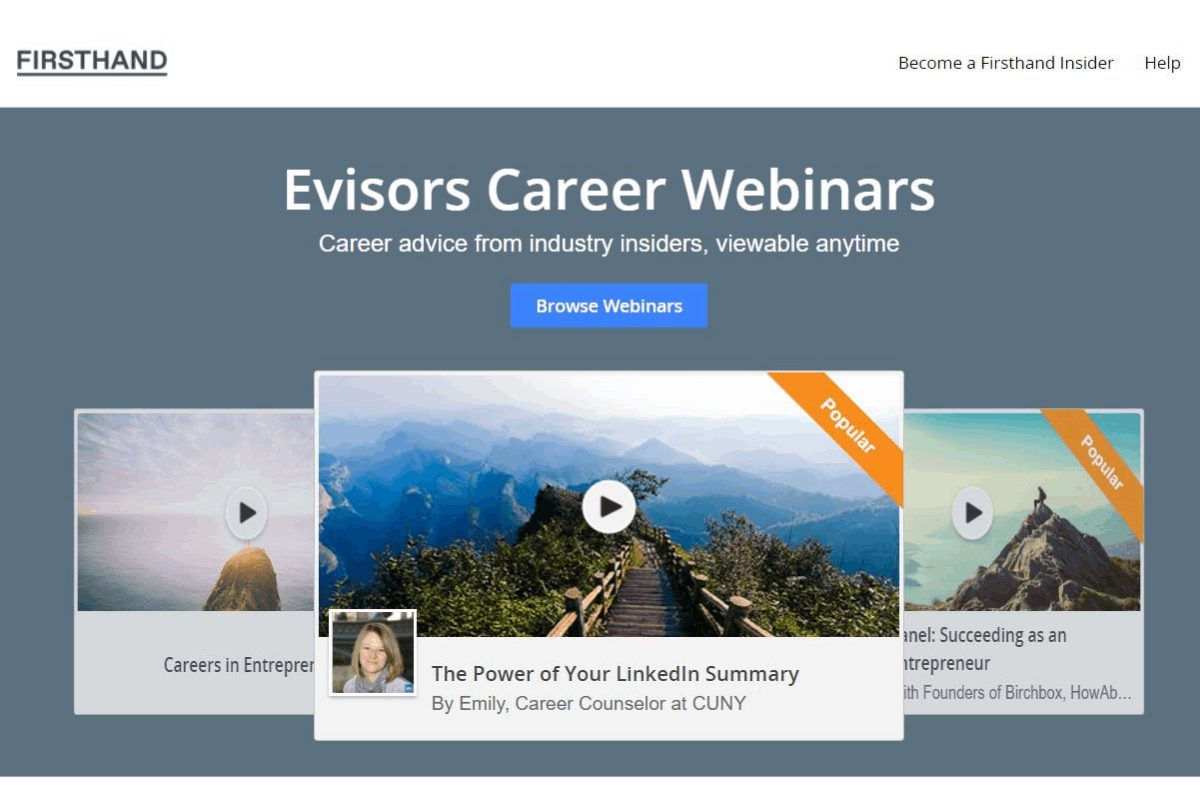 The Evisors Career Webinars offer advice from industry insiders. These materials are accessible to Evisors users anytime.
The topics discussed in webinars are creating a LinkedIn summary, entrepreneurial success, preparing for an interview, developing a stock pitch, changing careers, and the in's and out's of networking.
The webinars also feature first-hand experiences from industry leaders. For example, an executive shared his experiences as an ex-pat in Asia. Another webinar shows how a consultant started a career in consulting.
How to Access Webinars
To access the webinars on Evisors, you can choose from the three webinar packages. The All Consulting Webinars Package and the All Finance Webinars each cost $50.
Meanwhile, if you want to access all the webinars, you can pick the All Webinars package, which costs $100.
All you have to do is enter your name and email address. You will receive an email from Evisors containing instructions on how to complete the transaction.
Signing Up with Evisors
Creating an account on Evisors will allow you to take advantage of all its features.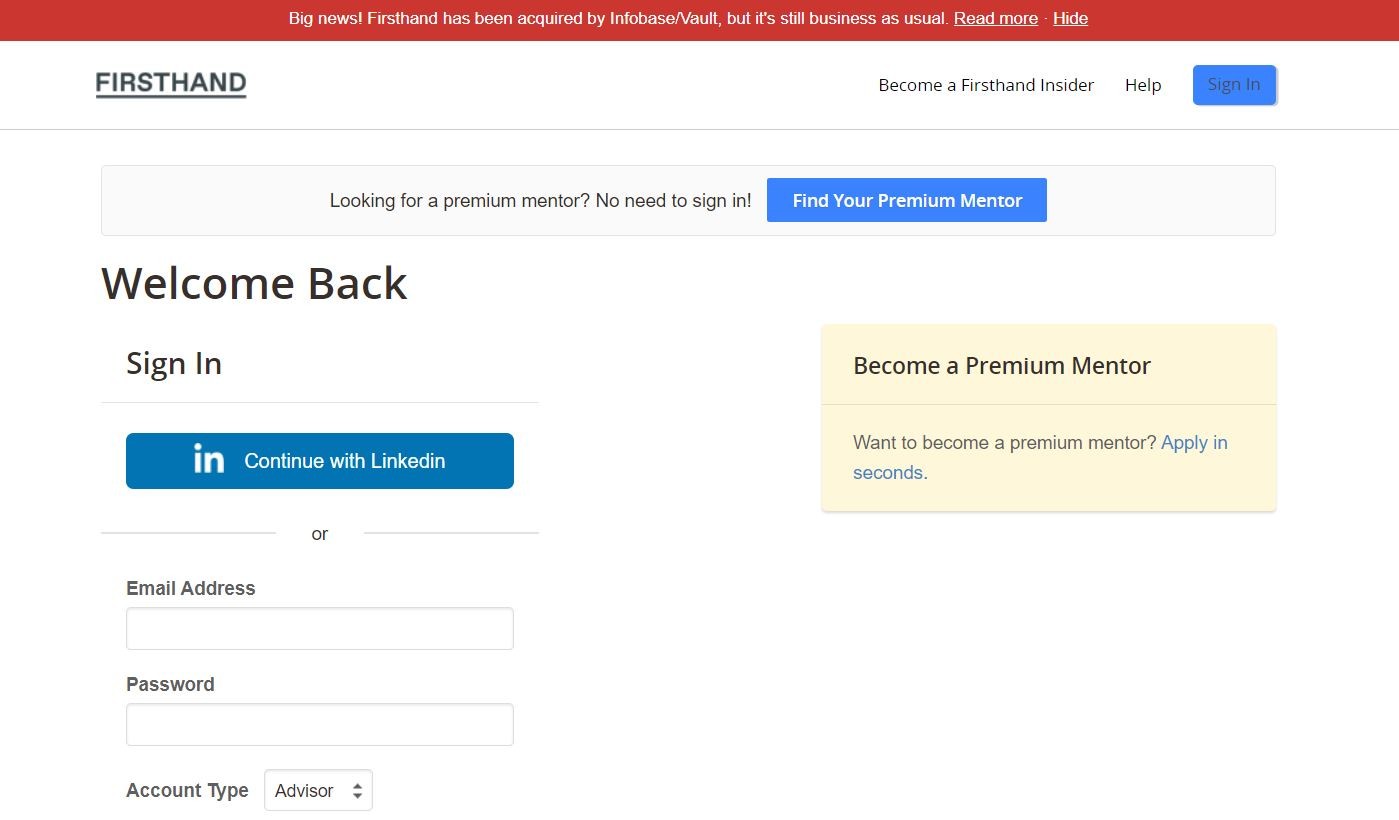 When you are on the home page, simply click on the "Sign In" button at the top leftmost side of the website. It will direct you to the Sign In page.
You can sign in using your LinkedIn account or using your email address. The sign-in form will ask for your email address, password, and account type. The two account types are advisor and partner.
Fees on Evisors
Becoming an Evisors user is free, and you will only be charged once you start hiring a career coach. The fees of the career coaches vary and are based on their credentials.
One of the most affordable fees you will find on the site is $33 for a 30-minute conversation and $66 for a 60-minute mock interview. A more experienced career coach could charge you $495 for a 30-minute session and $990 for 60-minute interview practice.
For Startups & Business coaching, users may pay $74.99 for business plans, fundraising advice, or strategy advice.
Conclusion
Evisors is a trusted platform where career coaches and job seekers connect. With its features, Evisors has proven its efficiency and accessibility.
It's important to note that while career coaches can provide advice and recommendations, success relies on how the job candidate will apply this advice and lead their own career journeys.