When applying for a job, a resume can make or break you. If your skills and credentials are not clear in your resume, you may lose great opportunities. This is the gap that Chameleon Resumes wants to remove.
Chameleon Resumes offers services designed to help make a job applicant's resume stand out in a stack of applications. Chameleon Resumes leverages experience and knowledge of how recruiters receive and evaluate resumes.
But the job search tool goes beyond enhancing resumes for job candidates. It also provides training and resources that will increase their chance of landing their desired job. Read on to learn how Chameleon Resumes can help you land your dream job.
Landing a Dream Job Through Chameleon Resumes
Chameleon Resumes' Get Prepared Package
Chameleon Resumes' Get Hired Package
Chameleon Resumes' Get Reinvented Package
Free Resources for Job Applicants
Using Chameleon Resumes' Services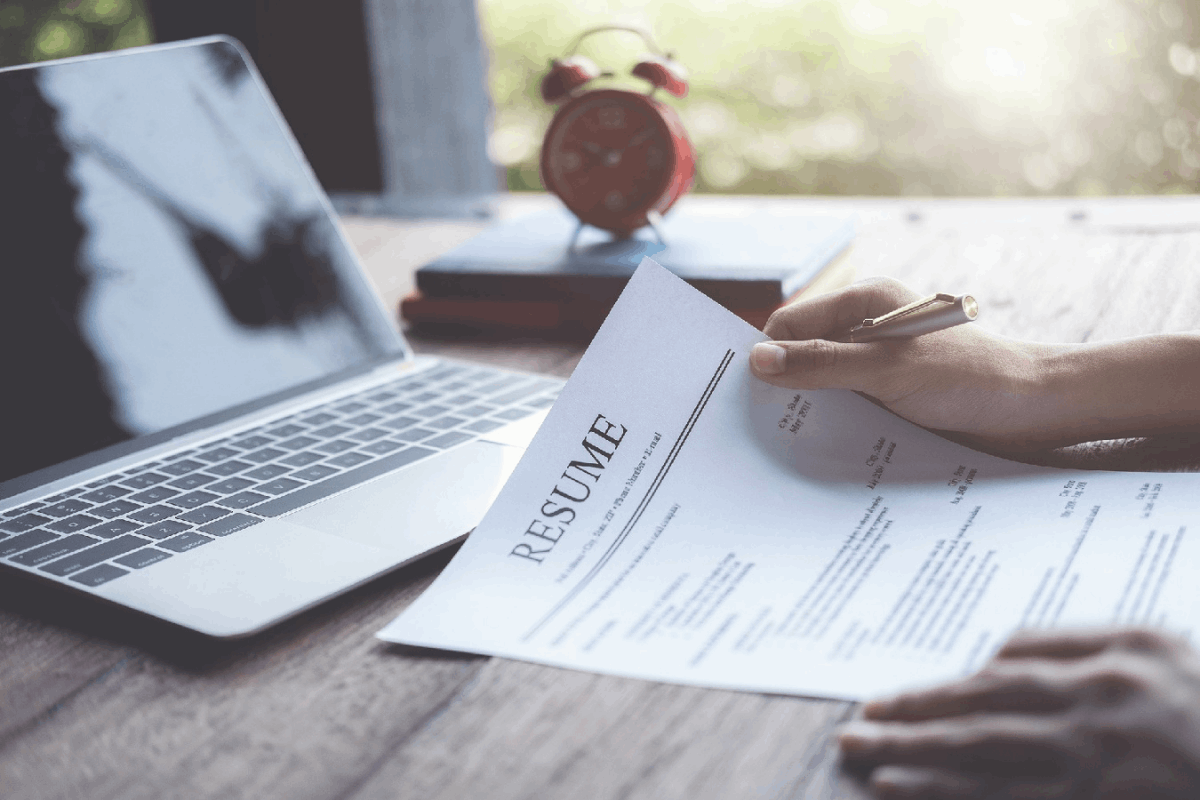 Landing a Dream Job Through Chameleon Resumes
For its broad range of services, the Chameleon Resumes platform applies its 4-stage META Job Landing SystemTM. It is based on the company's years of corporate and executive recruitment experience.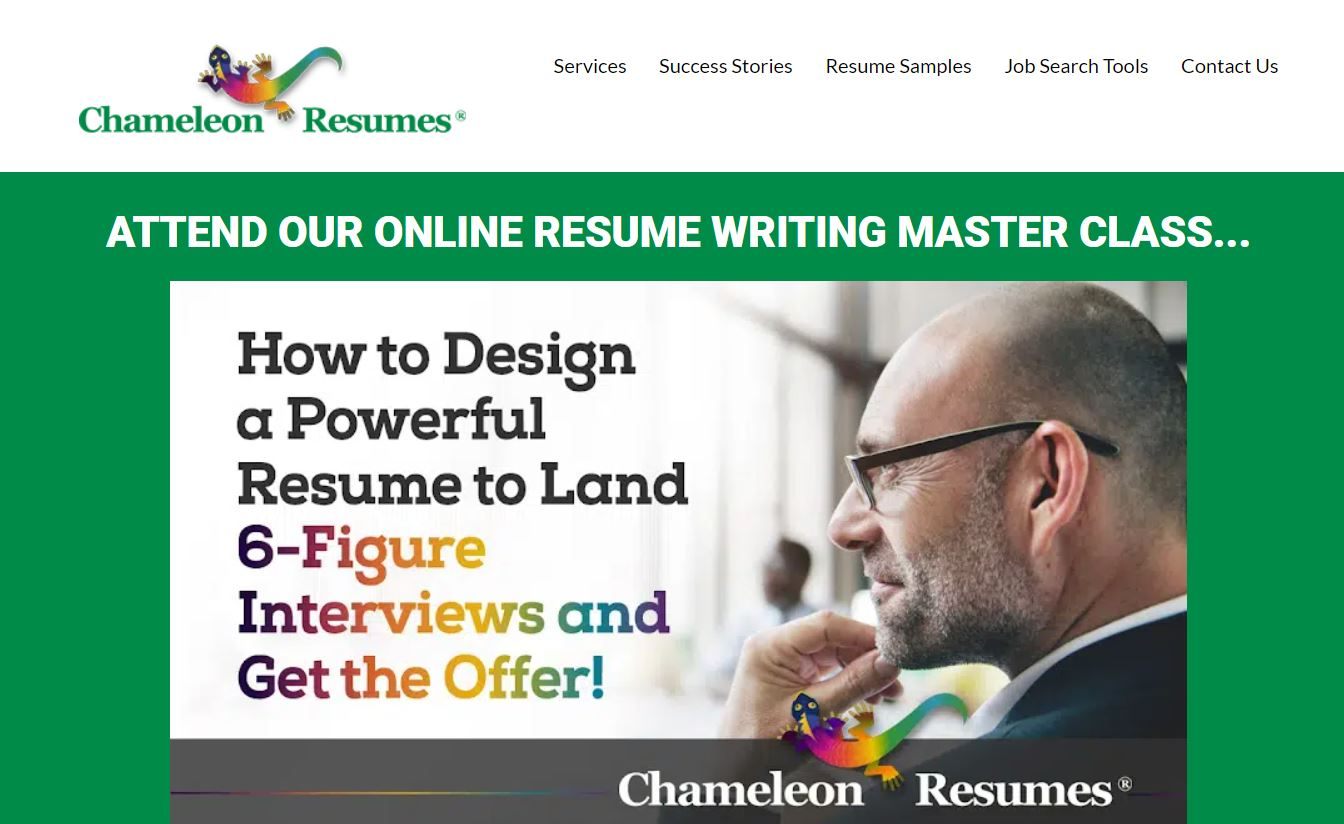 The 4-stage META Job Landing SystemTM aims to not just help candidates prepare the best resumes but also equip them with skills and negotiation techniques.
Their unique job landing system covers presenting documents, implementing employer outreach, preparing candidates for interviews, and guiding them on how to receive and evaluate job offers.
These are facilitated and provided by resume writers and job recruitment experts. Their credentials reflect their previous roles as corporate recruiters, executive search firm recruiters, and Fortune 500 HR consultants.
Where Clients Land Jobs
Chameleon Resumes takes pride in being the only job landing consultancy that has been hired by LinkedIn and recognized by Forbes.
Their clients have landed jobs in major companies such as Microsoft, JPMorgan Chase, The Carlyle Group, Boeing, Walmart, SAP, and Goldman Sachs.
Chameleon Resumes offers three different packages for various job seeker needs.
Chameleon Resumes' Get Prepared Package
Professionals who want to remain marketable regardless of the status of their career can try the Get Prepared Package.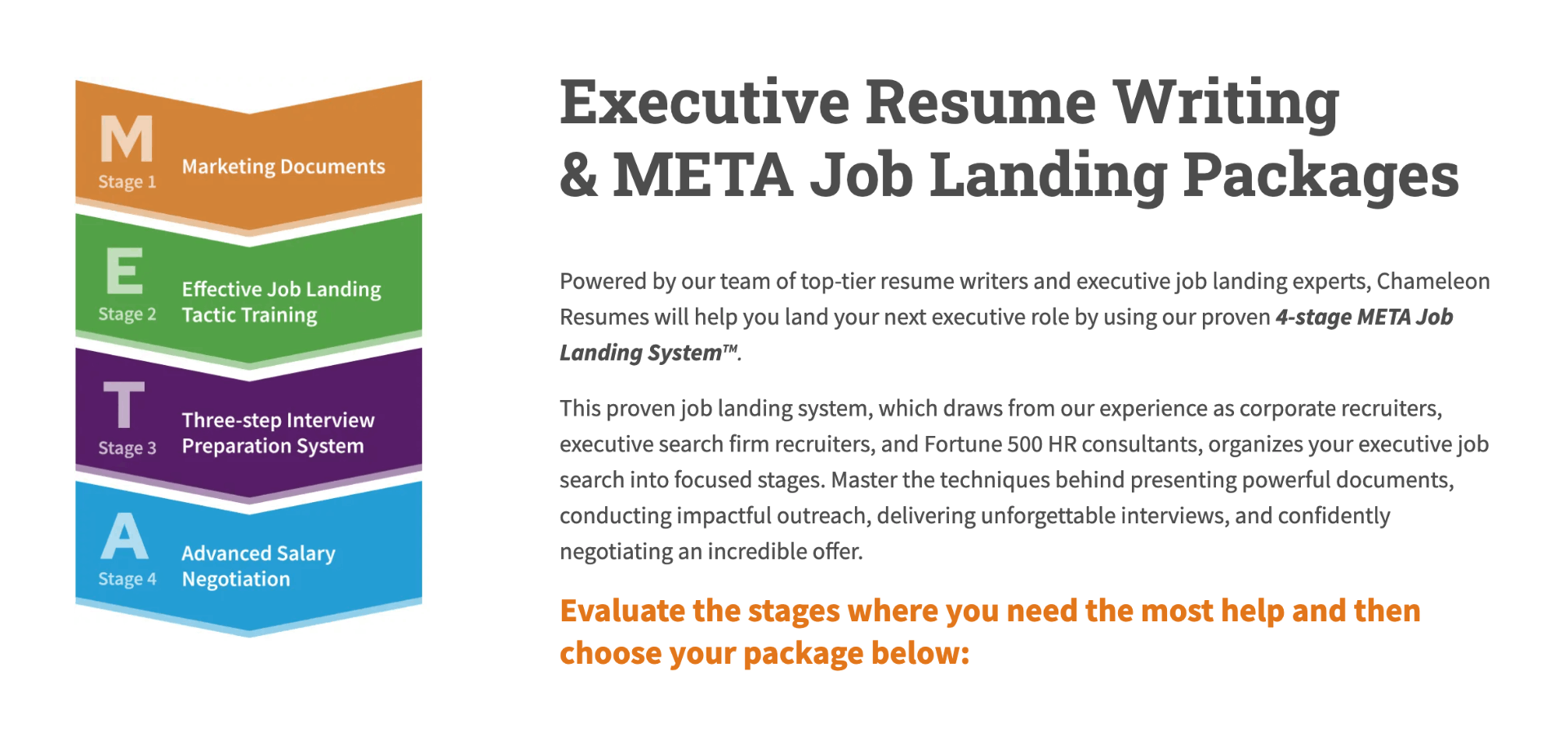 The goal is to make sure that even if you lose your job or a recruiter suddenly offers you a better opportunity, you have a professional profile ready to present.
The Get Prepared Package, which focused on Stage 1 of the META Job Landing SystemTM, helps professionals optimize their LinkedIn profiles and produce achievement-driven resumes.
The other services included in the package are a job landing mindset onboarding call and three customizable cover letters. The package costs $2,897, and a payment plan option starts at $1,525.
Free Resume Writing Master Class
If you are not ready to sign up for the Get Prepared Package, you can grab the Chameleon Resumes' free resume writing master class first.
The participants of this class will learn how to present their skills and experience effectively, choose the right words, and transform the contents of their resume into a document that can attract recruiters.
You can access the free resume writing master class by entering your email address in the box that appears on the home page of Chameleon Resumes' website.
Chameleon Resumes' Get Hired Package
The most popular package offered by Chameleon Resumes is the Get Hired Package, which is for the individual who wants to get a job immediately.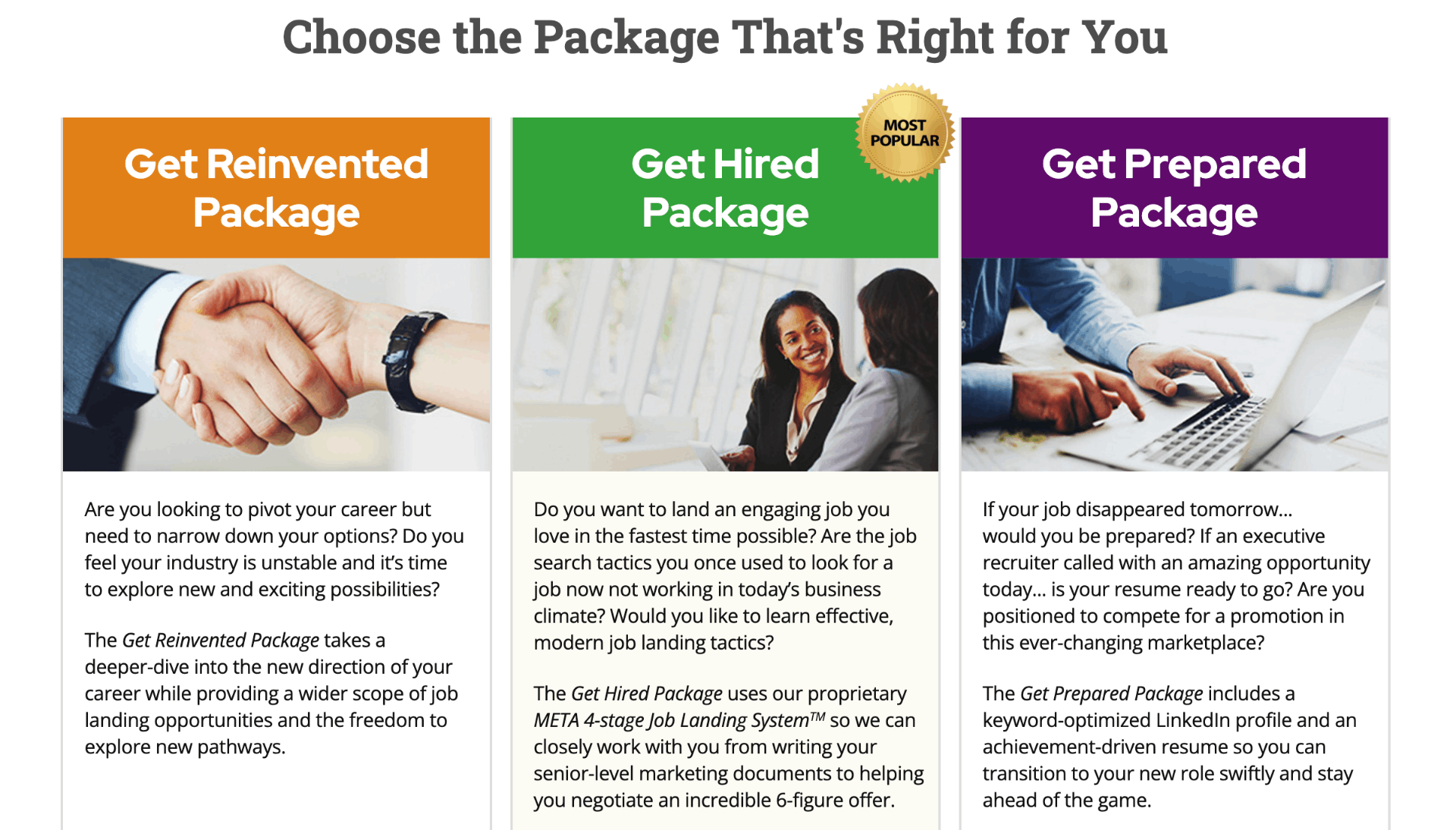 The Get Hired Package focuses on transforming one's job search tactics into a system that adapts to the current business climate. The goal is to help job candidates secure a six-figure offer.
In addition to the META's Stage 1 features, the Get Hired Package will walk job applicants through Stage 2, which involves a LinkedIn outreach strategy, a custom 15 company target list, and coaching sessions.
The resources that individuals can get are job lead generation support materials, customizable phone scripts, thank you notes, networking email templates, and a manual on how to land an interview.
Final Stages
The last two stages of the META Job Landing SystemTM are developed to address the common roadblocks faced by job applicants during the interview and job offer phases.
The META Stage 3 applies the 3-Step Interview Preparation System which includes Career Story Development, Interview Q&A Scripting, and Interview Performance Techniques. Stage 4 features the Advanced Salary Negotiation and Compensation Planning techniques.
The Get Hired Package clients will receive a one-on-one coaching session and six months of Career Advancement Email Support. This package costs $4,397, and the payment plan starts at $1,525.
Chameleon Resumes' Get Reinvented Package
The Get Reinvented Package is for professionals who want to explore a different career path.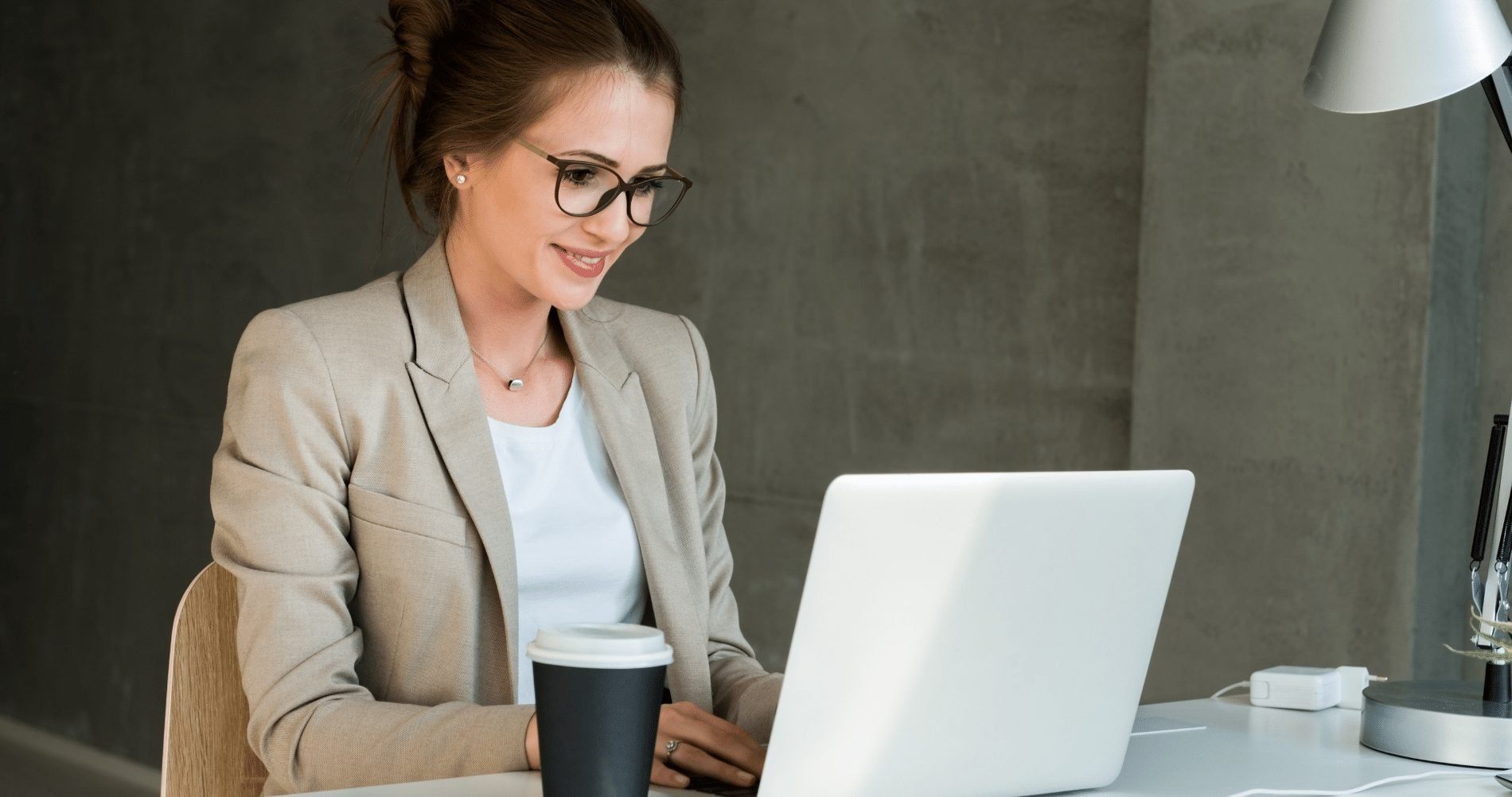 The objective of the package is to help individuals search through a wider horizon of opportunities that are beyond their current domain. With this, the package is a long-term strategy with more comprehensive features.
The Get Reinvented Package covers all the services included in the Get Prepared Package and the Get Hired Package, from Stage 1 to Stage 4 of the META Job Landing SystemTM.
The main difference is the Get Reinvented package begins with two 60-minute Career Directional Coaching Calls. Stage 1 of the package also offers an Optional Verbal Intake Call.
Advanced Features
For the rest of the stages, the additional features are not only specialized but also customized. During Stage 2, clients with the Get Reinvented Package can enjoy the Private Equity and Venture Capital Recruiter Resume Distribution service.
Instead of getting two sessions, they will participate in three 60-minute Job Search Strategy and LinkedIn Outreach Coaching Sessions. For Stage 3 and Stage 4, they will get twice what Get Hired Package clients receive.
For this package, participants will get one year of Career Advancement Email Support. The price of the Get Reinvented Package is $6,897, and the payment plan starts at $2,375.
Free Resources for Job Applicants
Chameleon Resumes users will appreciate instant access to the free online resources. All they have to do is create an account on the website.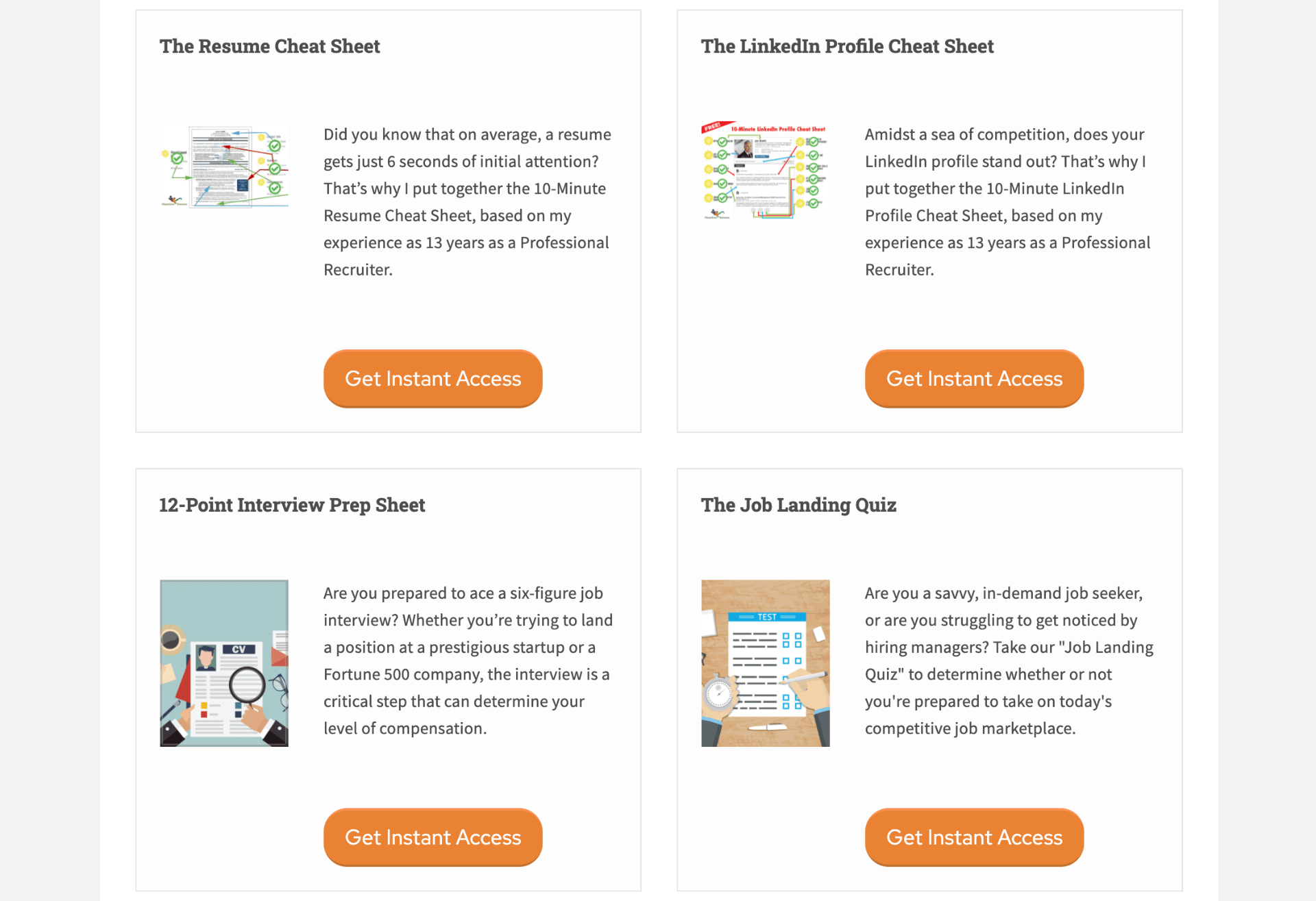 The Resume Cheat Sheet aims to help job applicants land interviews, arrange their resumes with information recruiters want to see, and present an achievement-driven resume.
Meanwhile, the LinkedIn Profile Cheat Sheet is about structuring one's profile to attract recruiters, prevent common errors, and highlight accomplishments that will help professionals get an interview.
The 12-Point Interview Prep Sheet is about how to position yourself as a lead candidate and secure maximum compensation. It shares what candidates must research before the interview and tips on how they can express confidence.
Interactive Features
The Job Landing Quiz of Chameleon Resumes will direct you to a page that aims to assess one's job search type.
Once you've answered the form, the system will customize the set of resources it will provide you. They will be tailored to your job search type to help you narrow down opportunities and save more time.
The Pretend You're Fired Today Podcast, which is available on iTunes, covers discussions on career continuity, resume and LinkedIn profile development, job search networking, and interview tips.
Using Chameleon Resumes' Services
Chameleon Resumes states on its website what their role is in a user's job search and what they expect from their clients as they go through the job application journey.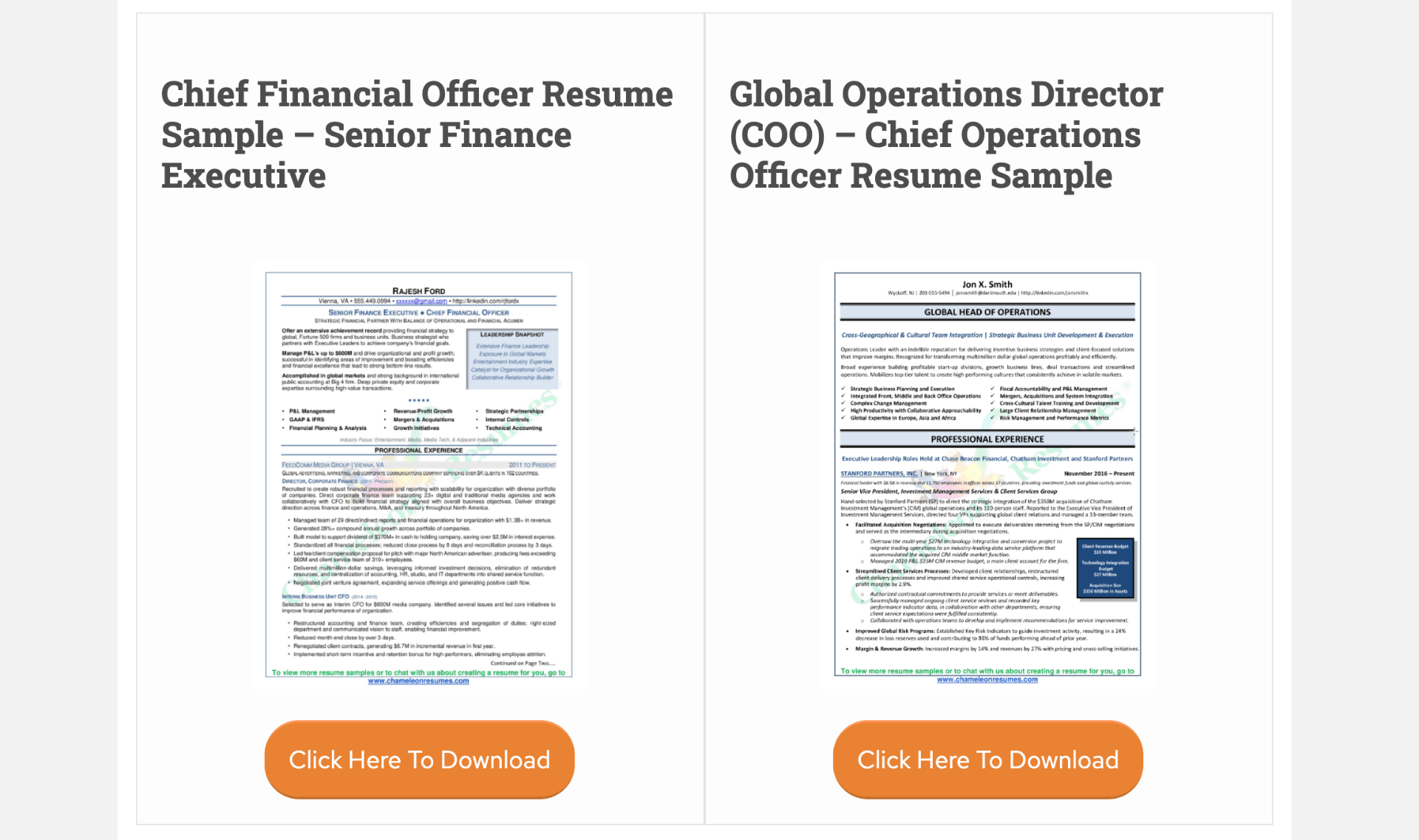 After sending in your payment, you will receive a response within 24 hours, and the sale will be considered final. The platform assures clients that they will work with them until they are satisfied with their documents.
The documents and coaching services will be completed within three months of the purchase date. Meanwhile, unused services would be subject to price increase or changes after a year of the purchase date.
Clients must give a 24-hour notice if they cannot participate in informational interview calls, coaching calls, or follow-up edit calls. The absence of notice will lead to the calls being considered as purchased.
The Job Candidate's Responsibilities
Clients should provide all the information they would like to be included in their resume during the prep work and informational interview. Adding new information afterward will be considered an update and requires an additional fee.
Chameleon Resumes clarifies that they cannot guarantee that their clients will automatically land a job or promotion after using their services. They also emphasize that the job search is a collaborative process.
Clients are expected to finalize their career documents and ensure accuracy before sending them to potential employers. Chameleon Resumes will not be liable for any injury or damage arising from false statements and other inaccuracies.
Conclusion
Chameleon Resumes is not just a simple job search tool. It provides comprehensive job search and application frameworks that help individuals get opportunities that match their needs and credentials.
Through its coaching sessions and toolkits, Chameleon Resumes is able to dive deep into a candidate's career profile and transform it into a marketable one. When you have all the support you need for your job search, the only thing left for you to do is to act.