These days, simply having a diploma or a degree does not guarantee a job. Employers also look for specific skills and knowledge in certain areas, particularly those hiring in the information technology (IT) industry. Having extensive experience or certifications in these areas will give you an advantage.
However, everyone must start somewhere, and not all IT professionals are seasoned and experienced in all aspects of work. If you're an IT professional who lacks experience, you could try online IT courses to increase your knowledge base.
This article will talk about CareerMatch, what it does, and its features. It will also discuss how taking online courses through this platform can help you as an IT professional. By increasing your knowledge and skills, you can boost your chances of getting your dream job in the industry.
Learning About CareerMatch and Its Online Learning Resources
Learn About the Courses Available on the CareerMatch Platform
Exploring Details of the Courses Available on the Website
Become Certified with CareerMatch and Get Hired
Adding Practice Labs to Your Course
Provide Training for Your Employees Through Corporate Solutions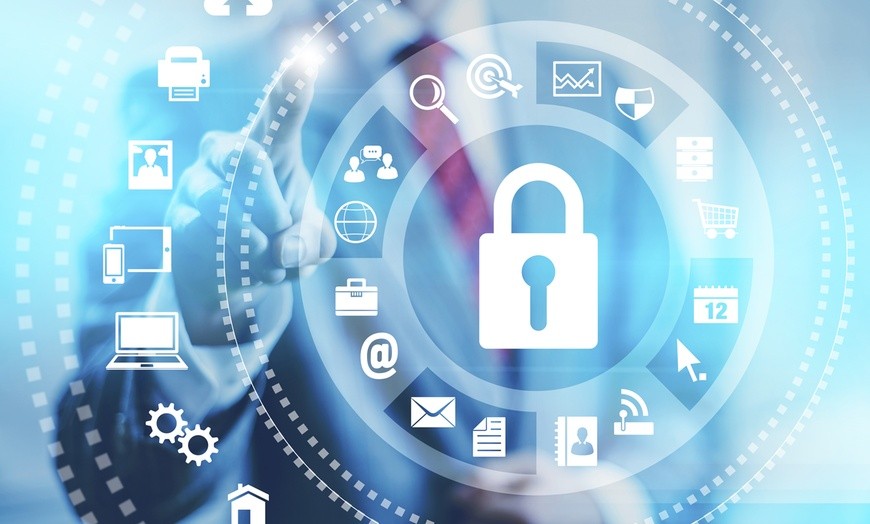 Learning About CareerMatch and Its Online Learning Resources
CareerMatch is a UK company that provides online training courses for both individuals and businesses in the IT industry.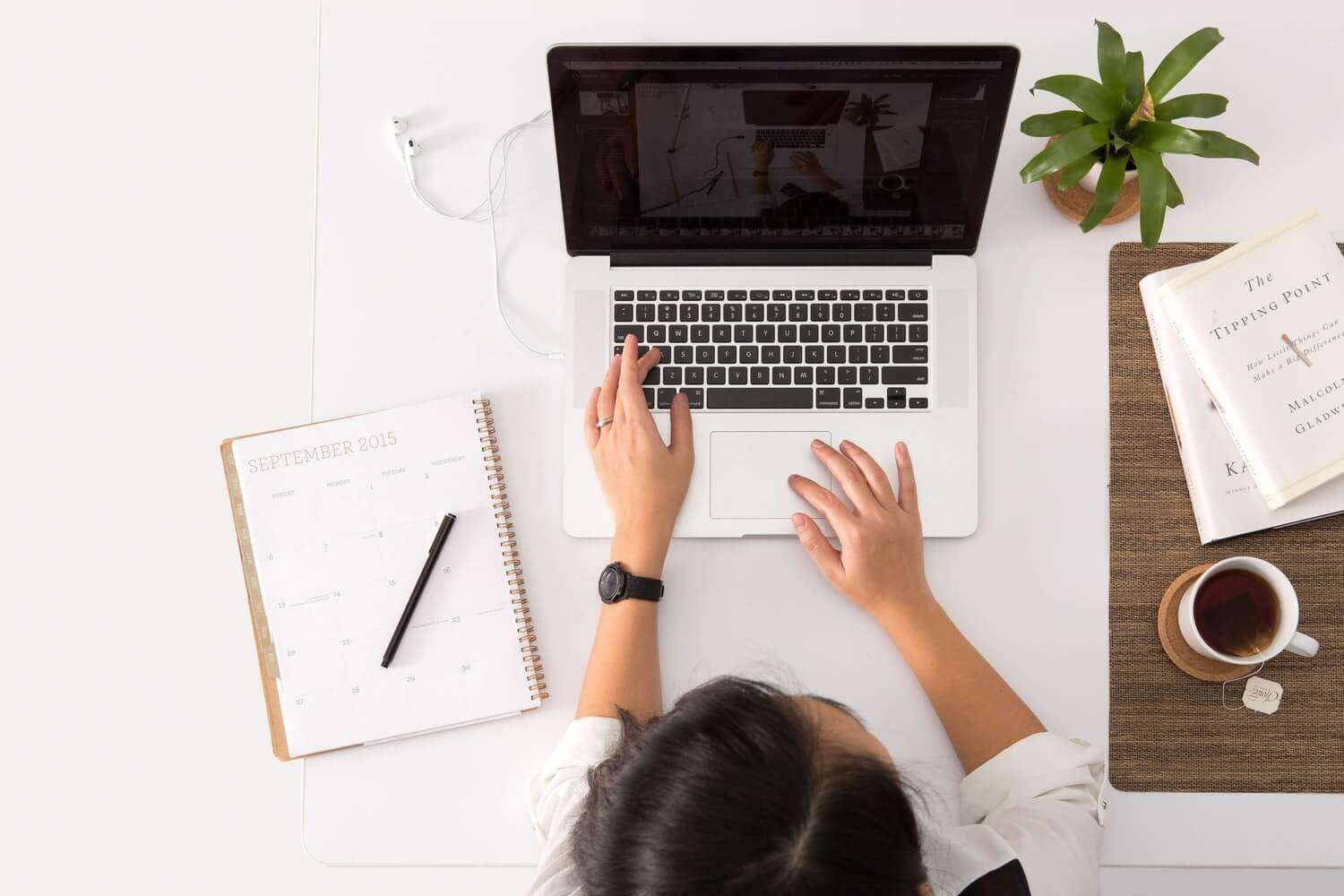 CareerMatch has more than 200,000 active students and 150 certified instructors.
It offers 400 online courses with more than 200 accredited courses. It boasts of a 98% passing rate.
In order to provide the highest quality IT courses, the London-based company says it created its curriculum based on proven educational concepts and sound instructional design principles.
More About CareerMatch
The company only hires the best instructors and course developers in the IT industry to make sure that its courses and certification preparation materials are the best on the market.
CareerMatch describes itself as a pioneer of new technology courses online. Along with its passion for technology, it aims to provide the right tools needed by students to succeed in the industry.
CareerMatch also claims that part of its objective is to raise the benchmark of the current IT industry.
Learn About the Courses Available on the CareerMatch Platform
With more than 400 online courses available on the CareerMatch platform, you might think that it would probably be overwhelming to browse through them all. Thankfully these courses have been categorized for easy searching.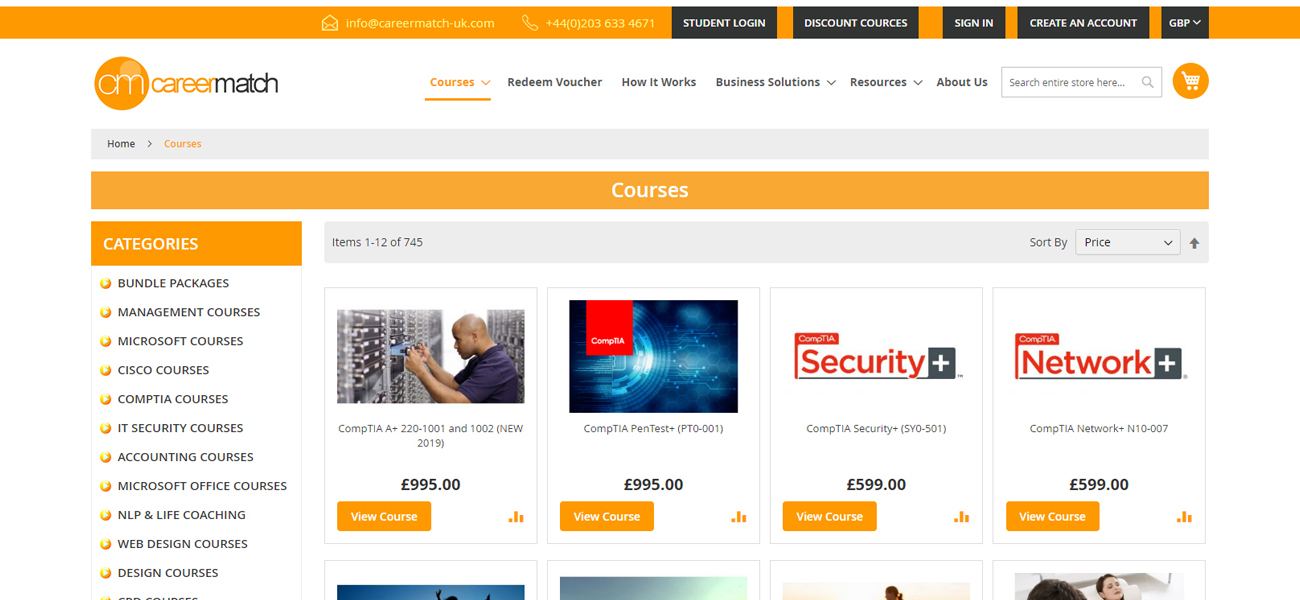 You can select a subject area based on the skills and knowledge you want to acquire and the certification you are aiming for.
On the home page, you can click on the Courses drop-down menu and choose the category you want to explore.
You can also scroll down and click on the photo tiles that match the subject area.
Course Categories, Sorting, and Comparison
Once you have selected a course category on the platform, it will take you to a separate page dedicated to that particular topic. This is where you will find the available courses in a tiled view.
You may use the Sort By option to sort the results based on position, price, or product name. You may select a course and examine its details by clicking on the title or the View Course button.
You may even compare one course to another by clicking the Add to Compare icon on each course. On the sidebar, you will find the Compare Products option. Click Compare, and it will make a side-by-side comparison of your choices.
Exploring Details of the Courses Available on the Website
Selecting a particular course will take you to a separate page that provides specific information about it. The first thing you will see is the title of the course along with a brief summary.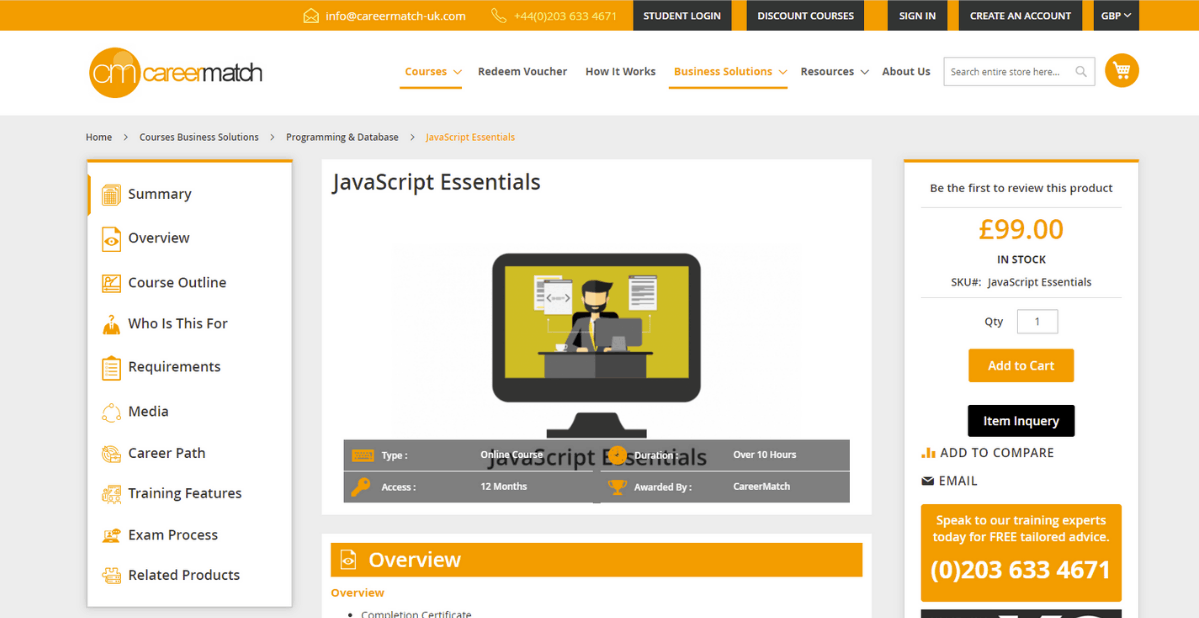 The summary includes details on the course type, duration, length of access, and the organization that will award the certification. It is followed by an overview that contains a brief discussion about the course.
The next item is the course outline, which for individual courses will show all the modules included, while for bundled courses, it will list the courses included in that bundle.
Additional Information on the Course Pages
The course page will also provide information on what type of professionals the course is designed for, the devices that can be used to view the training course, and the type of media used in the course.
It also lists down the possible career paths that can be pursued after taking the course and even provides links to job boards for vacancies in these areas.
Lastly, it offers details on the training features as well as the exam process following completion of the course. You can add the course to your cart or inquire about it using the buttons on the right side of the page.
Become Certified with CareerMatch and Get Hired
The entire process of using the CareerMatch platform is simple. You simply need to select a course or course bundle, proceed to checkout, and choose a secure payment option for your purchase.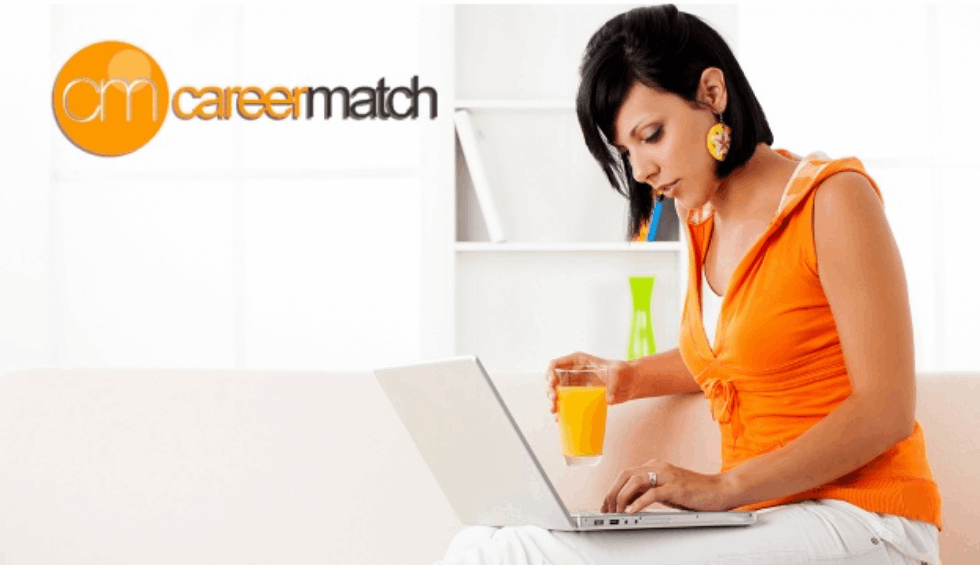 Once you've completed the course purchase process, you will receive an email that will contain your login credentials as well as instructions on how to use the platform.
Undergo the training course and complete each module included in it. Take the certification exam at a local testing center once you've completed the required study.
After passing the exam and becoming certified, you can then begin applying for jobs.
Redeeming a Voucher Code
Other than directly paying for a course you selected on the CareerMatch website, sites like Groupon offer vouchers for courses with CareerMatch at a discounted price. To use these vouchers, you must redeem them on the platform.
To redeem a voucher code, click on Redeem Voucher on the home page. You will be taken to a page where you will need to enter the voucher code. You need to be logged in or create an account with CareerMatch to do this.
Once you successfully enter the voucher code, you will receive an email with the login credentials and instructions. Be sure to check the Spam/Junk folder if you can't find the email in your inbox.
Adding Practice Labs to Your Course
To supplement your online training, CareerMatch also offers access to practice labs so you can gain hands-on experience on the skills that you want to develop through training.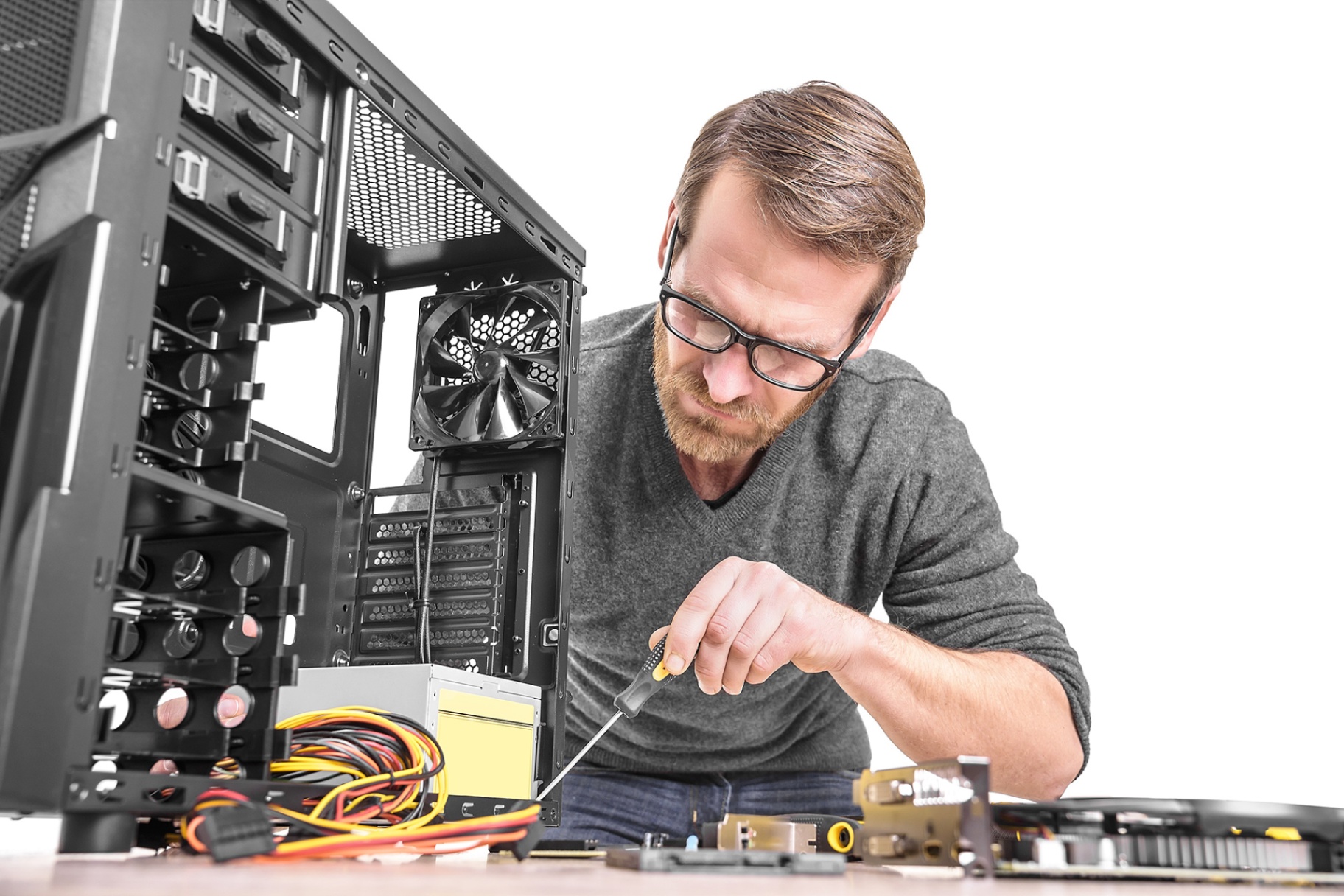 These practice labs are not simulations but are pre-configured hardware and software used in workplaces that are hosted via the cloud. Students can access them to support their learning.
Practice labs are available for a variety of setups, including Cisco, CompTIA, ISC2, Microsoft, Oracle, and VMWare.
Benefits of Using Practice Labs
When you purchase access to a practice lab, you will gain 24/7 online access to it without needing any software. Practice labs are accompanied by guides that you can follow when doing practice exercises.
Since you are using real equipment with full administrator privileges, you will get the most authentic hands-on experience possible with real-world scenarios and exercises.
You will gain more confidence by practicing while you learn. A certificate indicating the number of hours of hands-on experience you underwent will be given to you upon completion of the lab exercises.
Provide Training for Your Employees Through Corporate Solutions
Beyond individual training courses, CareerMatch also provides e-learning courses that are specifically designed for companies and other types of organizations. Its clients include Reed.co.uk, the NHS, and Jaguar Land Rover.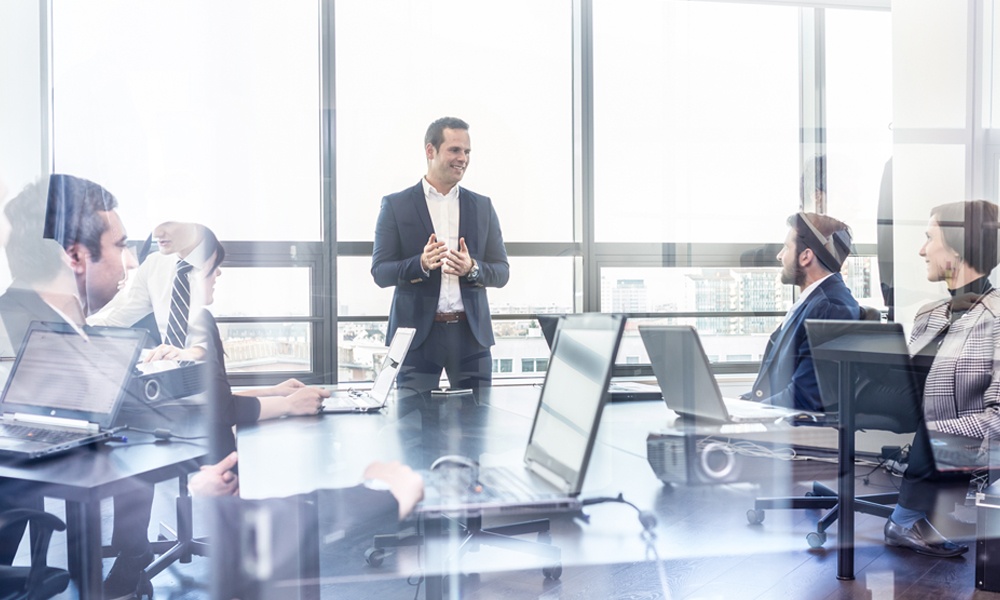 Since courses can be tailor-made, CareerMatch will begin by learning the unique needs of the business in order to understand the organization and its people better.
During this phase, CareerMatch will also focus on understanding the specific issues and challenges you and the business face and the goals, both long-term and short-term, that have been set.
The course developers will then proceed to design and create customized e-learning courses based on your training needs and make sure that they will deliver noticeable results.
E-Learning Evaluation Process and Continued Support
CareerMatch's commitment does not end following the delivery of the e-courses. It will continue to conduct assessments to help determine their success and provide insight on long-term development objectives.
A dedicated account manager with relevant expertise within your industry will be assigned to your organization to make sure that the CareerMatch courses are fulfilling your training requirements.
To Sum Up
The IT industry is a very competitive job market because not only do you need the education to be employed, you also need to be certified in certain areas and regularly update your skills. CareerMatch courses are a great way to do this in the comfort of your own home.
The platform's Practice Lab option makes it more attractive to learners as it provides hands-on experience for actual workplace setups and real-world situations. Companies and organizations may also want to consider utilizing Corporate Solutions for their internal training needs.